July 13, 2012 (Girona, Spain) – Coming off his historic Giro d'Italia, in which he became the first Canadian to win a Grand Tour, Ryder Hesjedal (Garmin-Sharp) had equally grand hopes for the Tour de France.
The Prologue showed that he was right on target, as he finished 18 seconds behind Time Trial specialist Fabian Cancellara and one second behind defending champion Cadel Evans.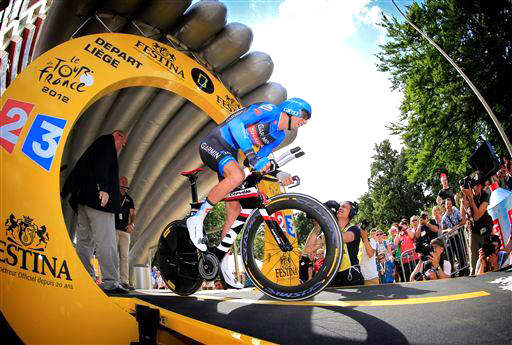 Stage 1 confirmed that form: Hesjedal finished 9th on the stage, which finished on a tricky, steep, Belgian climb, and he sat 10th on GC, with the rest of the favourites.
As seems to be common the first week of the Tour, the crashes in the peloton came in droves. In Stage 1 World Time Trial Champion Tony Martin (Omega Pharma-QuickStep) and Luis Leon Sanchez (Rabobank) were among those that went down and broke bones.
In Stage 3, the crash bug hit the Garmin-Sharp team. Dan Martin, Christian Vande Velde and Tom Danielson, in addition to sprinter Tyler Farrar, were held up by a large crash in the final 20km and never rejoined the front of the race. Although Hesjedal himself punctured, he was able to regain his position with the other contenders to finish 11th on the hilly stage.
Every day saw riders hit the tarmac. Through five stages, four riders had been forced to abandon, but the Victoria native had been fortunate.
However, on Stage 6 to Metz, the story would be different. Hesjedal was among many taken down in a huge, high-speed crash. He eventually limped his way to the finish line more than 13 minutes after stage winner Peter Sagan (Cannondale). The Tour reached the mountains the next day, where Ryder had been sure he would shine, but he wouldn't have the opportunity to race there. The massive hematoma on his left leg and hip, along with other injuries that left him unable to pedal, forcing him to withdraw from the season's second Grand Tour.
Pedal spoke to Hesjedal at his home in Girona about his abbreviated Tour de France on the Tour's first rest day.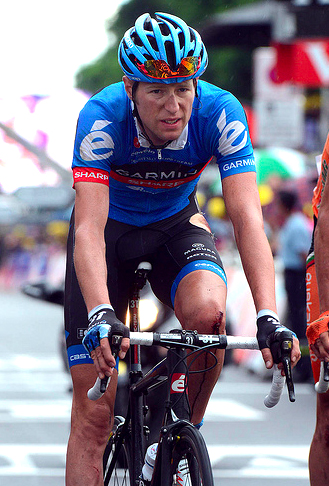 How are you doing?
Ryder Hesjedal: Not too bad. Just doing the work back here in Girona (Spain, his European base.) Just ridin' easy and getting therapy at the moment.
What kind of therapy?
RH: Mostly massage at the moment, just getting the tension out of the leg and the muscle. And some laser and some magnetic stuff for circulation, just trying to get the health back into the tissue.
Do you have doctors over there in Girona who aren't at the Tour with the team?
RH: Yeah, there's a clinic here, a local Girona guy, a therapist, who's been helping guys for years and is always here when we need it.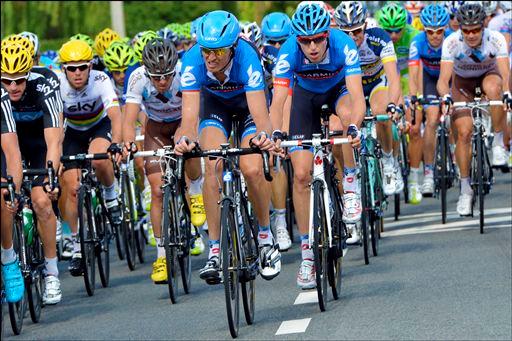 That's good – another advantage of living in Girona, right?
RH: Yeah, you have your networks. It's not like you're on the road and you've got no setup, so that's what it's all about.
I want to take a look back to the beginning of the race. After the first few days did you feel that you were right where you wanted to be with your performances in the Prologue and Stage 1?
RH: Yeah, definitely. I was right there with the other contenders. Not to have raced between the Giro and the Tour and then ride the Prologue the way I did was a good indication. And those first short but decisive finals to stay in contact, it was going to plan and I felt great on the bike and was getting through those stages pretty easily. So my normal trend would've continued where I improve as the race goes on and get better once we get into the heart of the race so I think I definitely would have been in there, but it doesn't really matter…(small laugh) because it didn't happen.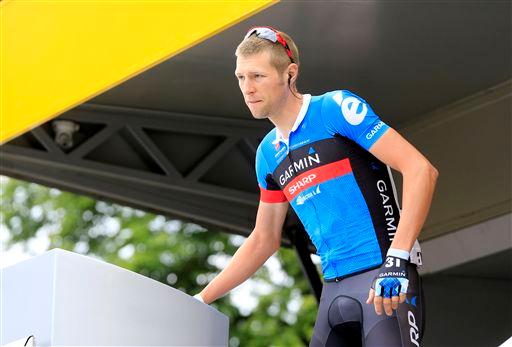 There were so many crashes, every stage guys were being taken out from your team and others – Tony Martin and Luis Leon Sanchez, your teammates Tom Danielson, Christian Vande Velde and Tyler Farrar a couple of times. Did you feel fortunate to have avoided them?
RH: Yeah, you're happy to avoid any problems, but it doesn't mean that you're ever through it. It's just part of the race, guys were crashing every day.
Stage 6 your luck ran out. Tell us what happened about 25k from the finish when so many people went down.
RH: Apparently they figured out the cause and it was a rider taking shoe covers from one of his teammates. At that time he didn't have his hand on the handlebars so he wasn't able to react and he got taken out – I'm assuming he couldn't respond to the rider in front of him properly if you don't have your hands on the brakes. That took him out and just caused the domino effect when no one's expecting it. When the peloton's completely packed from side to side going 70k an hour, the last thing I think on your mind should be having your hands off the handlebars.
So those are the things you can't control, the idiot factor out there and how many people's entire Tour de France and potentially the end of their seasons suffered from it. It's insane. I mean people try and criticize and say "you gotta be up front, you gotta be up front" but you can't be up front all day, about 198 guys are all trying to be at the front, it just doesn't work that way. You have to pick your moments and ride your race and at that time the real battle for the front wasn't an issue. The roads were open and we were approaching the final and you're riding your race and you get taken out by someone doing something stupid, I mean you just can't control that!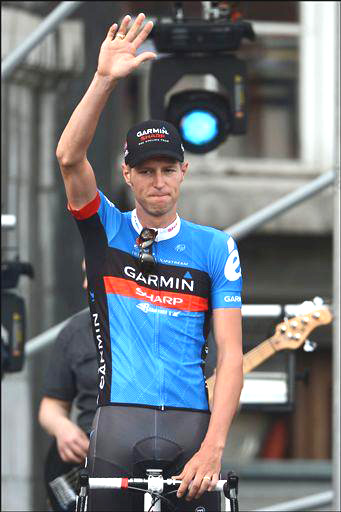 How painful was finishing and what were some of the things that were going through your mind as you rode to the finish?
RH: Well, my left leg wouldn't work. When you crash like that and you crash that hard and you see the majority of your team on the ground and countless others in the ditch and people not getting up and you realize that you're not good and your Tour de France is over at that moment, it's not a nice place to be in. You get on the bike – you get on a new bike, my bike was totaled – and you finish – I mean that's what we do. But it's not a fun part of the sport, that's for sure.
What was the process with your team and you determining if you could continue?
RH: It was pretty easy. If your leg doesn't work you can't really race and that's it. To continue, and to continue to cause damage and hurt my leg even more just to be in the race just doesn't make any sense. The condition that I have and the season that I've had and the races that are still to come, with that inability to race at the proper level and have the GC out the window, it made no sense to continue. You have to be smart and know when to call it quits and make the best situation so that was stopping and getting on to recovery as soon as possible and just being happy that it wasn't so bad that my season's over, with respect to broken bones and that sort of thing. It's not an easy choice but it was in the sense that it was the right choice.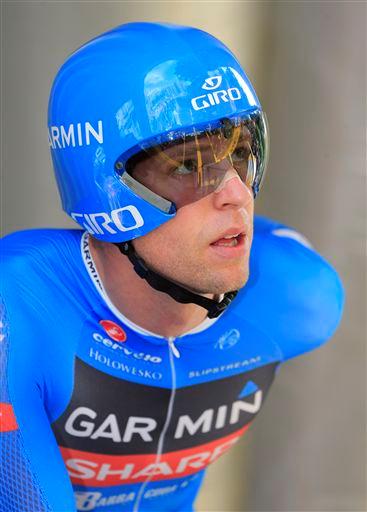 Can you explain what your injuries you have?
RH: I went down on the left side and touched the ground with my hip, my knee and my ankle. So there's road rash from that, a good little chunk of skin on my knee and just general impact all over. When you crash into a pile of bikes and people at 70k an hour it's a lot of energy to be taken into your body the wrong way and a very focused impact happened, I don't know from what, right on my hip, right where the whole quad and IT band (iliotibal band) and the iliopsoas (muscle) and everything enter the hip flexor, the whole hip of the quad. So when that's affected at that level the leg doesn't work, the muscles – it just doesn't work. That deep of an impact causes the hematoma, the swelling, whatever it is in the muscle, the trauma and I couldn't move my leg properly so you have to stop and let that heal and let it repair itself.
What is your timetable for recovery to you can get ready for your next focus, the Olympics, which are less than three weeks away?
RH: Fortunately I've already been on the bike and I'm still able to pedal very lightly – I'm not forcing the muscle at all, it's only been a few days. As long as I can pedal and keep moving I can keep my condition. I had top form, if not the best form of my life, entering the Tour de France and I still got in 7 race days there so it's just a matter of getting maintenance in so I can recover and as long as I can get in 7 to 10 days for training leading into the Games I feel that I'll be at a high level. But until I can push on the pedals with full force it's to be determined, but so far the way things have gone since the crash day, it doesn't look like it should be an issue.
There's obviously so much frustration when you see the Tour on TV or read about it. But can you look at your Giro d'Italia trophy and Pink Jerseys and smile, knowing what you've accomplished so far this year?
RH: Certainly! It's a lifetime achievement. I won a Grand Tour this season. I know I'm at the level of the guys that are there at the Tour and I know I'd be there racing them, so for me, where I am in my career it's not that devastating in that respect. One, I've already accomplished something very significant this year and two, I have the opportunity to still do great races and that's what you have to look at. If my last race of the year was to be the Tour de France and I hadn't done anything all year and I'd focused everything on the Tour would I be more upset? Definitely. I mean, that's a no-brainer, but it's an Olympic year. I still have the opportunity to represent Canada at the Olympic Games, and the Grand Prix races in Quebec and Montreal are very important to me and I can focus on those even more with this time that I have now and building up to them and also look to the World Championships and Lombardia to end the season in Italy on the World Tour calendar. So with all the setbacks and stuff that doesn't go right you can turn it into things moving forward. I'm excited for the rest of the year – that's the only way you can do it!
Great, thanks. I really appreciate your time.
RH: Alright Amy – thank you!