July 4, 2011 (Les Essarts, France) – Last July, Canadians were glued to their televisions and computers watching Ryder Hesjedal's unexpected performance at the Tour de France. He had his best results in the most gruelling mountain stages, including 4th place atop the brutal Col du Tourmalet. Hesjedal finished 7th overall, the second-highest Canadian finish ever at the Tour, behind the legendary Steve Bauer's 4th place in 1988.
His performance in 2010 ensures that the Victoria native be considered one of team Garmin-Cervélo's GC contenders for the 2011 Tour.
Unfortunately for the team, in Stage 1 Hesjedal and his teammate Christian Vande Velde were two of the unlucky many who got caught behind a crash, losing 1:49 to most of the contenders.
But in Stage 2, a 23km Team Time Trial, the team more than turned things around, winning the stage to put their teammate, reigning Road World Champion, Thor Hushovd, into the Yellow Jersey. That evening I spoke to Ryder through the magic of Skype:
Hi there!
Ryder Hesjedal: Hey, Amy!
How are you doing?
RH: Great!
Do you have a glass of champagne in your hand?
RH: Not yet…
Jonathan Vaughters (team director) and Garmin-Cervélo has put so much emphasis on the Team Time Trial and today it all paid off. Talk about the win that put Thor Hushovd into the Yellow Jersey.
RH: Yeah, what can you say? This is about as good as it gets! Certainly after yesterday, coming fairly close with Thor, riding for him, he did a great ride yesterday. And the flip side for myself and our other GC riders all getting tangled up in that crash – that was not a nice way to start the Tour de France. But you gotta put that stuff behind you and we knew that today was really important and we came up with the goods. You'll never see more smiles than we had on this team's faces!
You guys went out very early so you spent a long time on the hot seat. Where were you watching the rest of the stage and what were you thinking as the other contenders like Sky, Leopard-Trek and BMC were on the road and crossed the line?
RH: It's pretty nerve-wracking sitting there, quietly confident, louder at some points than others, sitting on the bus and watching the race go down. Once strong teams are coming through and you keep having the best time, things get better and better. It was close for a couple of them near the end. That's the Team Time Trial – that's the joy of getting the fast time and then having to wait it out! It's a fun moment when it actually comes true!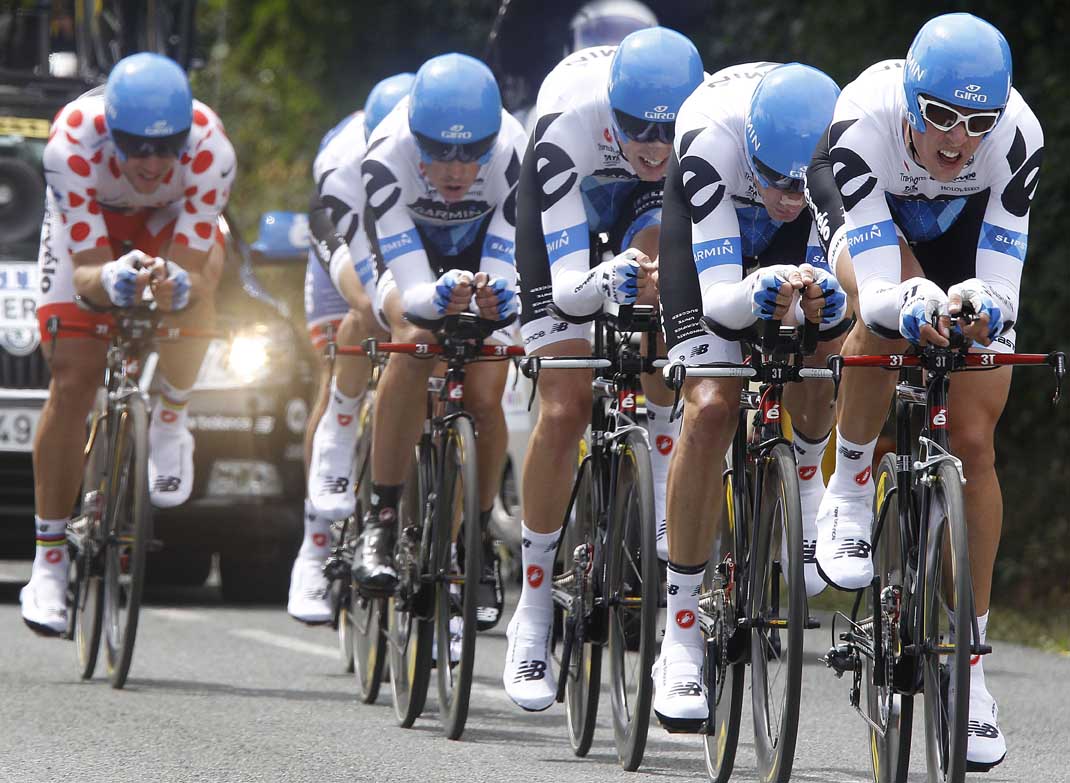 This is the team's first ever stage win at the Tour and its first yellow Jersey – do you feel proud to have been a part of that, since this is your 4th year with the team?
RH: Oh, definitely. I see myself simply doing that, being a part of this team and being a part of these types of rides. It's pretty sweet to have been along for the ride since 2008 and gone through everything. Something was hanging over us [following yesterday's crash] and to come there and already knock it out in the second stage and to be going into the next day the way we are – you can't ask for anything more!
You and the team accomplished the same double at the Giro in 2008, winning the TTT to put Vande Velde into the Maglia Rosa. Can you compare your emotions standing on he podium at both races?
RH: Just totally different. That was a big moment certainly at the Giro. It was huge for our team in so many ways – that was the first Grand Tour that we started together so to win on stage 1 was pretty big, and to be in the leader's jersey. But today, after what happened yesterday for me personally – to come out here and ride the way we did as a team today, I think it just doesn't get any better than that. It's just a great day and it's going to keep going tomorrow – defending the Yellow Jersey at the Tour de France – what else can you want? Plus we'll be going for the stage win with Tyler (Farrar). We're all ready to go! [Farrar won]
With Thor in yellow, David Millar in 2nd, you 1:14 behind and Christian 1:49 back how does the team approach the GC?
RH: We have enough other things to worry about now. We got our stage win and Thor in yellow, so that's the priority now – the stage wins and the sprints, doing what we have to do to defend the jersey. Getting through these next decisive stages, to Mur-de-Bretagne (Stage 4,) the other steeper kind of uphill finish, I can't remember what it is right now (Stage 6 to Lisieux) and even on to Super-Besse (Stage 8)…so we just gotta get through this section to the first rest day and we'll see where we are on the GC.
We already saw that it wasn't that simple yesterday. We made some ground back today and we'll just keep looking at it day by day. But the GC is not really what's on the mind right now. Yesterday right out of the gate when you lose the time and pretty much every other guy gets the benefit of that with the 6 seconds. There should have been more time differences in that final but we kinda got it bad on both sides, the point where we got caught behind and the other guys got the benefit, all getting 6 seconds, even though they didn't have to ride the climb. So what can you say but I think we got the consolation prize today, to say the least!
What happened yesterday? Did you go down or did you just get caught behind the crash.
RH: No, I didn't go down, it was close. The whole road just got sealed off from right to left. If you look at the replay there weren't that many guys who got through. It was just the guys that got going sooner than the others as far as when the real tangle started – that ended up being about 78 guys who got through, but when you see where the crash started it was very near the front. Some guys got lucky and some guys didn't, that's just the way it goes. On the flip side, I was fortunate not to have crashed seriously and be in a worse situation. It doesn't even matter – we won the Team Time Trial today and sit in yellow, so Saturday's long gone!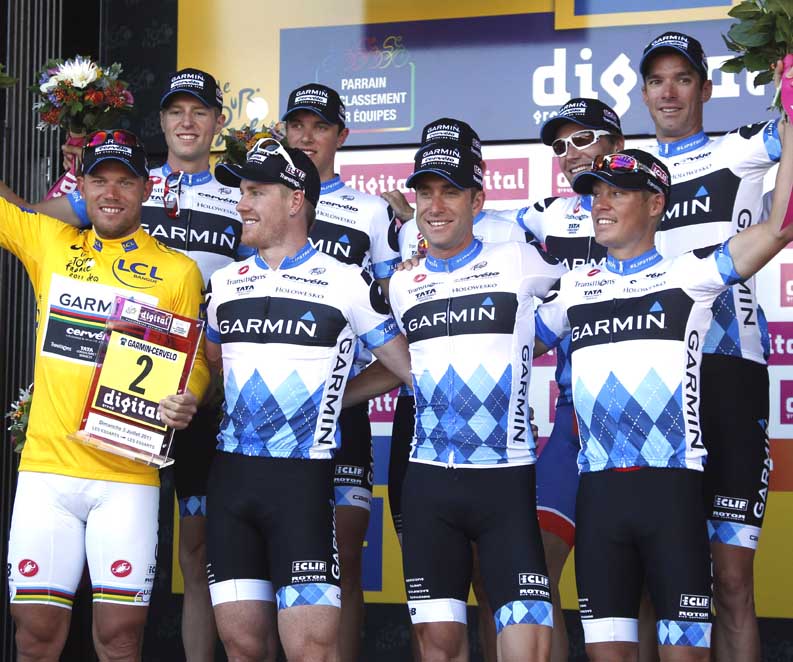 You're the only Canadian in the race this year – how does the "Weight of a Nation" feel on your shoulders?
RH: (Laughs.) Yeah, it's the same, it's always the same. I enjoy just being here and simply representing and that part of it. I don't really think about it too much, there are enough things I need to be worrying about and focusing on. But I'm proud to be here and represent Canada!
How did your success – 7th overall – last year translate into more Canadians being aware of and following pro cycling?
RH: Oh, I think it did a lot. That's the power of the Tour de France. To be there, to be fighting and have a good race and having people take notice and watching it. Not just following me, but finding out about the Tour and the dynamics and watching the race. Maybe because they heard there was a Canadian in the standings they tuned in…maybe they wouldn't have otherwise. It doesn't take much to become a fan, if you just check it out. I'm proud that I was able to help that. If more people are watching the Tour de France in Canada because of me, that's great!
Are your parents still home in BC?
RH: Yeah, they're back in Victoria watching in High Def, the best seat in the house, no plans to come over this time. My fiancee's over here, so that was great that she was able to be here and be around when we got that victory.
So your parents and friends back home are setting their alarm clocks set for 5 a.m. again so they can watch the Tour live?
RH: Yeah, yeah (laughs.) That's the way it goes when you're in Pacific Time!
So speaking of time… when I let you go will it be "champagne time"?
RH: Yeah, I think dinner's pretty soon, everyone's finishing up with massage. There's stuff we have to do! As great as this day is we have to get ready for tomorrow. It's a furious pace but I'm sure there'll be plenty of champagne popping around at our dinner and we're going to enjoy it until tomorrow, that's for sure!
Ok, congratulations and thanks for your time.
RH: Thanks a lot, Amy, appreciate it!