October 26, 2016 – Ryan Roth is no stranger to mixing it up with the world's best cyclists. The 33-year-old who lives in Kitchener, ON has the palmares to rival any rider in North America, including wins such as Tro Bro Leon, Univest GP, Winston Salem Cycling Classic, Grand Prix de Saguenay GC, the national road race championship in 2012 and the national time trial championship in 2016. After a late start to the 2016 season due to injury, Roth concluded the year with a fantastic performance at the Road World Championships held in Doha, Qatar, riding in the lead group for almost the entire day to finish 15th against some of the most prolific riders of the modern era. Pedal Magazine caught up with Roth following the Road Worlds, and this is what he had to say.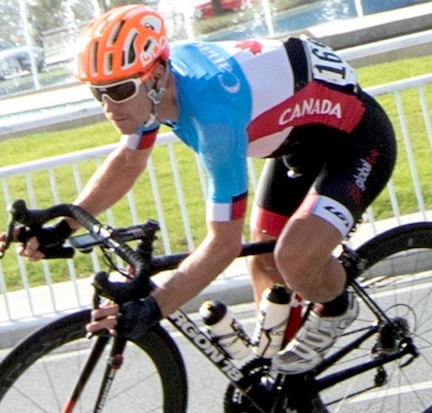 Congrats on your fabulous ride at Road Worlds – can you tell us about some or your preparation for the race this year?
Ryan Roth: After the Tour of Alberta I was mainly doing workouts on the track. Lots of team pursuit stuff and a couple of longer road rides. I raced the first two days of track nationals then headed to Israel with some of the Elite women, U23 men and Elite men to finish our prep for worlds there. Mainly lots of different efforts using a scooter and some time trial training as well.
You had a bit of a late start this year due to injury yet had a stellar season winning Winston, your first TT national title and now a strong Road Worlds. How did that slower start effect you?
RR: It definitely had me concerned. I felt like I was in a really good place prior to the injury so when I realized that most of that work would go to waste it was hard to accept it at first. Once I was back training, I decided not to rush things trying to make up for lost time as that could just create more problems down the line. I built up steadily and tried to be confident that if I did the work, at some point the form would come.  Somewhat surprisingly I was able to win Winston Salem as one of my first bigger races after the time off. I just tried to keep the ball rolling from there.
You didn't race the WorldTour races in Quebec – was that a decision you made to focus on Worlds?
RR: After BC Superweek, I could tell I was starting to lose form, and a bit of motivation. The training for Tour of Utah, the race itself and then trying to build up for Tour of Alberta was not smooth. Knowing I was not physically and mentally ready for such difficult races I decided it would probably be better to give up the spot to someone else. I think in the end the spot went to David Drouin who is from Quebec and a teammate on Silber. I'm 100% sure he got more out of those races then I would have, so in the end I think it was a good decision. Also in the back of my mind was that with Worlds being mid-October, I could back off a bit and still have time to get ready for the TT and road race at nationals.
How was the team Canada camp in Israel? Did the heat acclimation help you in your ride at Worlds?
RR: It certainly didn't hurt.  We had a great group of Canadian and Israeli riders and staff there for about 10 days. Having the group training atmosphere as well as support out on the road with scooters and cars meant we could actually get in the hard training necessary to prepare for Worlds. The conditions in Doha were actually a bit more challenging but I think dealing with it in Israel gave everybody a good idea of how to deal with it on race day.
Did you have a specific goal in mind heading into the Championships?
RR: The time trial was a bit more of a goal for me. I feel like I have made some nice gains there this year and wanted to confirm further with a good ride in the TT. For the road race I was prepared to try my best in whatever roll I was given by our DS Kevin Field.
You were in the original break established after about 4km of the 257.5km race – was the plan to get in the early move?
RR: Yes. Kevin gave me that job the day before. Depending on the wind it could have been a situation where we raced straight from the gun, but luckily it was headwind so there was time for a break to get away before the action started. If I had missed it, most likely I would have helped Adam [de Vos] with keeping the other guys fed and hydrated and then later on with positioning when the course changed directions.
Tell us about the course in Doha? Many are saying it was more difficult that initially thought due to the heat and winds.
RR: I think 260km anywhere is going to be difficult and everyone knew it would be hot. Even with no wind at all, the accelerations on the circuit would wear down a lot of guys and you would have a group sprint of less than half the field. The wind was definitely the biggest question mark and before the start we could see it was pretty strong.  Overall I think it was a good course. It should vary from year to year so different types of riders have the chance to win.
On the circuits you looked composed and let the big teams drive the break – did you have a plan for the final?
RR: Normally I would always have some idea of the different scenarios that could happen and how I would deal with each. However, in this case I was much more preoccupied with just eating, drinking, trying to stay cool and not wasting any energy to make sure I didn't crack and would be able to stay in the lead group until the last lap. I didn't finish last year in Richmond and don't have the experience of doing any of the other 250km+ Monuments, so I was worried about running out of gas. Perhaps this took away some of the time I would have spent figuring out the best way to play the final.
Once we got the last lap, I found I wasn't actually feeling too bad. I was expecting more attacks but in hindsight there were mainly sprinters and teammates of them to drive the group so it was actually pretty calm. I only thing that went wrong was inside the last km a gap opened up a wheel or two in front of me. I hesitated to see if someone from behind would close it, but no one did meaning I didn't actually get to do the sprint with the front 10 guys or so.
What does this result mean to you, and cycling in Canada as a whole?
RR: I didn't really have any personal goal for the road race, so to walk away with a top 15 is nice. In the bigger picture I hope we can build off this year's efforts. In cycling, the Worlds is a unique situation where almost everybody races for their trade team the whole year and then comes together to try and win one of the biggest races for their country. Being late in the year also creates an additional challenge. How to pick the best, cohesive team and create a good dynamic when earlier season results, fatigue, injuries, different personalities, contracts, etc. are factored in must be very tough. I think we're headed in the right direction and there are some positive things going on. I'd love to think that the work we did around this year's races adds something to the day in the future when we (Canada) have someone on the top step of the podium in a rainbow jersey.
We understand you've resigned with Silber Pro Cycling. Can you just share a few words about the program and your personal ambitions moving forward?
RR: For next year the program will be even more development focused. We have a bunch of new, young riders coming on board so there may be some time required to get everything on track and aim for the sort of results we've had the last two years. I'm super excited to see if we can do it. My personal goals are always kind of changing and evolving, but I'd like to put some focus on some of the harder, UCI one day races and well as continuing to improve on the track side of things. I've really enjoyed the training and racing that I have done on the velodrome so far.
Thanks for talking with us Ryan.
RR: Thanks.