September 07, 2011 (Kamloops, BC) – Canada's Catharine Pendrel made history on Sept. 3 claiming the 2011 Elite Women's XC MTB World Championship rainbow jersey and lived her dream. It was Pendrel's first time on the Worlds podium as her best previous placing at the MTB Worlds was 4th on home turf in Mont Ste-Anne last year. With her victory Pendrel reclaimed the Elite Women's title for Canada, last won by the legendary Alison Sydor in 1996.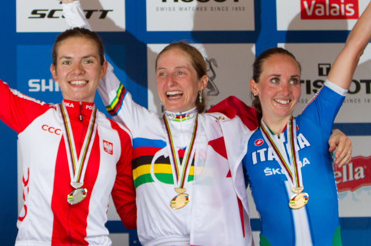 We caught up with newly crowned 30-year-old Luna Pro Team rider at her home in Kamloops, BC after she had spent her second morning back volunteering leading horses for children with disabilities. Pendrel grew up on a horse farm in Harvey Station, New Brunswick, so she has a strong equine connection. We spoke to her about her big win last weekend in Champery, Switzerland.
Quickly take us through your career and how you ended up as World Champion.
Catharine Pendrel: There are so many factors. All the right support happened at the right time. As my training progressed and as my ability to perform progressed, so did support from Sport Canada, the CCA, and Luna.
One of the major things was lucking out and finding the right coach right away. My first coach was Dan Proulx [Canadian MTB Coach and Pendrel's personal coach], so right away I had a very intelligent and creative coach that was a continual learner and kept giving me good programs that focused on training my weaknesses…. he could see what I needed to do to improve.
I also lucked out in my life partner Keith [Wilson], because not only did I have great coaching coming from Dan, but I am also married to someone who loves riding, is a great mountain biker, and a great teacher [Wilson is a high school Math and Physics teacher]. He helped me improve as a rider, leading by example.
Another thing I think helped is I have always had phenomenal family support – always from my own family and then from Keith's  family. I had all these people that were really excited for me and really believed in me and helped me see my goals through.
The team support I've received from Luna has also made a big impact.
When did you really believe that becoming World Champion was a realistic possibility?
CP: When I started doing Canada Cups and looking towards doing World Cups, I always thought it would be awesome to become a top-10 rider. It wasn't until 2007, when I had my first glimpses of the top 10 at World Cups, that it actually felt that it could really happen. The better I did at races the more it became a reality. [Pendrel won her first WCup in 2008 and has amassed seven during her career winning three just before Champery.]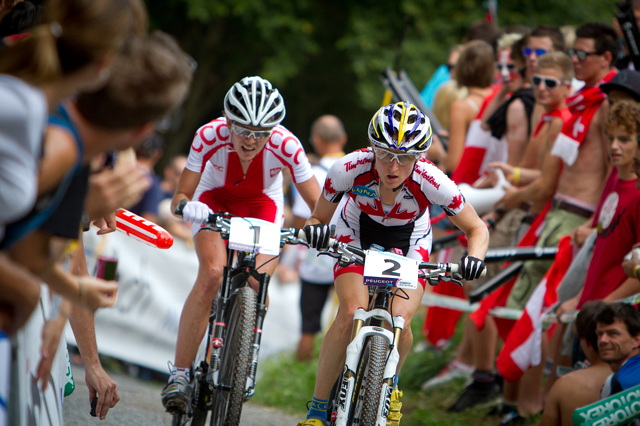 Back to your World Championship race: Were you nervous when you and defending champion Maja Wloszczowska (POL) were together switching the lead back and forth?
CP: Yes, I was nervous, because Wloszczowska obviously had very good climbing legs, but I felt very comfortable on her wheel. I felt confident, but I knew getting away from her would have to be a very good effort and very well-timed and that I couldn't make any mistakes.
Were you relieved when you heard Wloszczowska had flatted?
CP: It's always a relief when you get off the front by yourself. I didn't know until later that she had flatted. I knew that she had had some problem. Once I got up to a minute lead it felt like I could afford to be cautious and not make any mistakes, because on that course a mistake could cost you so much. But once she attacked Italy's Eva [Lechner] to take over second place and tried to bridge up to me, I was like, 'Oh crap, she closed fast!' [Wloszczowska brought the gap down to 30s]. Then I was telling myself not to screw it up, oh man!
How did it feel to put on and then wear the rainbow jersey?
CP: I definitely felt very proud to put it on. It really did feel like such a great satisfaction to have finally achieved this, something that you dream about. I don't think I've ever wanted a race as badly as I wanted this one. It was pretty amazing, and in the moment I thought, 'I could retire now and be happy,' but then I quickly remembered that the London Olympics are next year!
It was obviously and emotional moment – what was running through your head?
CP: I was so proud, relieved… and I'm a bit easy to tear up [laughing]. It's such a proud moment to stand on the podium, particularly because the Canadians were so pumped for me. They had a huge cheering section for me at the end. To work so hard for something and to want it so badly and finally get it at the end is a form of catharsis.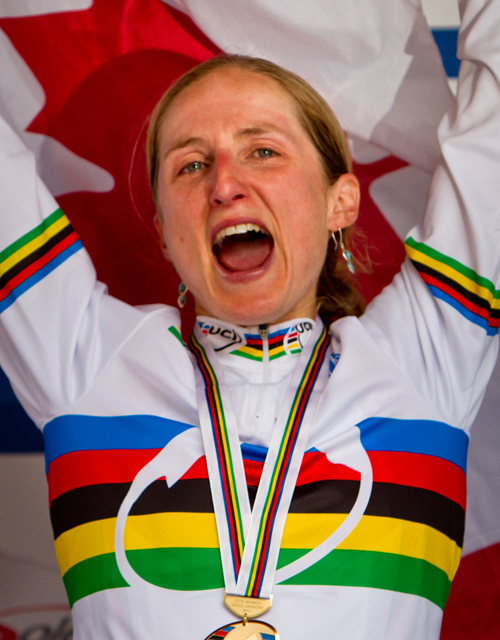 How important was this win with respect to your career in mountain biking?
CP: Because the World Championship is the event that everyone tries to win and everyone brings their best to … to come out on top is very gratifying for the amount of work put in. I could see the effect it had on the team – Dan, Keith, the mechanics. It's not just about one athlete winning, it's about a whole team of people that gets you there. A lot of things have to go right to be on top in the end.
You've won World Cups, the World Cup Overall, now Worlds… what's left but the Games? You recently won the London test event – was this the final test of your abilities and confidence heading to London 2012?
CP: You know, you can't rely on the results from one race to the next, or one year to be indicative of the following year. This season was a step in the right direction, but there is going to be a lot of hard work for me to be on top again on August 11, 2012.
Now that you've had a few days to reflect on your win, has your perspective changed? Does it feel any different from the initial moment?
CP: I think the further you get from the moment and the adrenalin, the more you go back and analyze and look at 'what if' scenarios. What if Maja hadn't flatted? Did I have more to give? I feel confident I could have found more. I'm definitely proud of that race, I'm proud of my season, and I'm pretty excited to see my new kit next year.
How did you celebrate?
CP: It was great. Everybody on the team came up to our condo, Dan bought us all pizza, we made salads, we danced, we hung out…. I wanted to share it all with them. They were all part of that day and that experience, I wanted them to be there. … It was so amazing racing, because the entire Canadian National Team was on the course yelling their heads off. Gunn Rita Dahle-Flesjaa [10-time World Champion] told me I had to party because I was World Champion and I did.
Any final words for your fans back home and around the world?
CP: Thanks for everyone's cheers and support, and I look forward to representing Canada in the rainbow jersey next year!