November 18, 2016 (Sherbrooke, Que.) – On Nov. 5 Quebec's Jeremy Martin (Focus CX Canada) won the Elite Men's Cyclocross National Championships in Sherbrooke, Que. At first glance that might seem like an underdog victory, but for those in the know, Martin has been knocking on the door of success for the last few years. Pedal caught up with the new champ to find out how that stellar day unfolded for him, the build up to this point in his career and what's lies ahead.
Congratulations on your new national title. For sure lots of hours behind the scenes got you here – what was going through your head when you crossed the line?
Jeremy Martin: Thanks! Yes indeed, lots of hours behind the scenes for sure! When I was starting my last lap, I was starting to think about the win, the first jersey, etc. and made a small mistake. So I told myself that this was two to go, just so I would not get too excited and crash out. It seems like it worked – to be honest, I wasn't thinking much on the last straight except: "Is this really the finish? Do I have another lap to go? Oh no, looks like there is a big enough crowd, it must be the finish! I won! Really?!"
Is this the biggest win of your career?
JM: Well, this is definitely the one with the  biggest media/marketing impact! But nevertheless, I'd say that yes it is. I had a clean race and felt in control all day, but to win my first Elite title at "home" with friends and family watching, it was something special! It always feel good achieving one of the goals that was set a long time ago!
It looked like a bit of a tactical battle, was that how you and your teammate/fearless leader Aaron Schooler drew it up, or were there a few nervous moments early on?
JM: It was somewhat tactical, but not really at the same time. There wasn't much drafting since there were a lot of muddy sections and tight corners. Mark McConnell went to the front early on and I was keeping track of him, but didn't want to go out front too early. I didn't want to take the risk to go over the limit and start crashing on the slippery corners. I was focused on riding a clean first half of the race, then Aaron and Geoff [Kabush] bridged back up after slower starts. I made sure to follow the right wheels and apply some pressure on the sections where I felt stronger. Of course it felt good to have Aaron with me in the lead trio, because I knew he was there to help me out if needed and knew I only had to keep an eye on Geoff, so it made it less stressful for sure.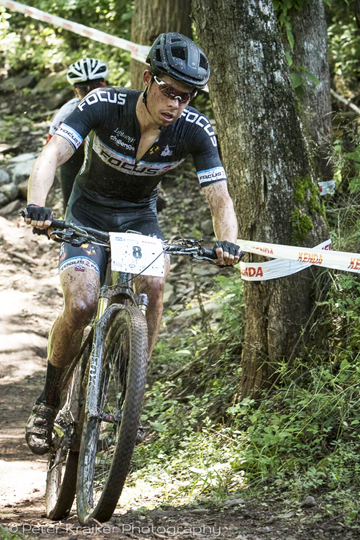 You've made a big step up this year in terms of results, how has being part of a big team like Focus CX Canada helped that?
JM: Yes! I've had a very good season both on the MTB and CX bikes. I think my 2-month trip to Belgium helped me a lot to realize how strong/fast I can aspire to be. This was a big motivation to work hard with my coach David. Of course the new team was a big help all season long, not having to worry about equipment and knowing my bikes are A-1 was a big part of  showing up at races with more confidence. Having a professionnal-like set-up in Sherbrooke was something important since it was cold out there. We were able to stay warm and showed up to the startline 100% prepared.
Cyclocross has been on the rise in Canada, first with Red Truck Garneau (currently Garneau-Easton), and now with Focus CX Canada. Where do you see the growth of the sport in the next few years?
JM: This is actually a hard one! Over the last couple of years, we've seen plenty of teams folding or merging or just going bankrupt. So having new teams in Canada is really cool. I think this is a big part of why there are more and more competitive Canadians on the North American and international scene. Both of these teams are pioneering the way for future squads and cyclocross stars. I really hope these teams get to grow and become real professional , I think this would be a big step in the development of CX in Canada. Having UCI races in Canada will also be a big stepping stone in the years to come.
What's your plans for the rest of the fall, do you have any plans for a Euro trip or Worlds?
JM: So there is one more UCI weekend (Supercross, NYC) on my schedule before a bit of a break. No Christmas Cross for me this year, I have to pick and choose the races I can afford doing. I have decided to stay home and eventually go somewhere warm(er) to train and try to be 110% for the CX Worlds. These races are incredibly fast and I really want to step it up this year. So I'll be heading to Belgium mid-January and will race a couple of World Cups, Worlds in Luxembourg and maybe a couple of Superprestige races.
You have a background of a very successful MTB racer, what's made you switch to cyclocross?
JM: I just love it. Cyclocross is in my mind a very good training for MTB and vice-versa. I am the kind of person who just likes to race, so mixing MTB and CX season is sometimes hard, but I just love the diversity of the races. I love the cyclocross community and feel like the sport is growing quickly and I'm very happy to be part of it. I still want to perform in both disciplines, but I am learning so much in cyclocross and I really feel like I'm getting closer to that top 20 in the World ranking. It's very motivating!
Do you have plans to focus on the professional mountain bike calendar soon?
JM: Yes… things are not clear yet, but I am planning on a full MTB schedule next summer, a mix of World Cups and fun events in the United States. I am still looking for opportunities for next summer, but I am planning on showing up ready to the big races and am hoping to perform there as well. I am graduating from University in April, so I should have even more time and energy to get ready for the next season(s).
Does the mountain bike season and specific training compliment cyclocross prep well?
JM: I think so, of course there are some CX races where the course is really similar to a road race or a criterium, and I have a harder time with those. The cool thing about cyclocross is that I am learning a lot and starting to understand how those tactical races work. But for a race like Sherbrooke, JingleCross, Cincinnati or anything in Belgium, I think the training and skills from MTB are very useful.
What would you tell young racers about balancing multiple disciplines, school and relationships at the same time?
JM: You said it in your question – it's all about balance. Train hard when it's time to train hard, and enjoy your time home with friends when it's time to rest. I think being organised and planning ahead is important, but make sure to keep it fun!
Last question, what's your number one cyclocross tip for all the weekend warriors out there?
JM: Focus on the basics. Having two carbon race bikes but no warm gloves or rollers to warm-up doesn't make much sense to me. Make sure to work on your skills and try to ride your bike outside even if it's cold. It's hard to learn how to ride off cambers on a home trainer. Oh and never forget to have fun and challenge yourself, just like you were doing when you were 10 years-old!