October 21, 2016 – Gillian Ellsay of Courtenay, B.C. is one of two Canadians joining Team Colavita/Bianchi in 2017. The team will be concentrating primarily on the USA Pro Road Tour calendar, along with domestic UCI road races and a selection of international races. Ellsay has won the Best Young Rider jersey at multiple events, and in 2015 was the U23 Canadian National time trail champion. At the 2015 UCI Road World Championships in Richmond, VA. Ellsay claimed a stellar 8th in the Junior Women's ITT. Pedal Magazine had the chance to talk to Ellsay about her career so far, and the future with Colavita/Bianchi.
Can you tell us a little bit about your background? How did you get into road racing?
Gillian Ellsay: My dad used to race in BC and so he started bringing my brother out for rides and eventually I started as well. Although, admittedly it was not very enjoyable to begin with! Then as my brother got older and started to race I fell into it as well. My love for racing and riding didn't really start until I was able to go on a warm weather camp with Cycling BC in 2012 to Palm Springs. That was amazing! And really opened my eyes to all the possibilities of racing a bike.
How long have you been racing with Trek – Red Truck? How has that program helped you develop as a junior and during this past season as an elite racer?
GE: I spent two seasons with Trek-Red Truck. Trek's program was so instrumental in my second year junior development and into my first year as a senior. They supplied equipment, covered race fees, took us to races, and gave us a platform to be able to develop and get noticed by other teams.
I think one of the most important things that Trek has done for me is they have had two of Canada's best female ex-pros as mentors to the younger and developing riders on the team. Denise Ramsden and Leah Guloien (ex-Colavita rider) were there every step of the way to offer their knowledge and passion to us. And the lessons they taught me have been invaluable moving forwards.
Similarly to Trek, Colavita has launched a junior development program in partnership with the Killington Mountain School which is pretty exciting and I'm eager to see how it will unfold further.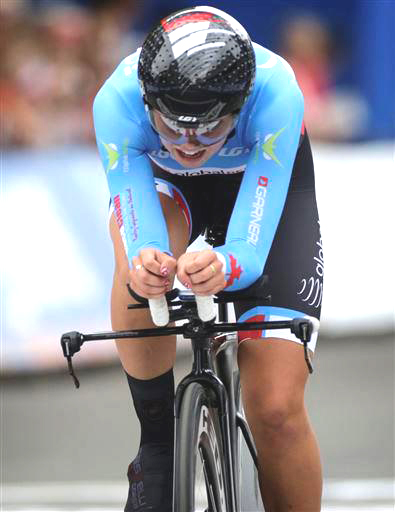 What accomplishment are you most proud of so far in your cycling career?
GE: Besides signing a professional contract, it would be my U25 jersey at the San Dimas Stage Race in California. It may not have been the biggest race I have done but the way that Trek rode as a team there to help me take the jersey and to help Leah to 5th overall was just another great example of how teamwork and commitment gets the job done.
You raced both the road race and the ITT at the World Road Championships in 2015, finishing 8th in the TT. What was that experience like?
GE: Road Worlds were crazy. In February of that year, Richard Wooles asked a group of us to share our goals for the season and I said I wanted to go top 8 at ITT Worlds, so I had a big, big star around that race. My coach Jeff Ain prepared me really well, so to be able to ride my way to eighth – I was pretty stoked. But that result also left me wanting more and kept me motivated over the winter so I could accomplish my goals for 2016. And the crowds in the RR were unreal, you know their excited when they drown out your breathing up Libby hill!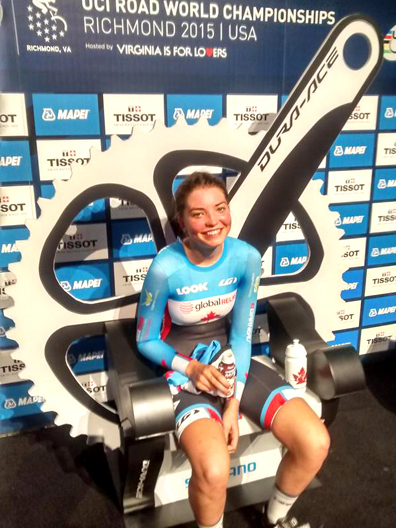 Apart from your result at worlds in 2015, you have also been junior national champion in the ITT and finished 2nd in 2014. Do you consider yourself a TT specialist?
GE: As a junior for sure I thought of myself as a TT specialist. But I was always told "don't put yourself into a box too early" so this past season I tried to focus more on getting some well representable RR results, the ITT's were still a goal, but I wanted to show professional teams that I could also be of value as a road racer. And I think it payed off since Colavita took notice!
Have you discussed the role you will be filling with Colavita?
GE: I have not discussed my role in depth with Colavita but I will expect to be mainly a supporting ride as a first year professional, but hopefully I will be able to get in some results as well.
You'll be joined by fellow Canuck Ellen Watters at Colavita next year. Have you ridden with her much?
GE: I saw Ellen more at races this past season but I haven't ridden with her much. But she is from The Cyclery Racing, so I'm expecting she's a class-act!
Can you share anything about your plans for next season yet? Training camps, schedules, etc?
GE: We haven't been given a detailed calendar yet, but our season will be starting with a small international stint followed by a primary focus on the Pro Road Tour Calendar (PRT) which hasn't been released yet. And our Team camp will fall in February before the PRT calendar starts.
Your brother Nigel races for Silber Pro Cycling. What will it be like to have two pros in the family and has he helped you along the way?
GE: Well other than my mom and dad being stoked about all the free swag, I think it will be really motivating for us as we have a pretty good sibling-rivalry going. For sure he has helped me. I consider myself pretty fortunate that he is also on the same path that I am. He's been my top mentor besides my coach and is always there to help me out with anything cycling related (especially mechanics).
All the best Colavita/Bianchi next year.
GE: Thanks