December 12, 2011 (Bend, OR) — Following yesterday's announcement that Canadian MTB star and veteran World Cupper Geoff Kabush had become the newest member of the SCOTT-3Rox Racing Team, we caught up Kabush on his way home from Bend, OR, where he just wrapped up second overall in the USGP Cyclocross Series. We asked him about his new team, and what he hopes to accomplish in 2012.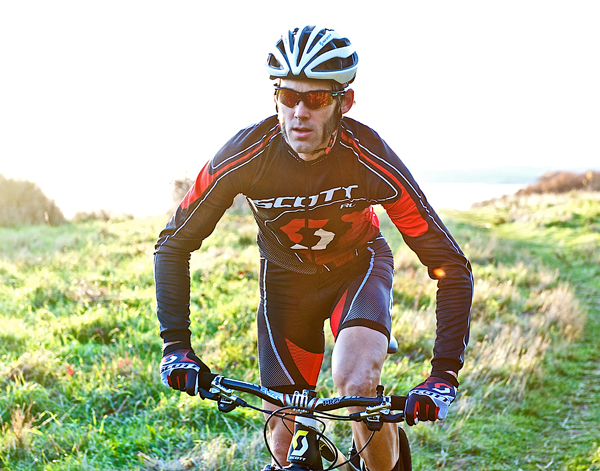 Yesterday it was 'leaked' that you will be joining the SCOTT 3Rox Racing team and now that it has been announced, how do you feel?
GK: When the deal with Rocky Mountain fell through there was nothing guaranteed [for me] for next season so now, I couldn't be happier with how things worked out with the Scott-3Rox program.  There are lots of exciting ideas and plans for the future.
Sometimes change can be good.  Do you think this change in teams has lit a fire in you going into the Olympic year?
GK: While I was working as hard as I could on the sponsorship side of things, I continued to train hard moving forward.  I kept leaning forward mentally making the push and it has lead to these exciting changes.  It was a similar situation last time [when Kabush changed from Kona to Maxxis in 2004] and I find that change is very motivating.
How did the SCOTT-3Rox Racing deal come together?
GK: I randomly ran into Adrian Montgomery of SCOTT USA at Interbike in September while I was still pursuing a deal with Rocky Mountain. Adrian and I chatted about the sport, marketing, and about my situation. I had also joked with Kyle Douglas at Worlds about signing up with 3Rox. Once the Rocky deal fell through, and since SCOTT wanted to become more involved with racing in North America, one thing lead to another and the stars just aligned. It was really Kyle Douglas who initiated things and has done an incredible amount of work to make everything fall into place.
You mentioned you had a few options on the table – what made the SCOTT-3Rox Racing team the best fit for you?
GK: There are a couple of reasons why this program is the best fit for me.  The race equipment is amazing and the long-term commitment SCOTT is making to the sport, right down from the top of the company, is important.  I'm really looking forward to the role I will have in the marketing and product development and ultimately I race to have fun and I am looking forward to some good times with the 3Rox group.
So this was your first time testing a 29er, what are your initial impressions?
GK: I am going to have an array of amazing bikes to choose from with SCOTT's line-up. My ultimate goal is to pick the best weapon for each race and both 26 and 29 inch bikes will be available. I'm excited for the 29er as an option as a race bike and I'm going to try one out to see what all the hype is about.
What do you hope to accomplish with your new team?
GK: It's an exciting time with riders in Canada coming through the system. I hope to provide mentorship to some of the riders and I'm glad to have the support in the program to bring all the riders up to World Cup level.  It will be exciting to have some more teammates, like Derek Zandstra and others, to train and race with as we pursue our Olympic goals. My long time mechanic Gary Wolff will be part of the support crew and his experience will help take the 3Rox program to the next level.  For me personally, the Olympics it the target along with the World Cup calendar but I'm excited that we will be diversifying the events we do, expanding into some of the Enduros and other events.
What is your 2012 racing schedule looking like?  World Cups of course, but will we see you race in the US &/or Canada more?
GK: We are currently working on the calendar and trying to find the events that fit into our schedule.  In addition to the World Cups, we will possibly be attending select North American events like the Sea Otter, Whisky 50, Hardwood Hills Canada Cup, Crank the Shield, & Cyclocross Nationals.
What are you're plans with the Race Clean Own Your Victory initiative in 2012?
GK: With my new team it is a good opportunity to raise the profile of the Race Clean program in the next year or two. It is a slogan that has guided my career; it is so much more rewarding to know all my accomplishments have been naturally.  I used to doubt how far I could go but these days I am shooting for the top step every time.
SCOTT-3Rox Racing Team Roster for 2012
– Geoff Kabush
– Derek Zandstra
– Cam Jette
– Tyson Wagler
– Marc-Antoine Nadon
– Amanda Sin
– Mikaela Kofman
– Laura Bietola