September 12, 2013 (Quebec City, QC) – Canada's David Veilleux (Europcar) announced the stunning news yesterday that following Les Grands Prix Cyclistes Quebec City et Montreal on Sept. 13 and 15 respectively, this weekend, he will hang up his bike and retire from professional cycling to focus on school – read more here. Pedal caught up with the 25-year-old star on his cell to find out more about his decision…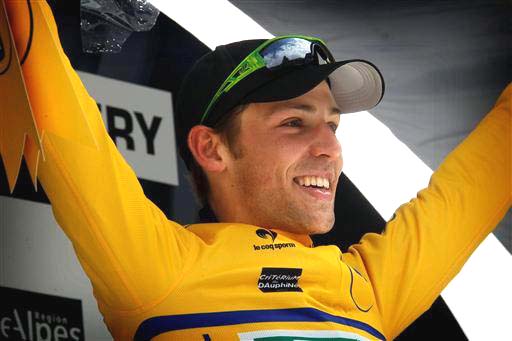 How did you come to this decision?
DV: It really happened quickly since I've been back from the Tour. I realized that I have achieved my goals in cycling and now it's time to focus on school and other parts of my life. After wearing the yellow jersey at the Dauphine and getting to ride and complete the Tour it was a dream come true and the time feels right to move in a new direction.
You have lots of potential in the cycling – was it a tough decision ?
DV: Yes, but there but there is no way to know what will happen in the future and what goals may or may not be achieved. Right now I'm happy with what I've accomplished… the more I thought about it the more it felt like the right choice. I've spent a lot of time in cycling, from my youth until now, and I've had lots of dreams and success along the way. I'm grateful for all of the support… but I have other personal goals as well and need to spend time on them.
Were you thinking about this at all during the Tour de France…?
DV: No not at all…there was no time for anything else but focusing on each stage. It was a dream come true to compete at cycling's biggest race and a great satisfaction to be able to finish the Tour de France on the Champs-Élysées.
You were recently married and just back from your honeymoon [in Mexico] – congratulations. Did this play a part in the decision?
DV: Thanks… no, the decision really came to me as this season started coming to an end. I want to focus on my studies in mechanical engineering at l'Université de Laval. I've had a great career in cycling with many great achievements but now it's time to look in a different direction.
Many of your supporters and fans will be disappointed with your decision?
DV: Yes that's normal and I hope they understand… my family and close friends all support my decision which is also very important to me.
Will you continue to be involved with the sport?
DV: Yes cycling is in my heart and I'm still very passionate about it and hope to be involved with helping youth in the sport. I don't have any exact plans right now but after the next two years in school I'll begin to have more time to get back involved with cycling.
Thanks for spending time with Pedal and all the best in the future.
DV: Thank you
Interview with David Veilleux at ExpoCycle on Sept. 9 – two days before his announcement here.