July 16, 2016 – We caught up with defending Elite Women's XCO champ, Catharine Pendrel, who has six national titles under her belt, just prior to the MTB Championships taking place this weekend in Baie-St-Paul, QC, to find out more about her reasons not to attend the event this year and what lies ahead for the 2x MTB Worlds champ with Rio 2016 on the horizon.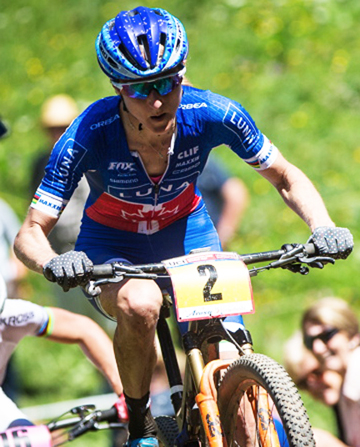 Tell us about your decision not to race at the MTB Nationals this year.
Catherine Pendrel: The decision not to race nationals was a tough one. However when my coach and I looked at my ability to prepare optimally for Rio it did not makes sense to spend the two months before the Games on the road (Worlds-Rio) or to try to get home between nationals and the MSA World Cup [Mont-Ste-Anne] for a week. In order to minimize time zone changes and training time lost to travel, coming home at this time made the most sense. I am the only Olympic team member based on the west coast so it was a bit of a unique situation.
How has your recovery and training been going following the recent MTB Worlds and the WCup in Lenzerheide?
CP: After Worlds we raced a World Cup in Switzerland where my form felt great but a crash there also caused a mechanical that dropped me out of the lead [her seat needed to be changed]. I just finished up seven weeks of antibiotics for a bone infection in my thumb so I'm hopefully looking forward to a problem-free training block!
What's the game plan heading into Rio and what races are you planning to do until then ?
CP: I will train at home for 3 weeks to ensure the highest quality preparation and recovery. I will then race MSA and spend the following week in Ontario staging on a similar time zone to Rio and also enabling a direct flight from Toronto. The MTB team will arrive in Rio on Aug. 13.
Are you hearing the Rio course will be the same as the MTB test event back in Oct. ?
CP: They have made some small changes so the start stretch is longer and I anticipate changes to some rock gardens.
Rio is mixture of excitement and concern with some of the news reports – how do you deal with it all…?
CP: We have great staff working for us so the athletes don't have to worry. I am confident in the preparations Team Canada has made to keep us healthy and plan to go there and ride my bike as fast as possible. No mosquitos will get me then:-)
All the best going forward
CP: Thanks!