July 31, 2011 (Hadleigh Farm, UK) – Following her stellar victory at the  Elite Women's Olympic MTB Test Event at  Hadleigh Farm International we caught up with Canada's Catharine Pendrel for a brief interview to find out more about her stunning victory on the road to London 2012.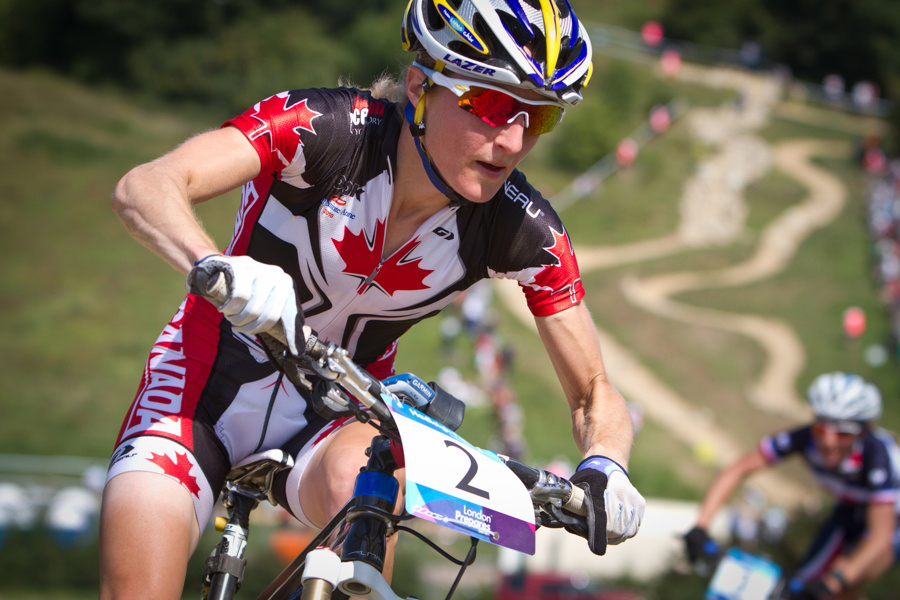 Congrats on your decisive win – a great day for you and Canada. Did the race unfold as you thought ?
Catharine Pendrel: No…I thought it would stay together much longer. I was surprised that Julie, Georgia and I rolled away so quickly.
When did you break away on your own ?
CP: I got away mid-race, but Georgia brought me back. She went down on a corner allowing me to open a large gap.
Were you surprised that you weren't challenged more aggressively?
CP: Yes and no. I think everyone trained pretty hard through this race. It's more of a learning event. The result wasn't the important thing, but rather the learning we gathered on course and during the preparation.
Were you surprised to win by such a big margin?
CP: Yes. I thought it wouldn't be a course that created gaps.
Was the course the same as you remembered from your first run at it in May?
CP: Yes… a little looser dirt, but still as much fun.
How much pressure did you feel to perform well today?
CP: None. We all trained heavily going in to gain as much info as possible for the team and athletes that weren't able to come. I owe a lot to my teammates Amanda [Sin], Evan [McNeely] and Andrew [Watson] for my success today.
Did you do anything different preparing for today's race?
CP: It was probably my highest training load going into an international race! The focus was definitely on learning.
How much of confidence booster is this going forward?
CP: It's good to know I can perform well on this course. I'll definitely have to bring my "A-game" next year, but know what I have to work on.
What's up next for you…?
CP: British ginger beer…!
Well deserved – congrats again and thanks for your time.
CP: Thanks