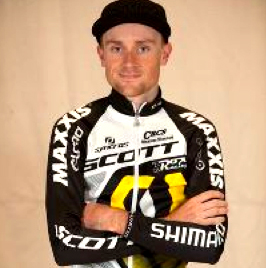 March 31, 2013 (Fontana, CA) – Cam Jette of Scott-3Rox Racing placed 3rd on Saturday at the Fontana City Pro XCT #3 in Fontana, California. Jette was able to battle the southern California heat and paced himself to land a well-earned podium. The Ontario rider has quietly had a strong start to his season and we caught up with the him shortly before he returned home to Toronto.
Can you tell us how the race played out today?
Cameron Jette: I was able to have a good start and was in the top 3 going into the first climb. Sometime during that first long climb Bishop (Sho-Air Cannondale), Wells (Specialized), and myself were able to open a gap to the rest of the field. Bishop was attacking a lot in those first two laps and during one of his surges I wasn't able to hold on and lost those two. I almost got back on at the end of lap 2 but they accelerated again and I couldn't keep up. From then on it was just a time trial to maintain my place and maybe catch the two guys up front. I wasn't able to catch Wells or Bishop but was happy to hold onto third.
How was your bike?
CJ: The bike was great, definitely a hardtail course and the Scott Scale 900 is the best option. There were some rough sections but the vertical compliance of the scale 900 was able to mitigate them.
How does this result compare to your recent 5th in Texas at Mellow Johnny's Pro XCT#1?
CJ: I would say the result is on par with Texas. The field was a little deeper there and it was a C1 race but it's always good to represent on the podium for Scott-3 Rox.
What is next for you?
CJ: Next up for me is the Pan American Championships in Tucuman, Argentina. I've never been to South America or Pan Ams before so I'm looking forward to the experience and hopefully can pull out a result.
Good luck at the Pan Ams.
CJ: Thanks again