December 20, 2015 (Costa Rica) – On Dec. 15, Canada's Anton Varabei (Ride for the Planet) won his first Pro race taking Stage 2 at the Vuelta a Costa Rica which runs from Dec. 14-25. Varabei, who races domestically for Garneau-Quebecor, but for this special excursion is in Ride for the Planet colours, was stoked to nail his first pro victory tweeting, "I have been chasing this one for a while. First career Pro win at stage 2." Pedal caught up with Varabei and found out that the stage almost ended up a disaster for the talented Canadian rider…
Tell us about the stage – you were in a break but crashed with the other escapee we understand ?
Anton Varabei: It was a relatively flat stage aside from few solid hills to get thru early in the race. I knew it was the best stage for me on paper, and it would likely have to be breakaway if I wanted to win. I got away with only one other guy after the hills, which made nervous at first that we might not be to hold it off with still 120km to go, but luckily the peloton gave us a long enough of a leash. At the end I knew the fight for the win was between just two of us. But disaster struck and we both collided with slow moving motos ahead of us in the corner with about 600m to go. Definitely gave me a near heart attack as I was confident I'd be able to beat him at the finish sprint, but instead now it was a scramble of who can get back on the bike first. My last big win I crashed into photographers across the line at San Dimas Stage Race, now with the Motos with 600m to go. I wonder what my next big win will bring…
Tell us about the team you're with there and how the trip came about ?
AV: The team I'm racing for here is called Ride for the Planet cycling Project. It is still in its early stages of development, but Its mission is to be an active actor for environmental issues by connecting good initiatives, non-profits and companies working with those issues,  as well as promoting healthy and eco-friendly habits to the population, and engaging it through events and fundraising initiatives by providing the tools to do so.
Is this your first time racing in Costa Rica – what's it like racing there – this is a big stage race….?
AV: It's my 2nd time racing at this event actually! I raced here in 2013 and came very close to winning one of the stages. I came 2nd from a breakaway, but sadly that doesn't bring as much attention in this sport. So I came back to top it, haha. That, and it's really fun here, it's a really big event in Costa Rica. The atmosphere of the race is on par with Tour of California, in terms of fan base!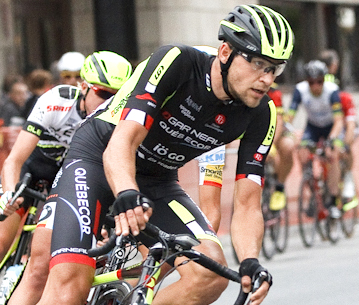 Give us a brief background of your racing career so fans can learn more about you?
AV: I started mountain biking locally in Ontario about 10 years ago, just racing in the summer for fun. Progressed slowly to an elite level, tried Road Racing which suited me better, and then decided to pursue it full time after I graduated from University 5 years ago. Doing proper training and being able to get away to Arizona in the winter months really elevated my fitness and I started racing the American NRC calendar with development team Jetfuel Coffee. In 2015 was my first UCI pro signing with Garenau-Quebecor.
What are your goals this season ?
AV: My focus might shifting a little bit more on US crit scene, now on a local team however, with group of guys that I'm looking forward to racing with and keep chasing those wins! More details to be announced in the new year!
Are you hungry for more podiums with your first big win under your belt ?
AV: Hell ya! Winning is always an incredible feeling!
What's up next for you ?
AV: It's a wrap for 2015 season! It's quite draining racing 11 stages of Vuelta, so i'll be taking a good break to recover and then start preparing again for the spring races in North America!
Congrats again and all the best this season
AV: Thanks