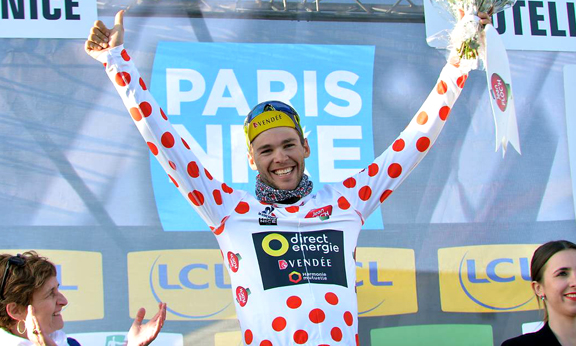 March 15, 2016 (Nice, France) – Canada's Antoine Duchesne (Team Direct Energie) was still savouring his polka-dot King of the Mountain (KOM) jersey when we caught up to him at the conclusion of the Paris-Nice stage race. During the early stages, Thomas de Gendt (BEL) Omega Pharma Lotto looked like he was locked in to take the jersey, but that changed dramatically on Stages 5 and 6. This meant that Duchesne, the lone Canadian on the start line, wore the jersey for the final stage on Sunday and was declared KOM winner at the closing awards ceremony.
Geraint Thomas (GBR) Sky won the 74th edition of Paris -Nice, often nicknamed "the Race to the Sun," but the peloton encountered a heavy snowstorm en route and Duchesne (otherwise known as "Tony the Tiger") also comments on the postponements that the snowfalls caused.
Duchesne, 24 was the top Canuck at the 2015 UCI Road Worlds in Richmond, Virginia, finishing 61st. He also completed the 2015 Vuelta, finishing 138th. Before that, Duchesne distinguished himself by winning the U23 Canadian Road Championships in both 2012 and 2013. At the inaugural Tour of Alberta in 2013, he raced with Cadel Evans (Aus) BMC, TdF winner that year, in the winning break on Stage 4 and finished fifth while Evans took the stage victory. The Classics specialist began riding for Team Europcar in 2014, which changed its name to Team Direct Energie for the 2016 season.
Congratulations – how did it feel to first don the KOM jersey at Paris-Nice?
Antoine Duchesne: It felt amazing, especially at a big race like that on such a high level as Paris-Nice.
Was the KOM jersey one of your goals at Paris-Nice?
AD: Not at all. I wasn't really thinking about that. The goal was always try to win stages, but when I saw I could actually win it I really gave it go on Saturday and Sunday.
Thomas de Gendt (Omega Pharma Lotto) is a good climber and had a commanding lead in the polka dot race – how did you manage to take the jersey?
AD: I took a lot of points when I finished solo on Stages 5 and 6 with the four Category 2 climbs on those stages.
On Stage 5, Duchesne was up the road for a large part of the day and the first rider up Cote de le Roque d'Anthéron (at 162.0km) with a 33s-lead over the peloton. He was also first to the top of Col de Séze (at 169.5km). On Stage 6, Duchesne delivered again cresting the Levens climb (at 148.5km) and the Cote de Levens climb (at 145.0km). He picked up many points with these solo climbs and also with a number of second or third place finishes up category 2 climbs. – ed

Were you taking risks on the descents?
AD: Well, I think there is always risk because most of the time we don't only if there's going to be oil, sand, rocks or car at the end of the corner. But I was always feeling in control and we have really good tires with Hutchinson, so that makes a huge difference, too.
You nearly got caught in a crash… tell us about it.
AD: There are always crashes and risk all day long in races, so we really have to be alert and concentrated all the time. But sometimes we push it a bit too far because the goals are so important and risks have to be taken if you want to win. I think we play a bit too much with the risk sometime, it's really dangerous what we do, but when you're in it you only think of one thing!
You wore the Polka Dot jersey for the 7th and final stage did that make you a target?
AD: I don't think so. General classification (GC) guys know that when you're the polka dot leader you just want to get in the break for points, and that you aren't really dangerous for the GC.
Conditions were tough at times – as a Canadian did the snow give you any slight advantage?
AD: No, I really hated it. I don't think because I do snowshoes at -25 C with a nice and dry sun in the winter twice a year that makes me better with pissing rain or snow… everybody thinks because I'm Canadian I don't get cold ha,ha,ha. With the body fat that I have at the moment, I can tell you that I was freezing and really happy the race was stopped.
Is it too early to speculate on how this might affect Direct Energie's Tour de France (TdF) team?
AD: Well, I think I already had good chance to do it. Last year I was close in the mix to make the team. I think this year with more experiences and strength my chance are greater, but it's still early and now I have the Classics to focus on more that what July might bring.
What's next for you?
AD: Waregem, E3 Harelbeke, Three Days of De Panne, Tour of Flanders, Scheldeprijs and Paris-Roubaix.
Merci, Tony – all the best.
AD: Thanks