February 12, 2017 – Amelia Walsh of Ayr, Ontario, is currently known as one of the best Canadian BMX racers. The 24-year-old is already a 2-time national champion, winning the Elite Canadian Championships in 2013 and 2014. Walsh devoted the four years leading up to the Rio Olympic Games to prepare and qualify. Despite battling back from injury, Walsh missed qualifying for the Games.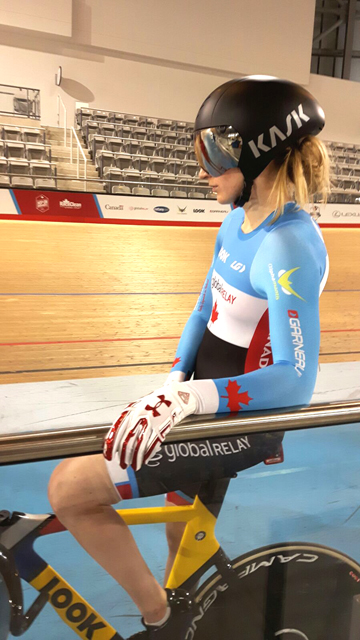 This has not halted Walsh's desire to compete at the World Cup level however as she refocuses, trading the jumps and berms of the BMX track for the wooden boards of the velodrome. Walsh has been training with the National Sprint Team for several months, and will make her World Cup debut on the track from February 17-19 at the upcoming World Cup in Cali, Colombia. She will then head to Los Angeles for the final round of the World Cup on February 25 and 26 – read the team announcement here. Pedal Magazine caught up with Walsh to talk about her career and her decision to change disciplines.
Could you give readers a quick 101 on who Amelia Walsh is?
Amelia Walsh: I started racing BMX at the age of 14, which is extremely late for BMX as it is a very technical sport. Most girls that I raced started riding at 3-4 years old. I raced my first World Championships as a Junior Elite in Adelaide, Australia in 2009. I was selected for my first National Team training camp later that year, where I was introduced to Supercross. Supercross is different from a regular BMX track because it has an 8m start hill and the first straight has jumps ( gaps ) that are 35-40 long, where we go from 0-50kph in 2 seconds.
In 2013 I made the move out to Vancouver to join the National Team BMX Program. I had a lot more upsets than victories within the 4 years leading up to Rio [Olympics]. In 2014 I was kicked off the National Team because I was not performing to standards on the World Cup stage. I moved to Chula, Vista California on my own, in hope of becoming a better racer. I started working with a new coach, Brendan Arnold, and things slowly started to come around. I was selected to compete for Canada at the 2015 Pan American Games in Toronto, where I unfortunately had another upset. I went back to California for the final push to try to qualify for the Olympic Games the following year.
The beginning of 2016 kicked off really well attending two races and coming away with some pretty solid results. Unfortunately at the first World Cup of the season in Manchester England in April I crashed in practice breaking my arm and knocked myself out cold. I managed to get back on the bike just in time for World Championships in Columbia just seven weeks after my crash in Manchester. World Championships was my final opportunity to qualify for Rio, which didn't end up happening. When I got home from Worlds I had found out that I had raced with a broken hand and displaced thumb in which needed surgery to fix. After recovering from surgery I competed at the final two World Cups of the season, making my first semi final at the last World Cup.
The thought of trying track cycling had always been in the back of my mind. I am fortunate enough to have an unbelievable support system that is behind me and after speaking with a few of those people I made the decision to try track. Luckily it has been pretty clear path so far and I am extremely excited to see what the future as in store."
How are you feeling heading into your first Track World Cup?
AW: I am really excited. I've been counting down the days till we leave, Kate [O'Brien] can confirm this.
Have you spent much time on the track prior to this, or is this a relatively new pursuit?
AW: I started training with the National Team Sprint program under Erin Hartwell in November. So I guess you could say it is a relatively new thing, but we would do up to nine, three-hour sessions a week on the track so I have had a fair amount of time to get comfortable."
You'll be racing the Team Sprint with Kate O'Brien who has a lot of experience. How has training with her benefited and prepared you for your World Cup debut?
AW: It has been quite a pleasure training with Kate. She takes the time to help me when I have 100 billion questions, which has helped a lot with the learning process. We also manage to keep it fun, which makes training pretty awesome.
You are no stranger to the highest level of competition. How do you think your BMX background has prepared you or helps you on the track? 
AW: There is no doubt that my BMX background will play a part. I will take the same mental approach as I did with BMX which is to follow the process, not the result.
Do you have ambitions for the track past the Cali and LA Track World Cups?
AW: After the two World Cups coming up, Kate and I hope to qualify for the World Championships in Hong Kong in April.
Best of luck in Cali and going forward.
AW: Thanks.