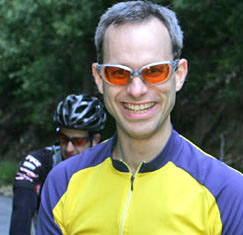 November 28, 2013 (Surrey, BC) – This weekend, Nov. 30-Dec. 1, marks the return of the Hansen Industries Canadian Cyclocross Championships to Surrey, BC in conjunction with the Hansen Industries BC Grand Prix of Cyclocross UCI C2 event. National titles, cash prizing and UCI points will be at stake for the elite men and women across both days with categories and events for all ages, ability levels, and license types are available within the action-packed weekend racing schedule –
and volunteers are still needed.
Pedal chatted with Race Director Matt Klymson to get the low-down on the weekend's festivities.
Hi Matt, Can you give our readers a brief synopsis of your years in cycling?
Matt Klymson: I seem to have made a habit of flip-flopping every couple of years between focusing on the riding side and the organizational side, which keeps me fresh. My years in the saddle have mostly been on the mountain biking side, marathon distance XC and 24-hour solo formats, starting in Ontario in the 90's before relocating here to Vancouver. On the flip side, I've taken a few periods away from the saddle to spend more time on the admin and organization with the boards of Ontario Cycling and now Cycling BC as VP Cyclocross, clubs, and event organization for cyclocross and MTB. I'm a rookie when it comes to organizing national championship and UCI events though, so this has been an interesting experience.
What is the 'cross scene like in BC?
MK: The Pacific Coast can't seem to get enough 'cross. The scale of events hosted by our Southern neighbours in Washington and Oregon is massive in terms of participation numbers. Here in B.C. we also have vibrant scene with great coverage across three regions: Lower Mainland, Island, and Interior, each of which runs a fantastic local series. On Oct. 27th this year, all three series were hosting a race, with total participation over 500, so we're starting to pull some pretty big numbers too. We're still trying to figure out a way to get all 500+ in one place at one time! Most of the events in B.C. now are pretty casual, grassroots types of productions.
The biggest trend we have going is on the youth side, with club development and the event organizers really pulling out the stops. At our recent provincial championships hosted by the Island's Cross On the Rock group of organizers, we introduced provincial title categories right down to U13 and it worked big time with over 50 junior and youth riders competing for championships.
Nationals are at the same venue as 2012, but we hear it is a different course. Can you fill us in on the details?
MK: Our course designer is Jeff Hanninen, who was a member of last year's nationals organizing committee, and he is also handling a ton of the other pre-event work. 2012 used a lot of purpose-built cycling trails of the South Surrey Bike Park. We're in the same complex again, a very extensive outdoor facility in Surrey, but using a completely different spot for the course, which will instead navigate around the rugby, football, and baseball areas with a much more wide open view for spectators, sand pits, etc. From an aerial view, it looks like a fairly mundane layout, but we've got a lot of grades we can work with in different ways, and are planning to use those grades to make it a very difficult course worthy of a championship. If conditions degrade over the weekend, I guess we'll have mercy on everyone and rework as necessary to keep lap times reasonable.
Have there been any other major changes from last year's event?
MK: Some big changes since last year have been the addition of a brand new Junior Women 17-18 championship title category, which our local community here in B.C. lobbied hard for. Cycling Canada took up the torch for us over us over the winter, giving it the green light for 2013. The cash prizing pool for elites, in particular for the Sunday UCI C2 event, has undergone an equalized treatment. UCI regulations haven't caught up yet in this regard, but that's just the way we do things around here!
What else are you doing to include youth that aren't yet eligible for the junior categories?
MK: We want to keep the ball rolling from provincial junior and youth racers, so we're having a full slate of distinct U17 / U15 / U13 races as "Challenge" events both days. It should be an eye opener for the kids to race on a championship course same as the elites and see a few of their heroes putting down laps. We can't call these categories official national championships yet, but maybe in the future. In the meanwhile, we've got junior and youth riders coming in from at least three other provinces already, so hopefully they'll take their experiences back home and inspire a few of their friends.
Maybe in a few years we can put Canadian cyclocross on a World Championships leaderboard, like our athletes have done in other disciplines already. In the meanwhile CX is a very inclusive and accessible format for kids to participate in as a healthy activity.
What challenges have you had to overcome to host this year's Canadian Championships?
MK: Last year's nationals were put on primarily by full-time Cycling BC staff, but there have been some pretty big changes at Cycling BC in the past year. The downside is that we didn't have the benefit of the same staff resources to take the event hosting from end to end. But the 'cross community here in B.C. instead got the chance to step up and gain some experience that we can take back into running our local events in future. This year's 2013 championships weekend is being hosted collectively by clubs, local shops, various local organizers, individuals chipping in, Cycling BC staff once again lending their professionalism on site at race weekend, lots of support from Cycling Canada once again during race weekend, plus a host of very generous sponsors.
Recently a title Sponsor has come on board – what does that mean for the event and what can people expect?
MK: Hansen Industries, a local precision metal and machine shop here in Richmond, B.C. has been supporting events and activities within the local cycling community for a lot of years now. Hansen's front man, Ed, usually prefers to stay out of the limelight, because he just loves to help the sport, but in this case, I'm really happy to have the Hansen name front and centre. The best part is that with a precision metal shop as title sponsor, you can pretty much be guaranteed to see some sweet medals!
Norco Bicycles and their distribution arm, Live to Play Sports, are helping out, along with some of their brands like Serfas, Lazer, Super B and Axiom. Clif Bar and TRP Brakes, which is synonymous with 'cross around the globe, are always great to have on board. Local shop Speed Theory will have a killer pit set up as part of the neutral event services, plus support from Shimano, which has been helping us out all year long with local events. As the saying goes, "It takes a village to raise a child", and as an event, we're still an open door for anyone else who wants to pitch in as part of the cycling community to make this a great race for continuing to build the national CX scene.
It sounds like most if not all of Canada's top CX racers will be on hand to compete for the jersey, how do you think the racing will play out?
MK: Registrations are still coming in, and will probably continue to do so right up until the Nov. 28th deadline, so it's difficult to call a lot of the categories. Even registration for 'cross has to be done casually, I guess! As the race director, I shouldn't really predict anything, but like all 'cross fans, I do keep up to date with results from all our Canadians racing domestically and internationally and am proud of everything they are doing out there. We know we'll see a new winner for the U23 Men, as Evan McNeely has scored himself an early age upgrade to ride Elite. I guess three years of U23 wins are enough for him.
For the women, Catharine Pendrel has been riding a lot more CX this year, so she'll be tough, but defending champ Mical Dyck isn't going to give this one up and she's been duking it out at a lot of big U.S. events staying sharp. Although I haven't seen her in the registration list yet, one thing you never do is count out a 6-time national champ, Wendy Simms, so I'm hoping we'll see her out racing this weekend.
On the men's' side it's hard to look past Kaboom [Geoff Kabush], but statistical modeling tells us that Aaron Schooler can't finish 3rd every year, and has to be a threat to move up. Former champ Mike Garrigan is in the house already too. Our local hero this year has been Kevin Calhoun, so it will be interesting to see how he stacks up against a full national field in his current form.
Thanks, Matt, for taking the time to give us the scoop and good luck with the big events this weekend.
MK: Thank you.