October 04, 2011 (Vernon, BC) – Don't miss out on the second round of Interior Cross this Sunday, October 9th in Vernon BC. This will be Vernon's first ever Cross event so come out and show your support.
The Vernon Army Cadet Summer training grounds offers fantastic cross terrain and will get your legs ready for The School of Hard Knox Cross race in Kelowna, October 16th.
The Interior Cross series was initiated by 2011 Mountain Bike World Champion Catharine Pendrel to offer riders in the interior and all over BC a chance to try out and race cross.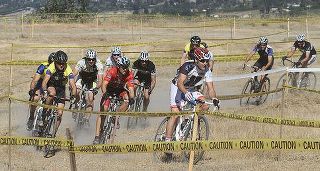 "The last couple years I've had the opportunity to do more racing in my province with the Test of Metal and BC Bike Race. I love how these races allowed me to get to know my race community in BC. There was no cross happening in the Interior so I thought the best way to race at home would be to host some events. Cycling BC and ClifBar have been very supportive in helping Interior Cross get on its feet," said Pendrel.
Interior Cross offers 2 starts, an A and B categories and event day registration. You can purchase a single day license on site for $10 and can even race your Mtn bike if you don't have a cross bike yet.
There are lots of prizes to be drawn and fun times to be had. More info HERE.