September 26, 2017 (Las Vegas, NV) – Interbike returned to the Mandalay Bay Convention Centre in Las Vegas, Sept. 20-22, with the latest and greatest cycling technology and Pedal was on the ground to deliver the goods on what's on tap for 2018 in the ever-changing world of bicycles.
Oakley's New Helmets
Oakley has focused its sights on a new line road helmets for the 2018 season, showing off three models at Interbike. The new ARO helmet series is an extension of the MIPS equipped snow helmets launched in 2015. ARO includes three models, specific to the time trial, speed/sprint, and climbing disciplines of road racing. Both the ARO 5 (speed/sprint), and ARO 3 (climb) feature an integrated eyewear dock that allows a pressure free, seamless eyewear fit. The ARO 7 time trial model features an interchangeable Prizm Road visor.
Venting on the helmets varies with model. The ARO 3 offers the most ventilation to keep you cool while the ARO 5 offers an aerodynamic surface and a unique rear design that is claimed to maximize air flow without the need for the classic elongated teardrop fin design.
All three of the helmets feature an exclusive BOA-braided textile lace retention system that offers a comfortable, 360 degree custom fit that also prevents pressure on eyewear arms along the temple. Another feature on the ARO 3 and 5 helmets is the use of X-STATIC brow pads, an antibacterial technology using silver to help eliminate odor for the life of the product.
Silca Pumps
Silca is celebrating its 100th anniversary this year and has teamed up with one of the greatest steel frame builders in the world, Dario Pegoretti, to produce five Centennial Edition SuperPista Ultimates. These one-of-a-kind pumps feature hand-painted renderings, logos and specs of products that the brand has released throughout the last century.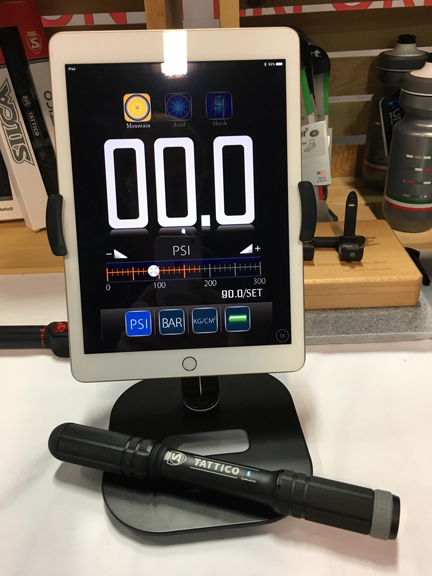 Along side the stunning, classic Italian craftsmanship represented within the SuperPista Ultimates line, Silca has launched the Tattico featuring unique technology that brings ultra-high precision gauge technology to a portable pump. After years of studying tire pressure in relation to rolling resistance, Silca teamed up with Co Luck Enterprise who have a proven and stable air pressure monitoring phone App. When combined with Tattico's Bluetooth it can display tire pressures to better than 2% accuracy and 0.5psi precision.
Compared to other mini-pumps on the market, Tattico's internal working components are inverted. The hose and check valve are housed in the inner-tube of the pump rather than the outer cylinder commonly seen in other designs. This design protects the Bluetooth pressure sensor from the elements and vibrations experienced when out on the road or trail which enables it to function reliably and accurately in all conditions according to Silca.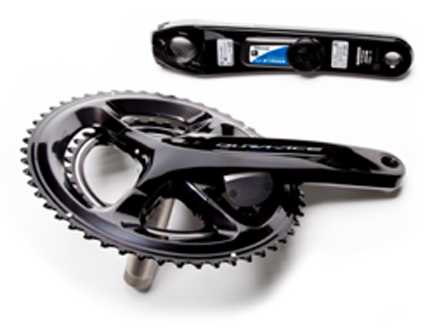 Stages Power Meters
Doubling up on their power monitoring tech, Stages offers up a Left / Right power meter for 2018. Stages Power LR, is the meter ridden by Team Sky and Chris Froome to his last two Tour de France victories and builds on the success of the Stages Power meter left-only solution. The Stages Power LR meter works with the Stages Dash head unit or any other third party ANT+ and Bluetooth Smart compatible cycling computer to measure power within +/-2% accuracy of total measurement at 100w/90rpm.
Active temperature compensation ensures consistency, while the IPX7 water resistance rating and battery life of 175+ hours via a user-replaceable 2032 coin battery, provide a professional-level package that's accurate, reliable and durable.
Adding a mere 35g to the crank weight, internal sensors measure cadence, omitting need for a magnet, and like Stages original Power meter, LR features wireless firmware update capability via the Stages Link app.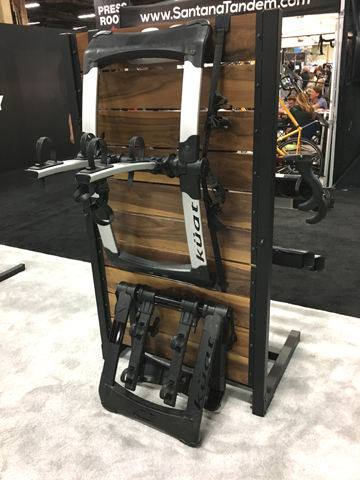 Kuat Racks
KUAT has added a trunk rack to round out their bike rack offerings for 2018. The Highline rack features a lightweight, aluminum design that offers a sleek easy-to-mount system with 2-bike and 3-bike models available. The Highline attaches via user-friendly ratchet straps and adapts easily to trunk designs thanks to pivoting bracing arms. Clear vinyl strips on the arms and anti-sway cradles offer vehicle surface protection during transport. The Highlne is offered in black w/black detailing and in silver-grey with black detailing.