September 20, 2012 (Las Vegas, NV) – Interbike 2012 is underway as the cycling world from around the globe has gathered at the Sands Convention Centre in Las Vegas to see what's hot for 2013. Hundreds of companies and thousands of products are on display and Pedal is on site to showcase some highlights of what's coming soon to a bike shop near you…
RacerMate / CompuTrainer
New from RacerMate for 2013 is a new way to measure cadence while training with a CompuTrainer. The Optical Puck cadence sensor prevents cross-talk among multiple users as the optical sensor does not mount to the bike, but rather sits on the floor directly beneath the pedal and picks up the pedal's rotation. The sensor is connected to the Handlebar Controller via a cable in order to transmit the data. No installation of a sensor is required on the crankset, making setup quick and easy.
Also new is RacerMate One, the next generation of software available for CompuTrainer and Velotron that includes Smart Pacers with watts, speed and heart rate as the controls along with allowing for the connection of up to eight trainers. With split screen capabilities, each rider can control their own view to show their 3D Spin-Scan and performance stats.
Post-race exporting has never been easier to popular applications such as Training Peaks WKO.  The SpinScan function has also been updated, and now has the ability to show both polar and bar graph versions plus Average SpinScan graphing all on one screen. Taking the guesswork out of the calibration of the CompuTrainer, the updated software includes an automated warm-up and calibration procedures, while any course can be created in real time using the Power Training or SpinScan modes.
Kask Helmets
Among Kask's line of helmets are two new high performance lids developed in collaboration with the Sky Procycling team.  The Bambino TT is a helmet designed for road, triathlon and track cycling performance that features perfect aerodynamics in all head positions, as well as a high-tech magnetic visor patented by Kask.
The Tri Vertigo helmet is designed with aerodynamics in mind and was tested by Bradley Wiggins at the Tour de France and London Games. Air intakes are specifically located in the front and the back to optimize airflow, while the top of the shell is completely closed, giving it a very unique look.
The Vertigo, Dieci and K50 Evo helmet models all return for 2013 with new colours, including a version that matches the leaders' jerseys at the Tour de France.
Biemme
Biemme from Italy was showing off their seamless cycling kit at Interbike. The unisex jersey and bib short feature a seamless design that removes the uncomfortable areas sometimes found at the seams. Both jersey and shorts are made from a polypropylene fabric that keeps the rider dry in every situation.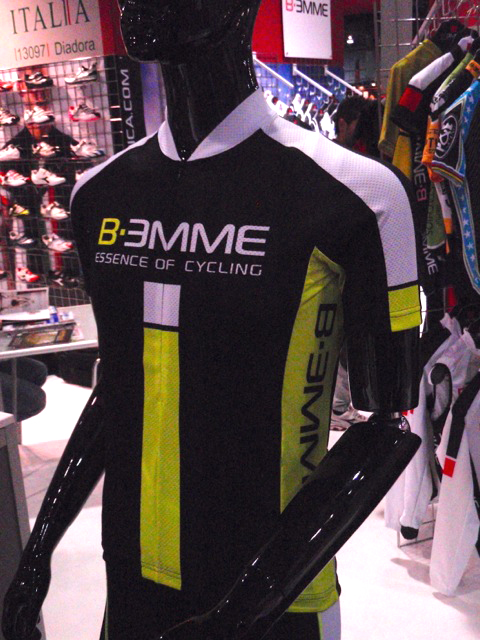 The jersey features an invisible 3/4 zip and three back pockets, and comes in black-white, or white-black in three sizes while the bib shorts also come in black-white and white-black and are available in three sizes.
American Classic
At the American Classic booth a completely new wheelset was on display, the Argent Road Tubeless features a new deeper rim profile compared to the original American Classic tubeless system, and is intended as an everyday training wheelset.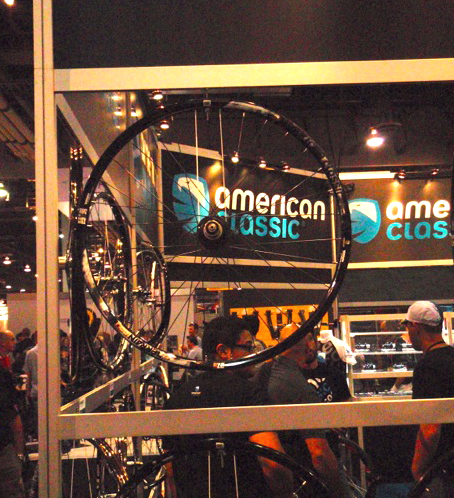 Also new is the addition of the 650B rim size to the American Classic line of mountain bike wheels, plus 26″, 27.5″, and 29″ wheel sizes are available in the 101 series, which can be built up in shops and paired to any hub of choice.
Power2Max
A new comer to the North American market, Power2Max provides a powermeter that works in all weather conditions available in both road and mountain bike versions.
The Power2Max replaces the spider of Rotor or FSA cranks and connects to any ANT+ compatible computer unit. The user can easily replace the battery and the cadence sensor is integrated right into the unit – so no need for additional magnets.
Power2Max is engineered and manufactured in Germany and assembled in Vancouver, BC.  Starting from $990.99.
SRAM
On the MTB side for 2013, SRAM introduces the first ever 10-speed Grip Shift with full-metal shift indexing, three rows of ball bearings and integrated lock-on grips. Offered in two options, the XX Grip Shift features a 2×10, Ride-On sealed low FricHon cable system and carbon cover.
SRAM XX1 was built with a dedicated 1X drivetrain philosophy – making it simpler, lighter and more durable than any other. The XX1 crank offers six, CNC-machined, X- Sync chainrings (28-30-32-34- 36-38) and features a new tooth profile, which alternates thickness by inner and outer links, providing maximum chain control.
The X-Horizon rear derailleur features a large upper pulley offset to automatically adjust chain gap and a straight parallelogram design with horizontal movement to reduce shift force and improve drivetrain performance.
For road in 2013, SRAM Force will receive several significant upgrades, including Zero-Loss technology, now on front and rear Force shift levers, new quieter and smoother AeroGlide pulleys that run cleaner in all conditions, plus an all-new mid-cage rear derailleur.  SRAM's chain spotter is a simple yet elegant lightweight (12g) complement to any drivetrain that assures accurate performance while protecting the frame. The Chain Spotter is compatible with SRAM Red-2012, Red, Force, Rival and Apex braze-on front derailleurs.
Also, SRAM Red-2012 and Force offer WiFLi options with an expanded gear range and the world's first 11-32, 10-speed cassette for road, combined with a compact (50/34) front chainring. The system delivers a wider gear range than the standard triple chainring system and saves well over 250 grams.