October 07, 2011 (Las Vegas, NV) – Here's our Day 3 report from Interbike 2011, the final day of the show which had no shortage of the latest bike tech, with the who's who in the cycling industry showing off their new and improved 2012 offerings. Lights are getting brighter and more compact, helmets and tires continue to get lighter, bikes are becoming hotter, eyewear cooler, wheels more aero, while Campagnolo's clothing is appealingly retro-chic. Read all about it….
Light & Motion
The Urban 500 is the latest tech from Light & Motion, highlighting the Urban commuter headlight line, that also includes the Urban 300 and Urban 180. The 500 will mount on your helmet or bars and features: 500 output lumens; 1.5, 3, and 6 hour run times – 18 hours on flash mode; tool-less mounting, and weighs in at only 112 grams.
Limar Helmets
Limar's latest line of light is represented by the Ultralight+, touted by Limar as the world's lightest helmet. The Ultralight+ features in-mould technology; 22 streamlined airvents; Limar's ultralight dial and quick release retention system, allowing for up to 4cm of adjustment; ergonomic and absorbent, washable pads, for maximum comfort; and a in-molded bug net to keep the critters out. All this at only 175 grams (Med) or 200 grams (Lrg).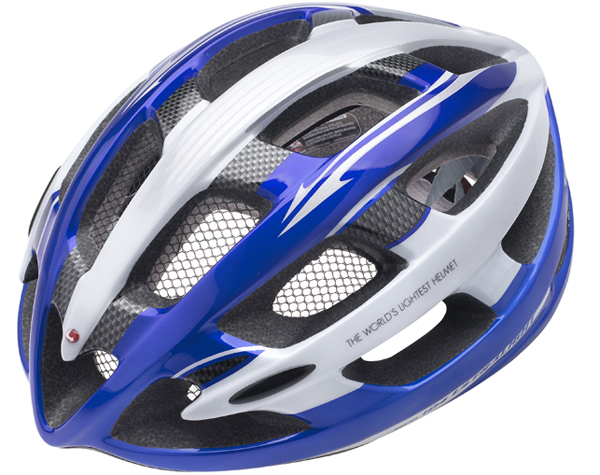 Devinci
Devinci was showcasing several hot bikes for the new season with the Leo leading the way on the Road and the Atlas representing full suspension in a Carbon 29er. The Leo uses Devinci's new Dual Core Fusion technology – a revolutionary advancement in design that combines two frame cores to maximize speed, stability, and intuition. The Leo features an extended seat tube; tapered head tube; Carbon Super Leggera fork; asymmetric down tube and chain stays; BB86; and ultra thin seat stays.
The Altlas uses Devinci's split-pivot suspension on the ultra-smooth ride of a 29er. Atlas features an optimum G04 Aluminum 6066-T6 tubing; a tapered head tube; low stand-over; ultra short chain stays; 12 x 142 and post mount; and BB92.
CompuTrainer Optical Sensor
On display at Interbike was a new way to measure cadence while training from CompuTrainer. In Multirider centers or other applications where there are multiple people training at once, cross-talk can occur leading to erroneous cadence readings. With the CompuTrainer's Optical Sensor, users will now be able to use the SpinScan function while training in multiple user setting.
Hutchinson
Hutchinson has launched two new cyclocross tires for the upcoming season in both the Piranha and Toro line. The new Piranha 2CX and Toro CX now feature Kevlar beads, 127 tpi, and come in all black. Both these performance/ comfort tires are 700×32, tubed tires, at a slightly lower weight than last years Carbon beaded versions. Piranha loves dry conditions while the Toro much prefers wet.
Campagnolo
Campagnolo's 2012 clothing line is highlighted by this cool crowd-stopping Retro Fleece, with classic lines and Campy logo. This lightweight plated sweatshirt, is constructed from a Yarn-dyed cotton outer, providing a soft comfortable touch, and a Polyproylene inner, for improved ventilation and perspiration wicking. The Jacquard Campagnolo Logo is split up the front with a full zip. Classic Campy!
DT Swiss
The new DT Swiss DICUT® Wheel System features: DICUT® hubs with fine tuned flanges geometry, the proven DT Swiss Ratchet System, and straight, nail head, spokes; highly heat resistant, aerodynamically optimized rims; Waterslide decals, which are super thin and don't affect aerodynamics. The Wheels are available in 32/46/66 mm and disc and weigh in at just over 1,000 grams.
Rudy Project
Rudy has introduced two new items for 2012 that expand Rudy's reach. The XX2i Visionary Optics line is a new line of affordable eyewear for the masses. Entry level prices with Rudy tech, are highlighted throughout the XX2i line, which consists of : the Performance Dual Packs, with two frames and 5 lenses (orange, yellow, brown, smoke, and clear), and Pro Racing Packs, consisting of one frame and 3 lenses (Blue, orange, and clear).
Rudy has also launched the Windmax, superlight helmet with, dial retention system and bug screen lining.
Rudy Project's new wrap-style sunglass, the Hypermask, combines a cool look with incredibly lightweight eye protection.  Combining the best in technology for sport with a fierce, determined look, the Hypermask is suitable for all types of activity, whether it be racing or just relaxing.