June 17, 2014 (Fernie, BC) – The beautiful Kootenay Rockies town of Fernie, BC, is primed to host the inaugural Intense Fernie 3 XC stage race on its world-renowned trails, June 28-30, promising three days of smile-inducing riding on challenging courses that will get everyone's hearts pumping.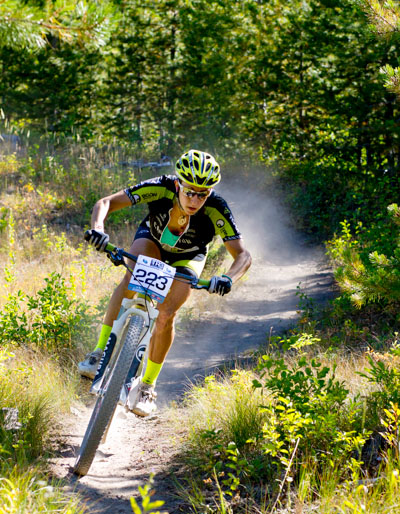 "Fernie has the best single track riding in BC! I can't wait to ride there again!" said top Canadian women's racer and multiple Fernie visitor/trail sampler Mical Dyck.
Event organizer Dan Savage brings a long history of hosting successful races, having been involved in presenting the Fernie courses for the legendary TransRockies for many years as TransRockies Society Event Director.
"With the Intense Fernie 3 we want to offer a fun and challenging race with something for everyone who mountain bikes," he said.
The Intense Fernie 3 will cater to all riders of all ages, new and experienced, with focus on fun and the best singletrack stages ever, followed by classic Fernie hospitality. The categories will feature the traditional three-day stage race, however will also include a three-person team relay, a one-day solo, and a kids race for U12, U14 and U16 -year-olds. The popular Kids' Bike Rally will continue for its eighth year on Sunday, June 29th. Free for kids' aged three to nine, the event is a fun and educational rally in Fernie's Historical Downtown.
Fernie has become a popular mountain bike event destination with superb singletrack trails and great traditional hospitality. A celebration of activities will surround the event ranging from guided rides to outdoor festivities.
The Fernie Trails Alliance has become the steward of this epic trail network and the Intense Fernie 3 will contribute by providing funding. The City of Fernie, Island Lake Lodge and Fernie Alpine Resort will also be partnering in the event. Registration is still open for the Intense Fernie 3.
Don't miss your chance to be part of this amazing event!
Register here.
Event info here.
Stay in the loop with Fernie 3's Facebook page here.
Stage Info
Sponsors include Parastone Developments, Hammer Nutrition, Camelbak, Fernie Brewing Company, Tinhorn Creek Winery, The Cedars, Teck, The Bridge Bistro, Fernie Getaways, Fernie Central Reservations, Stanford Inn, Red Tree Lodge, The Free Press, Savage Marketing and Fernie.com.