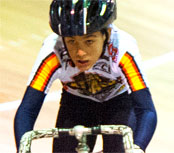 March 25, 2015 (Milton,ON) – Here are the results from the Milton Cycling Academy Inaugural Race Night held on Tuesday, Mar. 24, from 7-11 pm at the Mattamy National Cycling Centre. About 50 hit the boards for a fabulous evening of racing that included a Scratch Race, Kilometre Sprint, Team Chase, Elimination Race, Longest Lap and Take a Lap 1,2,3.
"Everyone had a great time with lots of positive comments on the new track," said legendary Steve Bauer, Head Coach of the Milton Cycling Academy. "We look forward to seeing more riders on Tues. Mar. 31st at 7pm for our Youth Race Evening (U19) – everyone's welcome."
Results here.
Mattamy National Cycling Centre here.