June 22, 2012 (Lac Mégantic, QC) – Hugo Houle is on fire. After finishing second of the Tour de Beauce, the young 21 year old rider climbed on the third step of the Elite podium in the individual Time Trial, and earned his second straight U23 Canadian Champion title in doing so.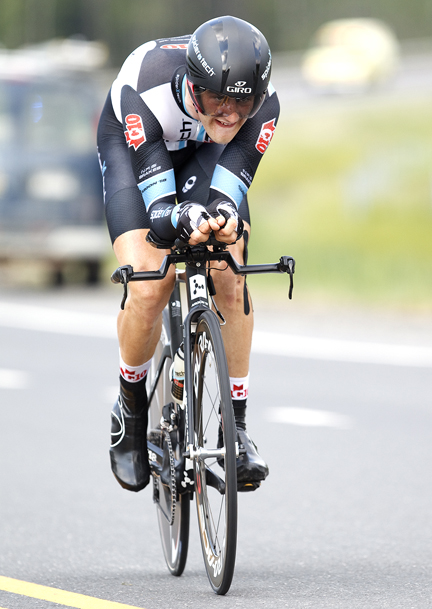 On a scorching on day in Lac Mégantic, with temperatures above 35 degrees plus the humidity, riders took on the very difficult 30-kilometre course to crown newest Canadian Champions in the Time Trials.
Team SpiderTech's David Boily came second of the U23 race.
The five Team SpiderTech riders entered in the time trial placed within the Top 10.
Quotes – Hugo Houle
"I knew I had the second fastest time in the second round. I knew I was fine, but Tuft was just too strong today," said Houle after receiving his Maple Leaf jersey. "The course was tough, and the heat was scorching.  The course required a lot of concentration."
"Considering my young age, the podium with two WorldTour guys is very good.  We have to be realistic, and I am really satisfied."
"I think I have shown a steady increase. My goal was to get fit for the month of June, and I think I succeeded, with the tour de Beauce, the Nations Cup and I was aggressive.
"I think I still have some skill at Against the clock, so I always work. Normally, when it goes against the clock, it goes well on the road. This year I have not had time to do specific training for against the clock since I rode in many road races. "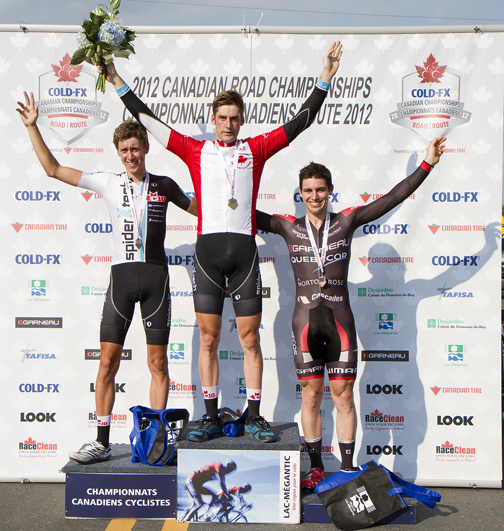 Race Profile
Event: 2012 COLD-FX Canadian Road Championships (CAN)
Class: UCI .CN (National Championships)
Type: Individual time trial
Results – Individual Time Trials
1. Svein Tuft (BC) Orica-GreenEDGE 0:47:26
2. Christian Meier (BC) Orica-GreenEDGE 2:08
3. Hugo Houle* (QC) Team SpiderTech powered by C10 2:49
4. Aaron Fillion (ON) Ride With Rendall 3:25
5. Francois Parisien (QC) Team SpiderTech powered by C10 3:26
6. Zach Bell (BC) Team SpiderTech powered by C10 3:31
7. Rob Britton (BC) Team H&R Block 3:42
8. David Boily* (ON) Team SpiderTech powered by C10 3:47
9. Rémi Pelletier-Roy* (QC) Garneau-Quebecor-Norton Rose 3:58
10. Ryan Roth (ON) Team SpiderTech powered by C10 4:13