December 01, 2015 (Cambridge, NZ) – Canada's Hugo Barrette will be racing at the UCI Track Cycling World Cup from Dec. 5-6 in New Zealand little over a month after his very dramatic crash in Cali, Colombia at the opening round. Barrette emailed Pedal with news about his convalescence and about the upcoming World Cup – read more about Barrette's crash here.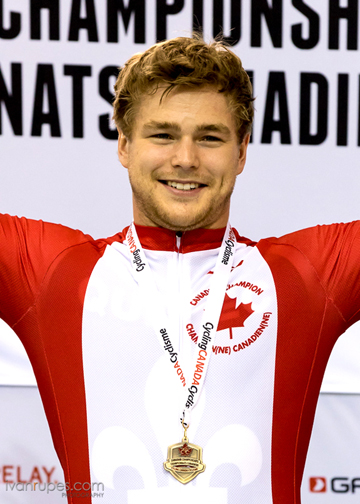 "I was travelling to NZ a 35-hour trip in total," wrote Barrette, excusing himself for not get back to us sooner. "Yes I will be racing starting Friday (Dec. 5) with the Team Sprint, then Saturday's Keirin and finish with the Individual Sprint on Sunday."
"It's been quite an interesting road since my crash. After being in the hospital for two weeks in Colombia, I went back to Montreal to see all of my family there. I thought I'd be there for a while but after only three days, I realized I felt good enough to start back, so I booked a flight to Toronto straight away and went to Milton to get back on the track!
"I've been training hard ever since, trying to get back at the top of my shape. Although I'll still need time, the national team coach and I think I am ready to race again already. So here I am now, four weeks after a terrible accident, in NZ racing at a World Cup."
"I'm extremely positive about how things are going and want to really take that chance that I had by not seriously injuring myself and racing my way back to where I was and even better," he added.
Barrette, 24, recently distinguished himself winning gold medals in the the Individual and Team Sprint (with Evan Carey and Joseph Veloce), along with bronze in the Keirin at the 2015 Pan American Games in Toronto. With his sprint victory, he became the first Canadian man to accomplish this feat at the PanAm Games since Gordon Singleton back in 1979.
Events will be held at the Avantidrome in Cambridge, on New Zealand's North Island. Stay tuned to Pedal for more coverage of Canada's team there and at the next UCI Track World Cup in Hong Kong January 16-17, 2016.