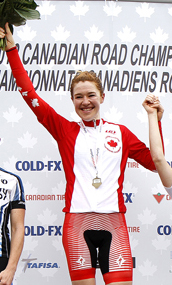 June 06, 2013 (Hamilton, ON) – Canadian sports and humanitarian star Clara Hughes was announced as one of seven 2013 inductees into the Hamilton Sports Hall of Fame yesterday. Hughes, the only athlete to win multiple medals in both the Summer and Winter Olympics, moved from her hometown of Winnipeg, Manitoba to Dundas, just outside of Hamilton, Ontario, as a teen as she followed her coach Mirek Mazur to Ontario.
It was in the Hamilton area that she trained as a cyclist and developed into the famed world-class athlete she is today. Later in her career, she became a philanthropist and key spokesperson for the Right to Play humanitarian organization. Hughes also recently spoke out about her battle with depression in an effort to lift the taboo from the illness and help others suffering from the condition. In April of this year famed Sydenham Hill in Dundas was renamed Clara's Climb to honour Hughes in a dedication ceremony.
Find the list of Hamilton Sports Hall of Fame inductees HERE.
Read more in the Hamilton News HERE.