December 21, 2016 (Horseshoe Valley, Ontario) – Over the past couple of years, socks have become an increasingly popular fad in the cycling world… Why does this matter? If you love cycling or know someone who loves cycling and are thinking about buying a new pair then it's important to know what to look for in a good pair of socks! Because at the end of the day, you want socks that will contribute to the "sock-game".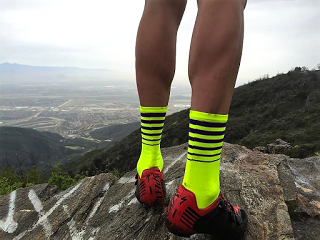 But what the hell is a Sock Game? I personally would describe it as 'how cool are your socks?' I might even say, socks are the jewellery to our cycling kits… but that's just my opinion. I've asked various sock companies, as well as up-and-coming cycling stars for their input!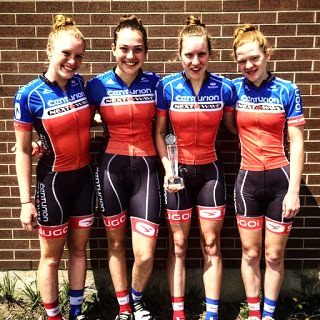 "… the quality of socks you wear,"- Ruby West, Cannondale/ Rise Racing
"…how cool and original your socks are,"- Sarah Fabbro, Trek Canada
"Sock game is someone's ability to pull off great socks on a daily basis. Not every rider has a strong sock game…" – Matt Staples, H&R Block
Ok so what makes a Sock Game strong?
"Personally I think original and different socks with fun and cool designs are the best." – Sidney McGill, Focus Canada
"…a strong sock game is a tall sock… a classy sock, not overly flashy, and matching shoes and kit to tie the whole outfit together is what will really make it strong." – Matt Staples, H&R Block
"… having socks that match your kit and shoes nicely but not so much that there is too much of one colour."- Tyler Clark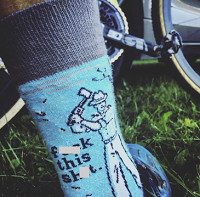 Are Socks Really That Important ?
"…they are something that you can customize to match whatever kit you are wearing; they are a cool way to add something unique to what you are wearing when you can't choose what your jersey looks like. "- Ruby West, Cannondale/ Rise Racing
"They can be ordinary, or they can choose to stand out! Everyone has their own pair of "lucky" socks or their favorite pair!"- Kassandra Kriarakis, Rise Racing
"… you grab more attention during races… when you roll up to the feed zone and your kit is the same as a few others out on course, it's a great way to quickly figure out who you are looking at."- Liam Mulcahy, Maverix Racing.
"… aerodynamics is a huge factor… the difference between first place and 20th place can be defined by half a second. So any aerodynamic advantage we can take is huge. My favourite socks are the Garneau Course socks, simply because they have a tight fit and are super comfortable." – Nick Wammes, Kallisto-FCV p/b Toyo Tires
"Socks are one of the few ways to individualize myself from the rest of my teammates."- Brody Sanderson, Centurion Next Wave
 Tips from the Experts
"Go for quality over quantity. It's nice to have lots of socks, but it's better to have less socks but of higher quality that will last you longer and are comfier!! The trek store sells extremely comfy socks that are durable and will last you a really long time!!"- Sarah Fabbro
"…don't have socks that are too short!"- Sidney McGill, Focus Canada
"..no ankle socks they are automatically disqualified to be a part of the sock game."- Liam Mulcahy, Maverix Racing
"…white socks are for sunny days…and master the ability to not get a JIT mark on your leg…because that doesn't come out of socks." – Matt Staples, H&R Block
"Don't buy short socks!!!! Check out shops like Evolution in Richmond Hill, they have a great selection there."- Tyler Clark
Hot Brands to Check Out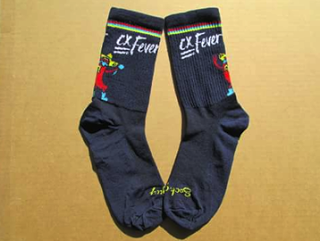 Notes from the sock companies themselves…
Socks are definitely a booming apparel in the cycling industry. The same trend is happening in business. I think this has to do with freedom expression. Socks are quirky and cool and innocent. In cycling, we have obligations to wear team or club kits and equipment. Business men or women have the same obligations with grey suits. And yet, despite all this, we can wear whatever damn socks we want. We get to go wild with it. No holds barred. And so people do.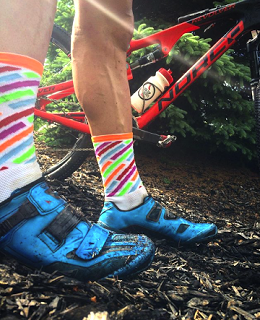 To me, having sock game is all about having something unique and different than everybody else. That could include having a pair of tall black Nike socks in your arsenal, but I would sure hope you back it up arewith a drawer full of sock funk for the other days of the week. – Evan McNeely, Sneaky Socks
It's a fun inexpensive way to spice up a kit. New shoes, shades or full kits can be pricey, but a few fun pairs of socks can really change your look overall. There are also people out there racing and riding for teams and clubs they love, but don't love the kit… so they jazz it up how they can.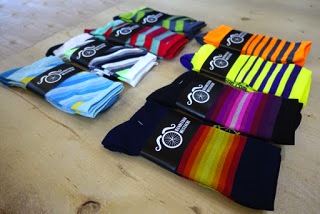 It's personal preference, but we love a killer shoe/sock or shoe/sock/kit combo. I was a sneaker head as a kid and loved seeing an outfit come together. Our socks are 6", we would say below 5" is not on point. Gilbert and Horner with their ankle panties completely lack Sock Game (save that for the tennis court) – Brett Richard, Handlebar Mustache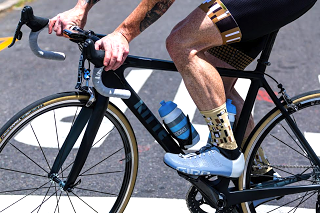 I believe the (sock) market has changed for sure, in my opinion cycling is becoming more of a lifestyle than a sport. In the past, cycling had a predisposition to attract the hardcore and loner type, now it is attracting people from all walks of like and all fitness levels. I will explain it this way. It is not about getting to the top of Alpe d'Huez in under an hour, it is about the whole experience, and looking stylish and feeling good whilst riding the climb.
Socks are the finishing piece to a cycling kit. You can wear plain kit and swoosh it up with some bright, or some funky socks. You can have great kit, but mess it up with bad dull | low cuff and poor quality socks.  Last but not least you also don't have to look further than SAKO7 we offer more than 30 different kind of socks. Just remember the "socks maketh the kit". – Sean Sakinofsky, Sako7
In the end, it's pretty clear that the sock-game is taken very seriously. Hopefully with the input from our local cycling stars you will be able to better your own sock-game or help a friends. So, good luck to everyone, and thanks to all of the contributors who helped make this post possible! Merry Christmas and Happy Sock Shopping!
Check out Erica Leonard's blog here.