September 01, 2011 (Uxbridge, ON) – Over 1,000 mountain bikers descended on Albion Hills Conservation Area, near Bolton, Ontario this past weekend for the 24 Hours: Hot August Nights. A massive storm on Wednesday prior to the event dropped over 30 mm of rain on Albion, which was then followed up by 2 days of sunshine, and low humidity weather. "This weather combination came at exactly the optimal times, and made for the best trail conditions I have ever seen", explains Sean Ruppel of Chico Racing. With three new singletrack sections featured this year, riders were raving about the awesome flow and speed the course had. The new trail features at Albion include pump-track sections, which riders of all ability levels all loved.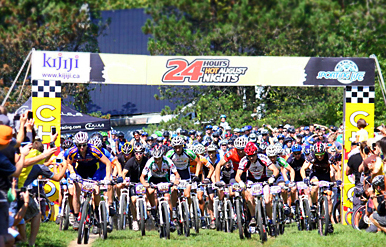 Chris McKnight had a solid ride, with 18 laps in a time of 24:01:042 to take the win in the U40 male division. In the Solo 40+ male division, Solstice 2011 Champion Erick Auger (Pivot Cycles/Apogee) continued his winning ways with 22 laps in a time of 23:45:08. Tanya Fleming (Cycle Solutions/Angry Johnny's) rode to victory in the women's division with 12 laps in a time of 22:13:42.
Other event highlights included an amazingly popular Shimano Youth Race co-sponsored by the Ontario Cycling Association. Over 150 kids under 12 took to the 1.5 km course, with hundreds of parents cheering on their young hammer-heads on Saturday afternoon. The little riders also got to race with 2x Olympian Seamus McGrath, who was also at Albion to take in the event, and ride with several VIP teams that used the Hot August Nights to fundraise. Trevor Bodogh of Reversed Gravity kept things hopping with an amazing live trials show in the middle of the Sporting Life expo area.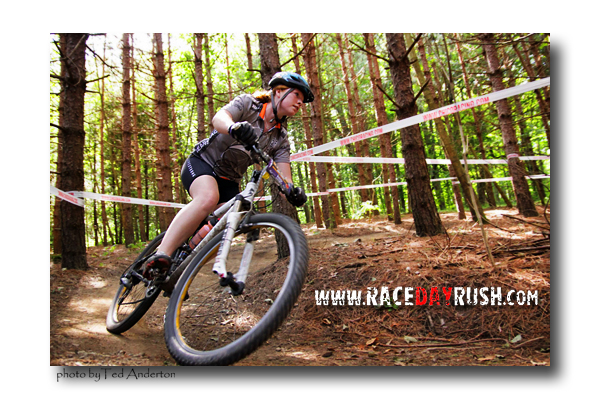 Participants this year also got to enjoy even more festivities than ever before, as Friday night now includes live entertainment at Chico 24-hour events. 10-Speed also kept things rocking Saturday night from the main stage as the sun set on Albion. DJ McMillions did some scribbling Saturday night in the Wellington beer garden to keep the energy levels high.
Chico Racing would also like to thank all the supporters of Hot August Nights, including the volunteers, staff, and sponsors, Kijiji.ca, Sporting Life, Shimano, eLoad, Louis Garneau, Pedal, Light & Motion, Sigma, Topeak, Kicking Horse Coffee, Joyride150, Opus Bikes, Norco Bikes, Scott Bikes, Xprezo, Hammer Nutrition, Wellington Brewery, Camelbak, OCA, Blackburn, Defeet, Preparing the Trail, Albion Hills Conservation Area, and the Toronto and Region Conservation Authority
For complete results visit HERE.