September 27, 2011 (Collingwood, ON) – The Hillbilly Hustle returns this Sunday October 2, 2011 after putting forth one of the best Cross courses for several years now. Situated at the site of Ontario Provincial Mountain Bike Championships in Duntroon, Ontario, just south of Collingwood, the Hillbilly Hustle is the only Ontario Cross race to feature an Over-Under bridge and several other unique features.
Electronic timing with lap times, M1/Elite Primes and great prizing for all categories provided by The Epic Ride, HB Cycling Club, Smart Athlete Training, Digica and Sound Solutions.
The big competition will be for the Hillbilly Jacket for the Elite Men and Hillbilly Skirt for the Elite Women fields. The Jacket has been won by Andrew Watson (Norco) every year since the race's inception but with a stacked Elite field, including confirmed challengers Peter Glassford (Trek Canada) and Jared Stafford (Norco) the race will be very tight.
The women's Skirt is currently held by Leigh Hobson (Team Juvederm-Specialized) who will be challenged by Amanda Sin (3 Rox) who is a local athlete and the reigning Provincial MTB champ! Come and watch or race this great fall event!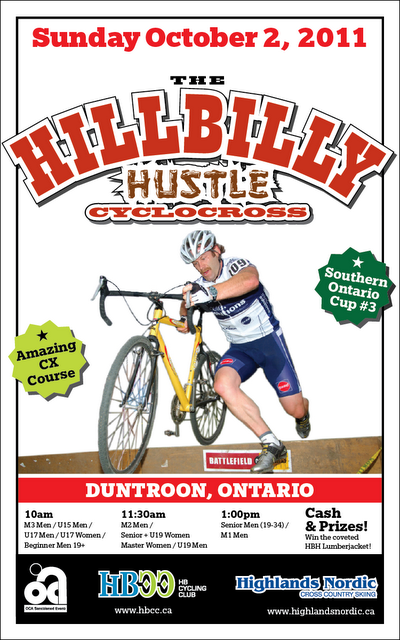 Registration and start times:
– 10:00am (40 minutes): M3 Men, Beg Men 19+, U17 Men/Women
– 11:30am (50 minutes): M2 Men, Sr & Jr Women, Master Women
– 1:00pm (60 minutes): Sr Men (19-34), M1 Men
Pre-registration available at OCA website. Closes Thursday September 29, midnight. Register online HERE. Day of registration cash only*********
Directions to Highlands Nordic HERE.
Hotel and lodging can be found HERE.