December 02, 2016 (Salt Spring Island, BC) – Hill Eater E-bikes Ltd, based on lovely Salt Spring Island BC, is proud to announce that it is now the exclusive Canadian wholesale distributor for the Juiced Bikes brand.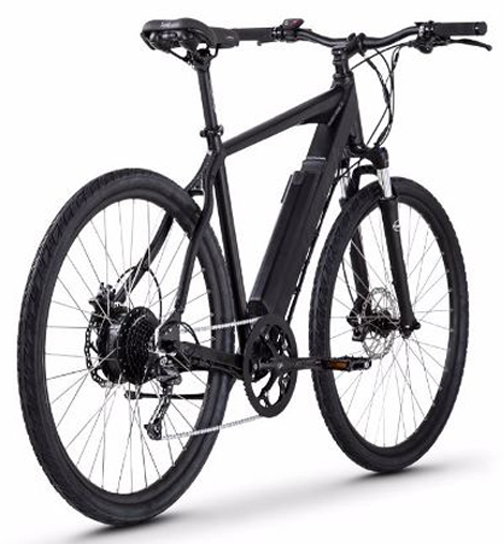 Juiced Bikes, formerly Juiced Riders, is a California company specializing in quality, high value electric bicycles. Three-time U.S. Champion and Olympic high jumper Tora Harris founded Juiced Riders in 2009 and started with the sales of large lithium battery packs for e-bikes. The company quickly progressed to making full e-bikes starting with innovative ODK platform in 2010.
The ODK platform uses 20″ wheels and a large battery pack for long range commutes. The design features an integrated rack and step-thru frame for optimal practicality. Speaking fluent Chinese, Harris visited China on a quest to manufacture the perfect "car-replacement" e-bike. In 2013 Harris met Mr. Ni, founder of Luyuan Electric Vehicle one of the largest e-bike manufactures in China, with over 1.5 million e-bikes produced per year. Mr. Ni agreed to help Harris manufacture the third generation ODK Utility Electric Bike.
This e-bike launched in 2014 with the largest battery capacity of any e-bike on the market. The bike is designed to withstand the heavy demands of daily commuting and is manufactured to the highest international quality standards. Major consideration has been given to reliability, serviceability and ease of use while remaining an affordable means of alternative transportation. It is used in commercial fleets including delivery by Dominoes Pizza in Downtown Vancouver.
New for 2016 Juiced introduced the CrossCurrent, a hybrid road bike with sporty handling, and sophisticated torque and cadence sensing pedal assist, at the disruptive price of $2,129.00 CAD.
Hill Eater is currently seeking IBDs across Canada to fill out their Juiced dealer base. "There is lots of excitement around the brand, and electric bikes in general.  This is an opportunity to get into a brand that is experiencing strong growth, year after year.  Juiced has an incredible reputation for great product that they back up 100%. We are striving to carry on that reputation in Canada," explained David Elderton, owner of Hill Eater.
Visit us at www.juicedriders.ca.