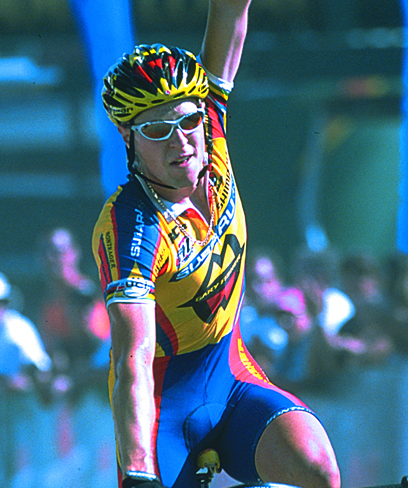 May 27, 2013 – Over the past few years it has become the norm to see a Canadian woman in the top ten at an Elite MTB World Cup race – often more than one and frequently on a podium step. In recent times the Canadian men have stepped up their game as well.
This past weekend two Canadian women finished in the top 10 at round #2 of the MTB World Cup held at Nove Mesto in the Czech Republic with Catharine Pendrel (Luna Pro) in 3rd and Emily Batty (Trek Factory Racing) in 9th. For the men Max Plaxton (ShoAir-Cannondale) was on the podium in 5th while Geoff Kabush (Scott-3Rox Racing) took 7th. This was the second time Plaxton has had a top-5 finish in the past year while Kabush has a WCup gold medal from Bromont in 2009 under his belt.
It's been a while since the men have had such success and after some digging Pedal has established that it's been 11 years since the men have seen two riders in the top ten at a World Cup – in fact back in 2002 Canada had three men with a top-ten finish in one race. More research will be needed to determine if the combined efforts of our women and men had such a successful day of MTB World Cup racing as they did in Nova Mesto, Czech Republic, this past weekend. Meanwhile the men's results are historic and deserve recognition all on their own.
Back in 2002 the site was Les Gets, France, and the man of the hour was none other than Ryder "Weight of The Nation" Hesjedal, of Giro fame, who won his first MTB World Cup riding for Gary Fisher-Subaru – on September 9th to be precise. The rider who finished 2nd on the day and is still in the hunt today was Christoph Sauser (SUI) then with Volvo-Cannondale.
Joining Hesjedal in the top ten was fellow Canuck, Roland Green (Trek-Volkswagen) in 5th, followed by Seamus McGrath riding for Haro-Lee Dungarees who placed 6th on the day. Les Gets was the last WCup race of the season and the performance by the Canadian contingent put Green 4th overall, Hesjedal 6th and McGrath 12th in the final standings.
For the record, just to bring this full circle… a Kona rider took 70th spot at the 2002 Les Gets event. His name is Geoff Kabush who dropped the hammer, and a zero, at the Nova Mesto race this past weekend. We hear he was rewarded with a delicious Trappist Westvleteren beer to celebrate.
Note:
You can find the original article from 2002 in the Pedalmag.com archives here – and check out the original article in Pedal Holiday 2002 below.