Simultaneously, an autographed pink jersey, Hesjedal's very first 'maglia rosa', which he won after making Canadian cycling history on Stage 7 at the Giro D'Italia will be auctioned off.  The proceeds will go to newly formed Ryder's Cycling Society of Canada (RCSC), a not for profit society, which was established last fall to support young competitive cyclists in Canada and create awareness and grow the sport of cycling.
With the Tour de Victoria (ToV) only a few weeks away, Victoria is also hoping to accomplish a 'sea of pink' on the streets that day.  Pink T-shirts and eventually jerseys will be sold with $5 of the proceeds again going to RCSC. When Ryder attended the Tour de Victoria last year it provided him with huge inspiration leading into the Tour de France.
Visit www.wheelmen.ca to bid on the historic 'maglia rosa' and to check out the motivational video that was launched today that marks Hesjedal's journey to the top of the cycling world and his excitement when he realizes his Dad made a surprise visit to Milan, Italy to see his son's win. You can also order your Pink T-shirts online to support Ryder in helping the sport of cycling.
Hesjedal's First Giro Championship Jersey to be Auctioned Off
Pink jersey proceeds will go towards Ryders Cycling Society of Canada
Giro d'Italia champion and Canadian cycling hero, Ryder Hesjedal, will auction off the pink Giro jersey he first pulled on after he made cycling history and took the 'maglia rosa' during Stage 7 of the race. One hundred percent of the proceeds will go to support up and coming cyclists in Canada and to promote the sport of cycling throughout North America through the Ryders Cycling Society of Canada (RCSC).
Hesjedal claimed cycling gold late last month in Italy, becoming the first Canadian to ever stand atop the podium and raise the Giro D'Italia trophy in the city of Milan. With this win and the huge swell of interest in cycling, Hesjedal has decided he wants to give back to the cycling world that has given him so much.
The "first" pink 'maglia rosa' will be auctioned off on E-bay beginning today and will close in 10 days just prior to the start of Ryder's bid to go for the double at the Tour de France.
"Ryder's pink jersey is a part of cycling history and now Canadian sports history," Cody Graham, Director of Media One Multimedia and the Ryders Cycling Society of Canada and longtime friend of Hesjedal said. "and it's only slight worn – although it is for the discerning buyer who doesn't mind champagne stains on their maglia rosa. It's one of a kind."
To bid on this piece of Canadian sport history click HERE.
The motivational video marks Ryder's journey to the top of the cycling world was produced by local digital production studio Media One Multimedia Inc.
"With Ryder's historic win, we have been inundated with requests for pink jerseys to commemorate his win," said Graham. "And, with the Tour de Victoria only a few weeks away, we're hoping to send a message of support to Ryder on the eve of the Tour de France by having a sea of pink riders all along the route."
$5 from every purchase you make in store or at Wheelmen.ca will go directly to the Ryders Cycling Society of Canada, providing opportunities to excel in sport and inspire healthy lifestyles for all Canadians.
For more information on how you can take part in the pink wave to support Ryder as he takes the next step towards his goal of a win at the Tour de France, please visit www.wheelmen.ca.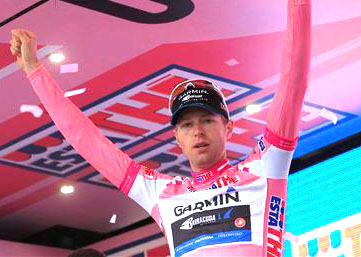 Wheelmen Ride Bicycles
"Wheelmen Ride Bicycles" was inspired and launched by Canadian Olympian, Tour de France veteran and Giro D'Italia Champion Ryder Hesjedal in 2010.  Wheelmen started as a movement to create awareness for cycling in Canada on the back of Ryder's successes in the pro peleton. Since then, Wheelmen have been able to make several key donations to young competitive cyclists, complete awareness projects increasing the profile of cycling and inspire riders and the public alike.
Ryders Cycling Society of Canada
In the Fall of 2011 the Ryders Cycling Society of Canada (a federally registered not-for-profit society) was formed.  Spearheaded by Ryder Hesjedal, the mandate of the organization is to create and sustain opportunities for Canadians to ride bicycles.  By doing so, RCSC will support and expand the social benefits of cycling and the cyclist's lifestyle.  Those benefits include, but are not limited to: better health and fitness, enhanced environmental awareness and ecological impact; improved community cohesion; and greater economic stability.