August 30, 2011 (Hamilton, ON) – The proposed Hamilton Velodrome, which would host track cycling events during the Toronto 2015 Pan Am Summer Games and remain in place as a legacy for the community, continues to face problems in its planning stages along with budget woes, reports TheSpec.com.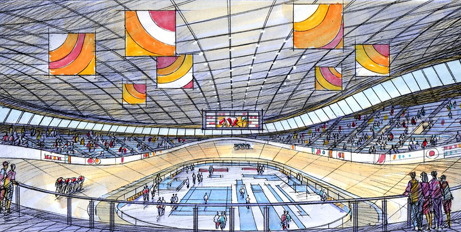 One of the biggest issues standing in the way of the velodrome, is lack of funding, after initial estimates that the venue would cost $11 million have been inflated to as much as $49.5 million. This revised cost estimate was first revealed to Hamilton City Council on August 29, giving the City's less than two weeks to come up with its share of the funding by the September 15 deadline – read more HERE.
The Hamilton Velodrome Community is now urging for the cycling community to give a voice to the cause by contacting City Council members and the Mayor and expressing the importance that the project come to fruition. Members of the Hamilton City Council can be contacted HERE.
There is a POLL up on the Hamilton Spectator website, asking the question on whether the Velodrome should be built for the 2015 Pan Am Games.
The Poll is on the righthand side of the page, halfway down. Please take a few seconds and support the Velodrome.  The Poll will not be up for long, so please VOTE NOW!