April 07, 2016 (Hamilton, ON) – Canadian cycling legend Curt Harnett believed that the new velodrome in Milton would be a "game changer". After participating in the National Cadet and Junior Track Cycling Championships this past weekend, Rick Lee, head coach of the Ancaster based National Cycling Centre Hamilton (NCCH), concurred.
"The level of competition in Canada has lifted since the building of this world class facility. Riders were going faster and faster, and many Canadian records were broken.  This is testament to the great development programs, staff, and of course riders that Canada now has."
Team NCCH had a great weekend winning sixteen national medals. Lee was happy with the results. "Overall, it was a very pleasing championship for Team NCCH pb DEC Express with great performances from a number of younger riders in addition to our experienced ones."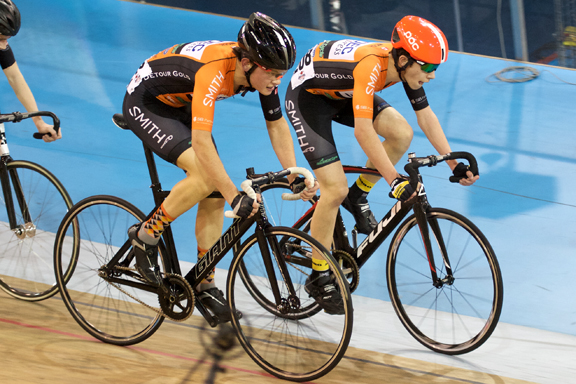 Sydney Flageole-Bray of Dundas had the crowd on its feet as he lapped the rest of field in the Under 17 men's Points Race to claim one of his three national titles.
In the Under 17 Men's Scratch Race, teammate Dawson MacDonald of Hamilton Mountain, made a strong break with another rider to gain half a lap on the field.  With the field charging hard they were able to hold onto their lead with MacDonald surging forward in the last quarter lap to take the win.
Flageole-Bray and MacDonald dominated in the Elimination Race (where the last rider is eliminated every two laps). The two of them powered their way, side by side at the front of the field for almost the entire race.  After 40 laps it was down to a sprint between the two of them with Flageole-Bray claiming another gold.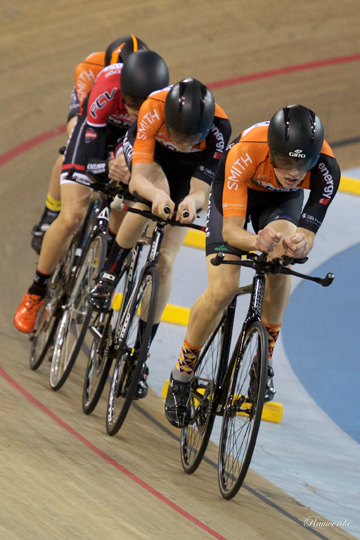 Earlier in the weekend Flageole-Bray and MacDonald teamed up Joey Carone of Ancaster, and Justin Correa of Bolton to take on Alberta, British Columbia, and an Ontario club team in the Team Pursuit. The four young men finished first in the qualifier while setting a new Canadian record of 3:26.047 in the three kilometer event.  In the final they gained half a lap and passed the team from British Columbia and in the process set another record with a time of 3:25.239.  In doing so they took nearly four seconds of the record that had just been set in Milton last October.
Flageole-Bray also set a Canadian Record in the two kilometer Individual Pursuit, but finished third as two other riders also broke the record set last October by MacDonald.
In the Under 17 Women's Points Race Kaitlyn Rauwerda of Hamilton Mountain had a gutsy (and grueling) solo attack that had the pack chasing her for the final fifteen laps. Rauwerda managed to keep a half lap lead to take the points for the final two sprints and with it the National title.
Rauwerda teamed up with teammate Victoria Slater of Hamilton Mountain, along with Elizabeth Archibald of Pickering and Kassandra Kriarakis of Tottenham to with the National title in the Under 17 Women's Team Pursuit.
Rauwerda also had a strong finish in the Scratch Race to capture the Silver medal.
Other performances of note: Dundas' Amy Bell had a strong sprint in the Under 19 Women's Keirin race to capture the Silver medal.  She teamed up with Charlotte Creswicke of Tottenham to win a second Silver in the Team Sprint.   Hillary Lowry of Ancaster had a very good Scratch Race to win the Bronze medal. Spenser Straughan of Hamilton teamed up with Correa and Aiden Zeversenuke of London to win Silver in the Under 17 Men's Team Sprint, while NCCH's Ethan Sittlington augmented a short staffed Quebec team to help them win Bronze in the same event.
Most of NCCH's Hamilton area athletes entered the program by way of its innovative program that sees NCCH invited to set up in a school gymnasium for a day. Each gym class has their students compete in simulated races shown on a monitor though a computer hooked up to the provided bikes. As a result of this program Ancaster High, Bishop Ryan, Dundas Valley, St. Mary's, Westmount, Hamilton District Christian School, and their feeder schools have all produced National Champions in the past two years. NCCH is also offering a free one month trial with no further obligation for anyone who wants to try the sport. All you need is gym gear and a helmet, everything else is supplied. Contact officesupport@ncch.ca to find out more.
The team's attention now shifts to the Road & Mountain Bike season which commences in the next few weeks.