September 02, 2013 (Alto Hazallanas, Spain) – Canadian rider Guillaume Boivin (Cannondale) has crashed out of stage 10 of the Vuelta a España today according to reports on Quebec cycling news web site Veloptimum. Many riders went down in the crash during  a controlled start between Torredelcampo and Alto Hazallanas where the real start began. Apparently Boivin was lying on the ground longer than any of the other riders but got back on his bike when team doctors arrived and did not continue.
The cause of the crash remains unclear as this occurred in a wide part of the road, but perhaps a spectator was involved. The nature of Boivin's injuries is also unclear but it's believed there are no broken bones.
Boivin, 24, was the 2009 Canadian road champ. He also tied for bronze at the UCI U23 men's road race with American Taylor Phinney in Melbourne (Geelong), Australia in 2010. Until August of this year he was also famed holder of the Mardis Cyclistes speed record since 2009. A former member of the Canadian-based SpiderTech p/b C10 team from 2010-2012, Boivin joined Cannondale for the 2013 season. He was married this summer to Catherine Rainville-Avon.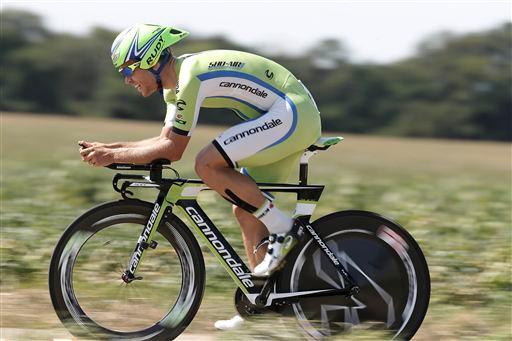 The Vuelta is one of the top three Grand Tour road bike races in the world along with the Tour de France and the Giro d'Italia. The 68th edition of the Vuelta started on August 24 this year in Vilanova and will finish on September 15 in Madrid, some 21 stages later and 3,319km down the road.
Boivin and Christian Meier (Can) Orica-GreenEdge are the lone Canadians competing in this year's edition. Meier was 68th on Stage 10 and currently sits in 111th overall. We reported earlier that fellow Canadian François Parisien (Argos-Shimano) was expected on the start line of the 2013 Vuelta, but was then relegated to their reserve list and did not ride in this year's edition.
Read the Veloptimum report (in French) here.
Pedal joins the cycling community in wishing Boivin a speedy recovery.