May 13, 2016 (Blue Mountain Village, ON) – The Grey County Road Race and Time Trial has teamed up with Blade Carbon Wheels to give female riders more incentive to saddle up and ride at the 2nd annual event being held May 27 and 29 at The Blue Mountains, ON. Don't miss the sole Canadian and North American stop for the 2016 UCI Gran Fondo World Series (formerly the UCI World Cycling Tour), which includes a total of 14 worldwide events.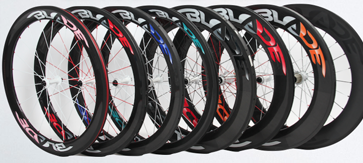 Participants who finish in the top 25% of their age category will qualify for the UCI Gran Fondo World Series Finals and an opportunity to compete for the coveted World Champion rainbow jersey.  The 2016 UGFWS Finals will be hosted by Perth, Australia from Sept 1-4; 2017 Finals have been awarded to Albi, France.
The contest has two phases – first phase is to determine the Winning Team and second phase will determine the winner of the Blade Carbon Wheelset. But to be eligible to win you have to be female AND a registrant for the 2016 GCRR.
First Draw / Round One – Determine the Winning Team
The number of entries into the draw will be based on the following formula
– 1 entrant from a team or Independent Rider = 1 ticket
– 2 entrants from a team = 4 tickets
– 3 entrants from a team = 9 tickets
– 4 entrants from a team = 16 tickets
– 5 entrants from a team = 25 tickets etc…
Second Draw / Round Two: Determine the Winning Team Member
All of the team members from the winning team will have a single ticket entered into a random draw with the wheels being awarded to the lucky winner
In order to be eligible you just need to be a female registrant for the 2016 GCRR. Register here.
*The winner may select the brand new set of Blade Carbon Wheels on display at the event Expo or have a set built by Blade (allow 6-weeks for delivery of custom build).
For more about Blade Carbon Wheels, the Official Wheel of the Canadian National Cycling Team, please visit their website here.