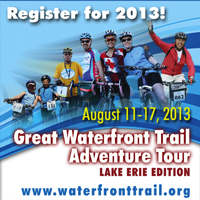 January 31, 2013 (Toronto, ON) – The Waterfront Trail is celebrating twenty years of cycling success in 2013 by expanding westwards – adding a 620 km cycling route along the beautiful shores and communities of Lake Erie. At a full 1400km from end to end, the Waterfront Trail is now one of Canada's longest multi-use trails! To mark the occasion, for the first time the 6th annual Great Waterfront Trail Adventure (GWTA) will follow the new Lake Erie route 600 kms from the township of Lakeshore to Fort Erie.
The Waterfront Trail Lake Erie extension will be part of Carolinian Canada Coalition's Erie Coastal Stewardship Network. The signed, mostly on-road route will add 27 new communities to the Trail, including the Windsor Riverfront and off-road cycling path, as well as communities along the Detroit River and Lake St. Clair.
Users of the Trail will enjoy highlights such as:
– Point Pelee National Park: a UNESCO designated wetland of international significance and excellent birding location
– Award winning wineries: the renowned wineries of Lake Erie's north shore, as well as that on Pelee Island
– Beaches: exceptional beaches, dunes, shallow swimming areas. Don't miss volleyball on Port Stanley Beach!
– Provincial Parks: including Long Point, Rondeau and Turkey Point, with nature paths for walking and exploring unique foliage
– Historical sites: including Canadian locations on the underground railroad, and native homesteads
– Wind energy interpretive centre
– Kayaking and ziplining
– The Greatest cycling holiday ever!
Organized by the Waterfront Regeneration Trust, a charity, and local municipalities, conservation authorities and community groups, the Great Waterfront Trail Adventure is the ideal cycling holiday for individuals or families, beginners or advanced cyclists, people with one day to spend on the trail or a full 7 days. One participant said: "I did it last year and now I am hooked. This is an addiction that I don't want to kick. Did I say I loved it. The communities along the way were so incredible in the way they came out and greeted, fed, supported us as we made our way along the route. The staff organizing this trip are beyond wonderful!"
Each day will consist of 60 -100km. Riding at your own pace, you can stop and explore new communities or peaceful vistas along the way; discover local history, or make new friends. Your registration fee covers the support such as a van to carry your camping gear from campsite to campsite, mechanical support, shuttle services to help if you need a break from cycling, plus a celebration dinner and organized activities in the evening. An optional meal plan is available for hassle-free dining. Don't want to camp? A list of local bed and breakfasts and inns will be provided to you.
Find out what fans of the Adventure say about it on our Facebook page HERE.
The Lake Erie extension adds the next Great Lake to the Waterfront Trail, which has been serving Ontarians as a popular multi-use path since 1995. The Trail is part of a larger strategy to regenerate the waterfront and re-connect people to their waterfront.
Visit www.waterfronttrail.org to view the Adventure Map, and register.