August 08, 2013 (Niagara Falls, ON) – For the first time in history, the Niagara Parkway will be completely closed to traffic from the start line at the Falls all the way to Niagara-On-The-Lake. We have had the majority of this course approved in theory since 2010, but it takes a lot of work to get from handshakes to signatures.  As a result, we believe we will be able to provide the best cycling course possible in the Niagara Region.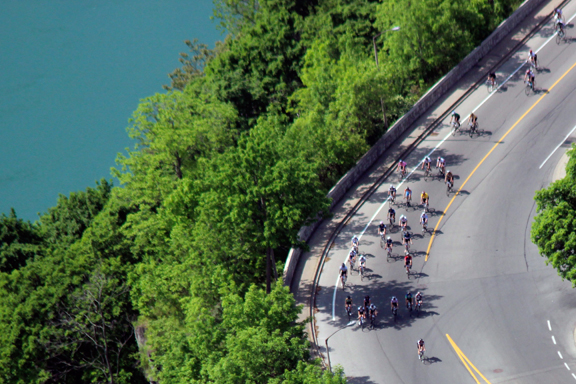 This course will give you a scenic tour through the beautiful Niagara Region and  unlike anything you could create without the incredible cooperation of government, police, emergency services and the local community. It finally gives cyclists priority on the roads for this memorable day.  You are about to take part in a cycling event unlike any other in Ontario.
As if to signify the grandeur of the occasion, GranFondo Niagara Falls will start right at the Falls. From there, the course will undulate 1,100m up and down as you travel along the scenic Niagara Parkway to Niagara-On-The-Lake. Then back along the Parkway to Queenston where we will head west under the Welland Canal through the closed westbound tube of the Thorold Tunnel, landing in the idyllic countryside of Short Hills Provincial Park. Around a 35 km loop and back through the Thorold Tunnel to the Parkway where we will finish right back at the Falls where we began a few hours earlier, but with many memories gathered on the way.
Revel in the experience of riding 127 KM on a dedicated, car free "cycling express lane" with 6 rest stops, then enjoy a meal, a refreshment or two and a free concert by Juno Award-winning artists Barney Bentall and Jim Cuddy at the finish. We are very proud to be able to present this new cycling concept, and look forward to hosting you in this history-making event.
The countdown now at 37 days.
Let's get this ride on!
For more info visit here.