August 01, 2013 (Rimouski, QC) – The second Grand Prix cycliste de Rimouski was held today. An international-calibre road race for Junior women sanctioned by the International Cycling Union, it is the only UCI-sanctioned 1.1 race for this category in North America. At the end of the tough competition, it was Quebec native Catherine Ouellette who lifted the trophy.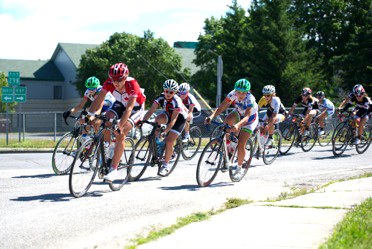 The cyclists had to cover a distance of 71 kilometres, starting from Rimouski, riding through the municipalities of Saint-Anaclet, Sainte-Luce (Luceville) and Mont-Joli, and returning to Rimouski on a loop through the same municipalities. The route includes several challenging climbs to spice things up for the competitors.
The peloton stayed together for much of the race, aided by a brisk tailwind that helped the riders maintain a good pace on the way toward Mont-Joli. Although several riders attempted to break away from the pack along the way, none of were able to maintain their lead. With some of the world's best Junior women cyclists in the peloton – including the national champions from Canada, Mexico and New Zealand – the competition was extremely close.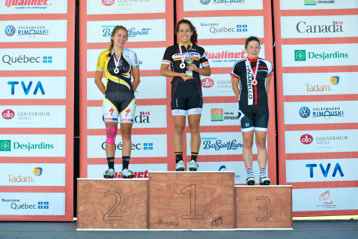 To the delight of the spectators, the race ended with a massive sprint to the finish line. With a time of 2:09:11, Catherine Ouellette from the André Cycle Kaycan RDS team carried the day, beating Marie-Ève Poisson of the IAMGOLD Specialized team, who took silver, and Clara MacKenzie of the Giordanna-Pinarello team, who won the bronze. The Tour de la relève internationale de Rimouski starts tomorrow!
Thus the stage is set for the Tour de la relève internationale de Rimouski which starts tomorrow! This is a stage race for the men's and women's Cadet (15–16 years old) and women's Junior (17–18 years old) categories. The goal of the event is to prepare these young athletes for international competition and give them the opportunity to experience a race similar to the Tour de France.
The action gets underway at 6 p.m. today with the opening stage, the 7-kilometre team time trials, starting on Rue du Fleuve in Pointe-au-Père. The first stage of the Tour de la relève internationale de Rimouski will then be held tomorrow: a 57-kilometre race that begins and ends on the official event site at 280 Boulevard Arthur-Buies Est in Rimouski.
For full details and the schedule for each stage, visit the event's website here.
Full results here.