September 27, 2015 (Gloucester, MA) – The 2015 Verge New England Cyclo-cross Series got underway today at Gloucester, Massachusetts' Stage Fort Park, the scenic venue of the Craft Sportswear Gran Prix of Gloucester. Course designer Tom Stevens and Race Director Paul Boudreau redesigned this classic cyclo-cross course by the sea, taking advantage of the sandy terrain to build a challenging, technical course. A new run-up, tougher than any seen before at Gloucester, and plenty of pedaling sections meant today was a day for the well-rounded racer to claim victory.
The Verge NECX Series races heated up throughout the day as some of the nation's best racers entered into season-long competitions spanning fifteen categories of elite and amateur racing. The Series' commitment to equality in men's and women's racing is evidenced by the newly added 45+ Category 3 women's category and an Elite 35+ women's category, and by this weekend's entirely sold out races for Category 4 Women, Category 3 Women, and Elite Women.
The Elite Women took to the course, a cloud of dust billowing from the course as the large field of racers sped through the dry, sandy track. Helen Wyman (Kona Factory Racing) and Ellen Noble (JAM Fund/NCC/Vittoria) gained a gap early, as a large chase massed behind them. Caroline Mani (Raleigh/Clement), a winner at Gloucester last year, bridged to the leaders. The chase was on: a few seconds back, Katie Compton (Trek Factory Racing), Amanda Miller (Boulder Cycle Sport/YogaGlo), and Australian National Champion Lisa Jacobs hunted down the leaders. Compton bridged to the front as Wyman, whose strengths were not favored by today's course, fell a bit off pace.
Noble, Mani, and Compton gained time on the field as Wyman rode alone in fourth spot. The chase hung on, working to reel in Wyman, as Mani and Noble traded attacks in the hopes of weakening Compton. Compton clung with tenacity to the leaders, but was unable to muster the legs to come around the other two in the lead group. Noble launched an attack in the final corners and gained several seconds on Mani, only to bobble. Mani won by a slim margin over Noble in second and Compton in third. Wyman remained in fourth spot, holding off the chase from Miller in fifth.
In the Series competitions, Mani claims the overall jersey. Noble is the U23 leader, while Compton has the first-ever 35+ Elite Women's leader's jersey in the history of the Series.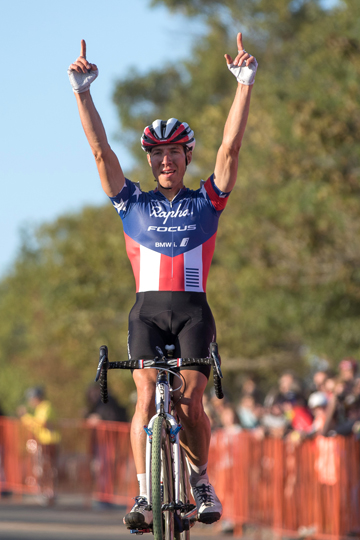 The men of the Cannondale p/b Cyclocrossworld.com team made their plan clear early in the Elite Men's race. Curtis White took the hole shot, and teammates Stephen Hyde and Ryan Trebon went right with him. Jeremy Powers, defending a two-year winning streak at Gloucester, soon found himself in a lead group including only himself and the Cannondale trio, isolated and only getting further away from any chase group. Each man in green would attack, forcing Powers to chase down every move singlehandedly.
By stroke of luck, Trebon flatted on a sharp rock through a sandy stretch, and Powers attacked. Soon Hyde, too, flatted, leaving young a White alone with the National Champion. Powers moved into the engine room, gapping White off his wheel, as Hyde chased in third and Trebon worked his way back into the top ten. Powers, able to meter his efforts without the need to chase down his competitors' attacks, won the day, making his fifth in a row at Gloucester. White held on for second, Hyde claimed third, and Trebon fought back for fifth just out of reach of Jamey Driscoll (Raleigh/Clement), whose solid race got him the fourth spot.
Powers moves into the Series lead, as White claims the U23 Series victory. Another day of racing at Gloucester tomorrow will cement the Series leadership for those racers, elite and amateur, master and cub junior. Follow along live on Twitter with live updates from @VergeNECXS, @GPGloucester, and #gpgcx.
Results (brief)
Women Pro 1/2
1. Caroline Mani (Fra) Raleigh / Clement    50:01
2. Ellen Noble (USA) JAM/NCC/Vittoria    0:02
3. Katherine Compton (USA) Trek Factory Racing    0:09
4. Helen Wyman (Gbr) Kona Factory Racing    0:52
5. Amanda Miller (USA) Boulder Cycle Sport/YogaGlo    1:05
6. Jena Greaser (USA)    1:08
7. Arley Kemmerer (USA) Level Eleven Racing p/b PB2    1:10
8. Gabriella Durrin (USA) Neon Velo Cycling Team    1:12
9. Courtenay McFadden (USA)    1:15
10. Crystal Anthony (USA) Boulder Cycle Sport/YogaGlo    1:36
18. Natasha Elliott (Can) Red Truck Garneau p/b Easton Cycling    3:13
56. Siobhan Kelly (Can) To Wheels/Epic Sports Performance    -2 Laps
Men Pro 1/2
1. Jeremy Powers (USA) Aspire Racing    1:07:08
2. Curtis White (USA) Cannondale p/b Cyclocrossworld.com    0:14
3. Stephen Hyde (USA) Cannondale P/B Cyclocrossworld.com    0:36
4. James Driscoll (USA) Raleigh / Clement    1:12
5. Ryan Trebon (USA) Cannondale p/b Cyclocrossworld.com
6. Ben Berden (USA) Wcup-Stoemper    1:45
7. Lukas Winterberg (USA) DirtySox    1:49
8. Cameron Dodge (USA) Team Optum p/b Kelly Benefit Strategies    1:55
9. Tobin Ortenblad (USA) California Giant Berry Farms-Specialized    2:03
10. Raphael Gagne (Can) Red Truck – Garneau p/b Easton Cycling    2:11
18. Mark McConnell (Can) Hot Sauce Cycling Club    4:07
22. Derrick St John (Can) Silber Pro Cycling    4:40
30. Marc-Andre Daigle (Can) Garneau-Quebec    -3 Laps
38. Thierry Laliberte (Can) Xprezo-Borsao Factory    -4 Laps
39. Jean-Philippe Thibault-Roberg (Can) Trek Cyclocross Collective    -4 Laps
44. Edouard Tougas (Can) ACQUISIO    -4 Laps
52. Matt Surch (Can) Tekne Cycle Club    -5 Laps
DNF Evan McNeely (Can) Norco Factory Team
DNF Jeremy Martin (Can) Louis Garneau