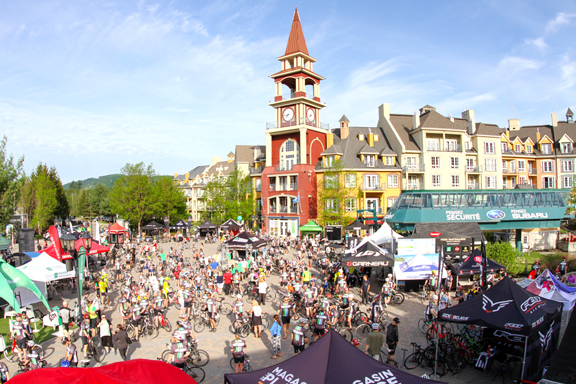 An Exceptional Experience for Participants
The organizing committee and event partners had a common goal: to deliver the best possible experience to all who participated. For the 10 pelotons assembled at the starting line at 7:30 that morning, the departures went off seamlessly. More than 80 escort bikes, organization's vehicles, as well as police officers were on hand to ensure the safe and smooth execution of the mass ride.
Devinci Sunset Ride
on Friday night, accompanied by David Veilleux, Sébastien Delorme, Katy St-Laurent and Francois Parisien, drew more than 150 cyclists.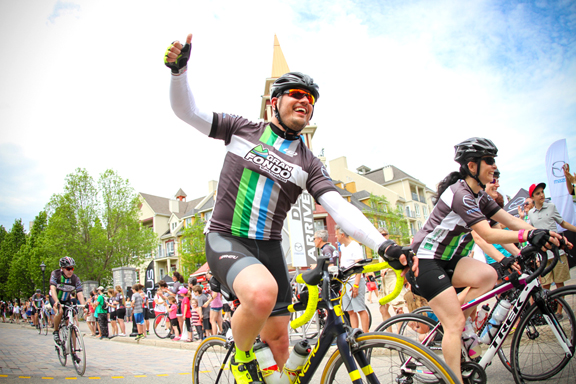 Montées Mazda – A Friendly Challenge
Though the Gran Fondo Mont-Tremblant was created to give cyclists a chance to excel in a personal challenge, the organization teamed up with Mazda to present a friendly competition that rewards cyclists for best performance on some of the most difficult portions of the courses. The winners, who each received the prestigious Montées Mazda polka-dot jersey, were:
160 km, 33 km+: Sébastien Julien et Jessica Bélisle
125 km, 33 km/hr: Gabriel Descoteaux-Simard and Grégoire Vigneron (tied) and Vania Grandi
80 km, 30 km/hr: James Jacek Cote and Anouk Boudrias
here
.
Relive the Best Moment of the Gran Fondo Mont-Tremblant 2016
Videos and photos here.
Facebook here.
Video credit: Marc-André Sauvageau
2017 Edition: Mark the Date!
The fifth edition of the Gran Fondo Mont-Tremblant will be held May 26 to 28, 2017. Mark the date on your calendar!
We Thank our Partners!
The event was made possible by the generous support and collaboration of our sponsors: Mazda, Desjardins Wealth Management, Louis Garneau, Devinci, Plaisirs Gastronomiques, Clif Bar, RDS and Cyclepresse, as well as the invaluable cooperation of our host partners, Ville de Mont-Tremblant, Tourisme Mont-Tremblant and the Tremblant Resort Association.
About the Gran Fondo Mont-Tremblant

The Gran Fondo Mont-Tremblant is a cyclosporting event for amateur and seasoned cycling enthusiasts alike. Positioning itself more as a personal, rather than a competitive, challenge, it is known for its stringent safety structure and quality organization. The beauty of the region makes it ideal for all those who love a scenic ride and enjoy testing their personal abilities on panoramic, twisting roads through some of the area's most arresting landscapes. The event is divided into four courses for cyclists of differing abilities:
The 160 km Super Fondo, for experienced riders
The 125 km Gran Fondo, for experienced and above-average cyclists
The 80 km Medio Fondo, for intermediate to advanced cyclists
The 45 km Molo Fondo for recreational riders and beginners