February 07, 2014 (North Vancouver, B.C.) – Last year, Giant Bicycles Canada announced its support of Sprockids, the mountain bike program for youth that has been used across 20 different countries due to its unique emphasis of teaching life skills to young people through the passion of sport. Now, Sprockids sponsored by Giant, is ready to re-launch the program with a brand new logo, a revitalized website, and updated training manuals.
Sprockids Founder, Doug Detwiller comments on the changes, "The creation of a new logo for Sprockids has been a very special event for me. Sarah Sangster, Giant's in-house graphic designer, has created a very unique and vibrant design that reflects the spirit, energy, camaraderie, excitement, adventure, and lifestyle that Sprockids promotes."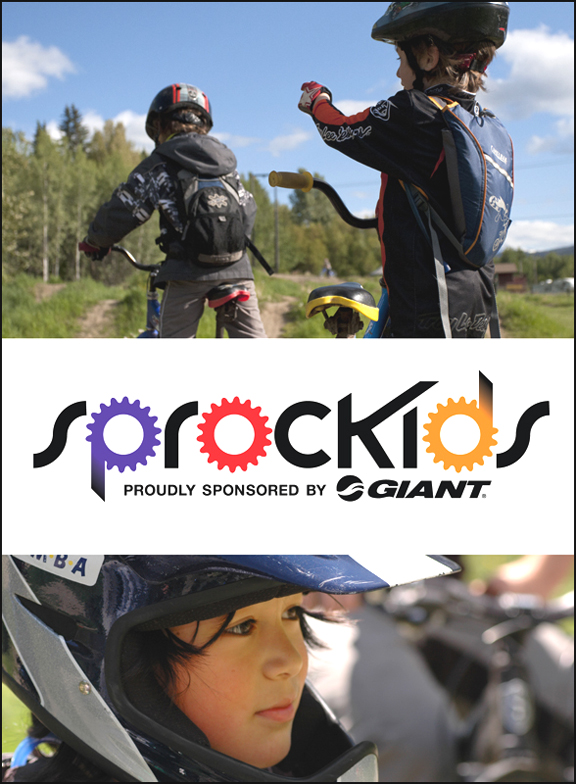 The new logo has been thoughtfully redesigned to encompass the ideals of Sprockids with a fresh, youthful look. Bright colours that were used to imply fun and individuality also coincide with the Main Levels of the program. Further depth of details includes the modification of the letter "K" which was designed as a ramp alluding to growth and progression of program participants.
The revitalization process has been carefully implemented by Giant out of respect for a program that has already had over two decades of success.
"It has been a great experience working with Doug on the new Sprockids program. We quietly launched the new website a month ago and the response since then has been tremendous," said General Deputy Manager, Paul Nash, as he spoke of the new improvements.
"With our Giant dealers having the exclusive to the Sprockids program in their area we have provided them with an excellent way to connect with their community and introduce new riders to the sport of cycling."
The program will be available through Giant dealers across Canada who will be trained as certified Sprockids' centers. Communities will benefit from having this successful youth program that not only gets kids off the couch but also engages them in a positive self-image as they master each skill with this "two wheeled approach to self-esteem".
Doug gives further insight to the partnership: "The team at Giant Bicycles Canada has brought a whole new wave of youthful energy, creativity, insight, and vision to the Sprockids Program. They share my passion for mountain biking and together, as a unified team we are dedicated to getting young people on bikes, while creating vibrant cycling communities across Canada.
We are in the process of revamping, updating, and creating new material to make the Sprockids Program reflect the needs of today's youth. Sprockids is a living, breathing program that is constantly evolving. Over the course of the year, one can look forward to some very cool components being created".
Check out the new website and more information about Sprockids at www.sprockids.com