January 27, 2017 – Guy Rouleau and Nicolas Berniquez-Villemaire, both from the Gatineau area of Quebec, set off on January 2nd to ride 1,275km from Quebec City to Windsor, ON. The two chose to ride their fat bikes through the winter conditions, undertaking this adventure in part to celebrate Canada's 150th birthday, to raise funds for Kids Help Phone, and to help establish a new Guinness World Record for people holding hands. Read Pedalmag's first report on the duo here.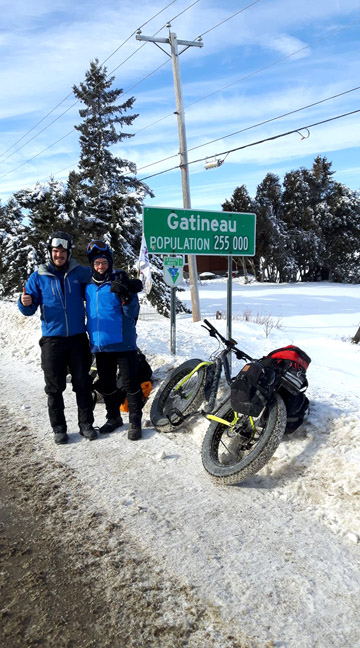 Berniquez-Villemaire rode with Rouleau as far as Ottawa before Rouleau continued the rest of the way solo. Rouleau rolled into Windsor yesterday, completing the journey a few days behind schedule, but in great spirits. Although he just completed the long trip, Rouleau was excited to be heading out with local fat bikers from the City Cyclery bike shop, the very afternoon he arrived. Rouleau has been back home since January 18
th
, and he says his energy is slowly recovering after the long trip.
Pedal Magazine chatted with Rouleau about his adventure and his initiative, and this is what he had to say:
How was the final leg into Windsor?
Guy Rouleau: It was a very mild day, with temperatures around zero degrees. There was no rain or snow, so it was very nice conditions.
What has been the biggest thrill of your ride?
GR: Two come to mind. The first was about 40km after we left Quebec City on Highway 138. Coming into the town of Donnacona there is a very steep hill and we were in a major snow storm. Going down this hill at 50km/h on fat bikes in the blowing snow was quite the thrill. The second was when we arrived at Parliament Hill in Ottawa. Our friends and families were there to cheer us on after five days of intense riding.
What has been the biggest difficulty?
GR: There were several hard days on the bike because of head winds and the snow. Between Louisville and Montreal, there was a headwind and it was snowing. We were probably going at 6km/h for hours. We knew what we were going up against though, so you just have to enjoy every moment. One pedal stroke at a time will get you there. After Ottawa I was solo, so that was hard too. Between Gananoque and Kingston there was 30km of headwind. It took five and a half hours to do 30km. I had planned to go to Napanee that day, but slept in Kingston instead.
How were you received by people you meet?
GR: It has been amazing! People are totally enthused to see us! We received many friendly honks of support. Even better, between North Gower and Prescott a man asked if I wanted a hot chocolate, drove off to the nearest town and then came back and delivered it to me.
How was the schedule you set – any difficulties that slowed you down?
GR: The headwinds slowed the riding down. After I left Ottawa I choose to only do 40km because of the wind and took some more rest that day. I then did 80km a day instead of 90km which was planned. In total it was three days longer, 17 days instead of 14 days.
How was the fat bike ride with the riders from City Cyclery?
GR: Brad (of City Cyclery) got 5 guys together and we went out discovering the riverside bike path and then onto a brand new bike path along a highway. I was the slowest since I was riding my fatbike and the guys were on mountain bikes. They were a bunch of good guys – I even left my fatbike with them so they could resell it at the shop.
What type of media response did you/have you been getting following your ride down to Windsor?
GR: I have done a radio interview with Charles Lévesque from Radio-Canada, and I was at TV Rogers yesterday with Dylan Black. That will air on the 1:00pm Daytime show. So far, we have one new volunteer who will be joining the team after she read the article in the (Ottawa) Citizen.
What's next?
GR: The next goal is to close the event sponsorship and get our Prime Minister Justin Trudeau to declare his participation. In July we will do the ride from Toronto to Windsor on road bikes, with some of the guys from City Cyclery, as well as family and friends. Once a year they open the Ambassador Bridge between Windsor, ON and Detroit, Michigan to cyclists, so we'll time our ride for then.
Rouleau recommends doing trips on fat bikes and enjoying the winter scenery.
The people, the motorists, were extremely kind. Never a problem. I would encourage people to do long winter cycling trips and stop at bed and breakfasts. It is a totally difference experience, with different scenery and is much calmer. I highly recommend it!