September 09, 2015 (St. Louis, Missouri) – Canada's Leah Kirchmann (Team Optum p/b Kelly Benefit Strategies) claimed 2nd overall in the women's series while fellow Canuck Ryan Aitcheson (Astellas Cycling Team) was just off the final podium in 4th. Kirchmann won the opening Stage 1 Tour de Lafayette while Aitcheson was 3rd. Kirchmann was just off the podium on the next three stages while Aitcheson grabbed another 3rd place on Stage 3.
"It was really nice to get some down time after such a long time away in Europe," said Kirchmann. "I've used these past few weeks to visit friends and family and get in a final block of training leading into Road Worlds in Richmond. I decided to race the Gateway Cup this week to get in some intensity and to work on my technical skills and sprinting. It was a fast race from the start, with many of the bigger teams attacking and looking for breakaway opportunities.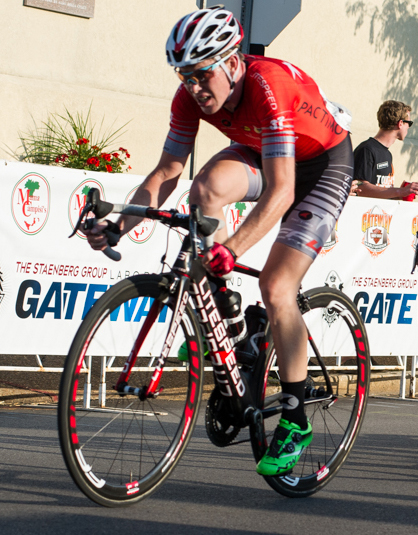 "In Stage 1 UnitedHealthcare had their train set up on the final lap and were controlling the corners. Maura was able to help me hold my position near the front, and I jumped on the outside 100 meters from the final corner to attempt to overtake their train and the other sprinters. It ended up as a drag race to the line on the final straightaway, and I was able to come out on top," explained Kirchmann.
Results
Stage 1 – Tour de Lafayette
Women
1. Leah Kirchmann (Team Optum p/b Kelly Benefit Strategies)
2. Lauren Tamayo (UnitedHealthcare)
3. Samantha Schneider (ISCorp Cycling p/b SmartChoice MRI)
4. Joanne Kiesanowski
5. Erica Allar
6. Yussely Soto (ISCorp Cycling p/b SmartChoice MRI)
7. Diana Penuela (PARK PLACE DEALERSHIPS)
8. Lauretta Hanson
9. Tina Pic (UCI WPT: Pepper Palace Pro Cycling prese)
10. Katherine Sherwin (River City Market Racing p/b Bike Love)
11. Christina Gokey-Smith (UCI WPT: Pepper Palace Pro Cycling prese)
12. Josie Talbot
13. Lindsay Bayer (BMW p/b The Happy Tooth Dental)
14. Mia Manganello (Visit Dallas Cycling p/b Noise4Good)
15. Jamie Gilgen (Rise Racing p/b Cyclepath)
16. Cari Higgins (UnitedHealthcare)
17. Tiffany Pezzulo (DNA Cycling p/b K4)
18. Morgan Brown (Colavita/Bianchi p/b Fine Cooking)
19. Heather Albert (Canyon Bicycles-Shimano)
20. Mary Zider (Colavita/Bianchi p/b Fine Cooking)
21. Julie Kuliecza (UCI WPT: Pepper Palace Pro Cycling prese)
22. Holly Breck (Incycle Racing p/b Full Circle Cycling)
23. Carrie Cash Wootten (Team Revolution)
24. Katharine Hall (UnitedHealthcare)
25. Madison Kriek (FloridaVelo)
26. Emma Grant
27. Marie-Soleil Blais (Acquisio ACQ)
28. Caitlin Laroche (Monster Media Elite Women)
29. Jennifer Sharp (Stages Cycling)
30. Lexie Millard (ISCorp Cycling p/b SmartChoice MRI)
31. Jeannie Kuhajek (Chicago Womens Elite Cycling)
32. Britta Siegel
33. Sara Tussey (Visit Dallas)
34. Fiona Meade
35. Judah Sencenbaugh
36. Linda Villumsen (UnitedHealthcare)
37. Amy Cutler (Fearless Femme p/b Haute Wheels Racing)
38. Maura Kinsella (Team Optum p/b Kelly Benefit Strategies)
39. Kathryn Donovan (Colavita/Bianchi p/b Fine Cooking)
40. Jessica Cutler (Colavita/Bianchi p/b Fine Cooking)
41. Whitney Schultz (Colavita/Bianchi p/b Fine Cooking)
42. Christina Birch (LA Sweat)
43. Christine Thornburg (Chicago Womens Elite Cycling)
44. Nicole Mertz (ISCorp Cycling p/b SmartChoice MRI)
45. Rushlee Buchanan
46. Laura Brown
47. Abby Krawczyk (SPBRC-Grand Performance)
48. Sarah Szefi (Chicago Womens Elite Cycling)
49. Ashley weaver (PARK PLACE DEALERSHIPS)
50. Skylar Schneider (ISCorp Cycling p/b SmartChoice MRI)
51. Nicolle Bruderer
52. Lisa Vandivort (CityMD Racing)
53. Jannette Rho (Chicago Womens Elite Cycling)
54. Ivy Audrain (L.A. Sweat)
55. Jacqueline Denny (Lindenwood University)
56. Emily Bramel (NorthStar Development Cycling)
57. Diedre Ribbens (SPBRC-Grand Performance)
58. Amy Strahan (Michelob Ultra-Big Shark Racing)
59. Catherine Fegan-Kim (DNA Cycling p/b K4)
DNF Catherine Walberg
DNS Laura Van Gilder (Mellow Mushroom Pizza Bakers)
DNS Becca Schepps (LA Sweat)
DNS Nina Laughlin (Visit Dallas Cycling p/b Noise4Good)
DNS Meredith Uhl (Farm Team Elite Women's Cycling Team)
DQ Rahel Cross (Monster Media Elite Women)
DQ Chloe Dygert (TWENTY16 Devo presented by SHO-AIR)
Men
1. Daniel Holloway (AltoVelo-Sea Sucker Factory Racing)
2. Charles Huff (Team Optum p/b Kelly Benefit Strategies)
3. Ryan Aitcheson (Astellas Cycling Team)
4. Rafael Meran (CRCA Foundation)
5. Luke Keough (UCI PCT/WPT: UnitedHealthcare)
6. Colton Barrett (Stradalli Cycle~Safftti Smart Wear)
7. Brad Neagos (BISSELL-ABG-GIANT)
8. Dennis Ramirez (Gateway Harley-Davidson Trek U23 Develop)
9. Mehdi Benhamouda (Team Novo Nordisk)
10. Martin Reinert (Stradalli Cycle~Safftti Smart Wear)
11. Zack Allison (Elevate Elite Cycling Team)
12. Sam Rosenholtz (Green Line Velo)
13. Benjamin Renkema (Finish Strong)
14. Carlos Andres Brenes Mata (Costa Rica)
15. Michael Keller (South Chicago Wheelmen Elite)
16. Hilton Clarke (UCI PCT/WPT: UnitedHealthcare)
17. Zachary Kovalcik (Black Lodge Cycling)
18. Anton Varabei (Garneau Quebecor)
19. Evan Hartig (Credite Velo-Trek)
20. Nolan Tankersley (Finish Strong Elite Cycling Team p/b Pal)
21. Andrew Dahlheim (Canyon Bicycles-Shimano)
22. Aaron Beebe (BISSELL-ABG-GIANT)
23. Jacob Arnold (Elevate Elite Cycling Team)
24. Donovan Clarke (Health Warrior p/b RK&O)
25. Stephen Tilford (TradeWind Energy Cycling Team)
26. David Guttenplan (Isagenix / SeaSucker / Guttenplan Coaching)
27. Alberto Covarrubias
28. Rudyard Peterson (Summit Pro Racing)
29. Zachary Carlson (UCI CT: Champion System-Stans NoTubes)
30. Shane Feehery (SBR Quantum Racing)
31. Grant Erhard (Summit Pro Racing)
32. Tim Savre (Credite Velo-Trek)
33. Aldo Ino Ilesic (AltoVelo-Sea Sucker Factory Racing)
34. Norlandy Tavera (CRCA Foundation)
35. Zack Kratche (J.Brown p/b Ms.Roses)
36. Jacob White (Team Arapahoe Resources)
37. Parker Kyzer (Finish Strong Elite Cycling Team p/b Pal)
38. Jacob Henningsen (University of Cincinnati)
39. Devin Clark
40. Nathan Labecki (AltoVelo-Sea Sucker Factory Racing)
41. Michael (Casey) Saunders (Dogfish/Team Noah)
42. Cristian Torres (CRCA Foundation)
43. Glenn Ferreira (Team Metra / Cycles 54)
44. Carlos Alzate Escobar
45. Terrence Keenan (Michelob Ultra-Big Shark Racing Team)
46. Andrew Reardon (Sonic Cycling)
47. Dustin Morici (EGO p/b Sammy's Bikes)
48. Isaiah Newkirk (Gateway Harley-Davidson Trek U23 Develop)
49. Alex Kellum (J.Brown p/b Ms.Roses)
50. Matt Salpietro (Texas Roadhouse Cycling p/b Stradalli Bi)
51. Sven Gartner (EGO p/b Sammy's Bikes)
52. Kent Ross (Hosmer Chiropractic-RPM Mortgage Cycling Team)
53. Matt Moosa (Finish Strong Elite Cycling Team p/b Pal)
54. Patrick Casey (Canyon Bicycles-Shimano)
55. Jesse Siemen (Summit Pro Racing)
56. Martin Vecchio (Netherland Rubber p/b MVP)
57. Andy Prickett (Team Dayton Bicycling)
58. Derek Cote (CT Cycling Advancement Program)
59. Connor Brown (Gateway Harley-Davidson Trek U23 Develop)
60. Quentin Valognes (Team Novo Nordisk)
61. Arthur Moran (Green Line Velo)
62. Michael Jasinski (TEAM CLIF BAR Cycling)
63. Daniel Tokarczyk (University of Cincinnati)
64. Brian Kaker (Lakes Area Physical Therapy)
65. Micah Engle (Gateway Harley-Davidson Trek U23 Develop)
66. Matthew Zimmer (EC Devo)
67. Adam Myerson (Astellas Cycling Team)
68. Adam Ventling (Above and Beyond Cancer p/b Scheels)
69. Michael Dutczak (EGO p/b Sammy's Bikes)
70. Daniel Fluegel (MSN Pro Coaching)
71. Trevor Rolette (EGO p/b Sammy's Bikes)
72. Johnny Mitchell (Finish Strong)
73. Zack Lavergne (ISCorp Cycling p/b SmartChoice MRI)
74. Anthony Rodriguez (CRCA Foundation)
75. Umberto Poli (Team Novo Nordisk)
76. Luis Galaviz (Fayetteville Wheelmen)
77. Andrew Buntz (Credite Velo-Trek)
78. Scott Ogilvie (Dogfish/Team Noah)
79. Matt Brophy (Summit Pro Racing)
80. John Holden
81. Matthew Kelley (SBR Quantum Racing)
82. Lonny Knabe (Team Novo Nordisk Elite)
83. Dominic Caiazzo (Green Line Velo)
84. Richard Keller (Isagenix / SeaSucker / Guttenplan Coaching)
85. Karl Menzies (UCI PCT/WPT: UnitedHealthcare)
86. Blake Anton (TEAM CLIF BAR Cycling)
87. John (Jack) Funk (Team Arapahoe Resources)
88. Jim Farasy (Mercy Kuat)
89. Frank Travieso (Team United Healthcare Georgia/706P)
90. Cole Archambault (Green Line Velo)
91. Colton Jarisch (Elevate Elite Cycling Team)
92. Joshua Friedman (Green Line Velo)
93. Brais Dacal (Team Novo Nordisk)
94. Michael Allison (Olathe Subaru Cycling)
95. Travis Werts
96. Jacob Gerhardt (TEAM CLIF BAR Cycling)
97. Marco Aledia (AltoVelo-Sea Sucker Factory Racing)
98. Corey Davis (Isagenix / SeaSucker / Guttenplan Coaching)
99. Joshua Johnson (Gateway Harley-Davidson Trek U23 Develop)
100. Bradley White (UCI PCT/WPT: UnitedHealthcare)
101. Dylan Postier (EVOKE Racing)
102. Chad Hartley (AltoVelo-Sea Sucker Factory Racing)
103. Brandon Krawczyk (Revolution Cycle/Twin Six)
104. Adam Farabaugh (Isagenix / SeaSucker / Guttenplan Coaching)
105. Michael Jacques (TEAM CLIF BAR Cycling)
106. Ross White (Credite Velo-Trek)
107. Emanuel Mini (Team Novo Nordisk)
108. Zvonimir Jelinic (Team Novo Nordisk)
109. Adrian Hegyvary (UCI PCT/WPT: UnitedHealthcare)
110. Sean Metz (EGO p/b Sammy's Bikes)
111. Christopher Curran (The Cyclery Racing Team)
112. Michael Weiss (Michelob Ultra-Big Shark Racing Team)
113. Scott Williamson (Olathe Subaru Cycling)
114. Hogan Sills (Astellas Cycling Team)
DNS Maxwell Ackermann (Gateway Harley-Davidson Trek U23 Develop)
DNS Christopher StPeter (Intelligentsia Coffee)
DNS Clay Murfet
DNS Alexander Voitik (EGO p/b Sammys Bikes)
DNS John Balmer (Century Road Club Of America)
DNS James Stemper (AltoVelo-Sea Sucker Factory Racing)
DNS Justin Maciekowicz (Korte Hammer Down Racing)
DNS Jordan Ross (Harvest Racing p/b Midwest Cycling Trek)
DNS Brandon Feehery
DNS Joshua Carter (The Cyclery Racing Team)
DNS William Stolte (TradeWind Energy Cycling Team)
DNS Michaelee Bowes (Village Volkswagen Cycling Team)
DNS Peter Olejniczak (Astellas Cycling Team)
Stage 2 – Tour de Francis Park
Women
1. Samantha Schneider (ISCorp Cycling p/b SmartChoice MRI)
2. Skylar Schneider (ISCorp Cycling p/b SmartChoice MRI)
3. Tina Pic (Pepper Palace Pro Cycling p/b the Happy Tooth)
4. Leah Kirchmann (Team Optum p/b Kelly Benefit Strategies)
5. Cari Higgins (UCI PCT/WPT: UnitedHealthcare)
6. Lauretta Hanson
7. Joanne Kiesanowski
8. Yussely Soto (ISCorp Cycling p/b SmartChoice MRI)
9. Amy Cutler (Fearless Femme p/b Haute Wheels Racing)
10. Josie Talbot
11. Katherine Sherwin (River City Market Racing p/b Bike Love)
12. holly breck (Incycle Racing p/b Full Circle Cycling)
13. Morgan Brown (Colavita/Bianchi p/b Fine Cooking)
14. Chloe Dygert (TWENTY16 Devo presented by SHO-AIR)
15. Lindsay Bayer (BMW p/b The Happy Tooth Dental)
16. Erica Allar
17. Tiffany Pezzulo (DNA Cycling p/b K4)
18. Diana Penuela (PARK PLACE DEALERSHIPS)
19. Caitlin Laroche (Monster Media Elite Women)
20. Christina Gokey-Smith (Pepper Palace Pro Cycling p/b the Happy Tooth)
21. Madison Kriek (FloridaVelo)
22. Britta Siegel
23. Mary Zider (Colavita/Bianchi p/b Fine Cooking)
24. Emma Grant
25. Judah Sencenbaugh
26. Jennifer Sharp (Stages Cycling)
27. Marie-Soleil Blais (Acquisio ACQ)
28. Christine Thornburg (Chicago Womens Elite Cycling)
29. Julie Kuliecza (Pepper Palace Pro Cycling p/b the Happy Tooth)
30. Janelle Cole (Fearless Femme p/b Haute Wheels Racing)
31. Ashley weaver (PARK PLACE DEALERSHIPS)
32. Jessica Cutler (Colavita/Bianchi p/b Fine Cooking)
33. Christina Birch (LA Sweat)
34. Mia Manganello (Visit Dallas Cycling p/b Noise4Good)
35. Sara Tussey (Visit Dallas)
36. Abby Krawczyk (SPBRC-Grand Performance)
37. Heather Albert (Canyon Bicycles-Shimano)
38. Nicole Mertz (ISCorp Cycling p/b SmartChoice MRI)
39. Anina Blankenship (Balanced: Bike Fitting & Coaching Cycling Team)
40. Jannette Rho (Chicago Womens Elite Cycling)
41. Fiona Meade
42. Jeannie Kuhajek (Chicago Womens Elite Cycling)
43. Kathryn Donovan (Colavita/Bianchi p/b Fine Cooking)
44. Maura Kinsella (UCI CT/WPT: Team Optum p/b Kelly Benefit Strategies)
45. Lexie Millard (ISCorp Cycling p/b SmartChoice MRI)
46. Diedre Ribbens (SPBRC-Grand Performance)
47. Laura Brown
48. Katharine Hall (UCI PCT/WPT: UnitedHealthcare)
49. Whitney Schultz (Colavita/Bianchi p/b Fine Cooking)
50. Lauren Tamayo (UCI PCT/WPT: UnitedHealthcare)
51. Jamie Gilgen (Rise Racing p/b Cyclepath)
52. Sarah Szefi (Chicago Womens Elite Cycling)
53. Catherine Fegan-Kim (DNA Cycling p/b K4)
54. Linda Villumsen (UnitedHealthcare)
55. Rushlee Buchanan
56. Lisa Vandivort (CityMD Racing)
57. Catherine Walberg
58. Amy Strahan (Michelob Ultra-Big Shark Racing)
59. Ivy Audrain (L.A. Sweat)
60. Becca Schepps (LA Sweat)
61. Emily Bramel (NorthStar Development Cycling)
62. Jacqueline Denny (Lindenwood University)
DNF Rachel Cross (Monster Media Elite Women)
Men
1. Carlos Alzate Escobar (UnitedHealthcare)
2. Daniel Holloway (AltoVelo-Sea Sucker Factory Racing)
3. Luke Keough (UnitedHealthcare)
4. Rafael Meran (CRCA Foundation)
5. Mehdi Benhamouda (Team Novo Nordisk)
6. Charles Huff (UCI CT/WPT: Team Optum p/b Kelly Benefit Strategies)
7. Martin Reinert (Stradalli Cycle~Safftti Smart Wear)
8. Ryan Aitcheson (Astellas Cycling Team)
9. Quentin Valognes (Team Novo Nordisk)
10. Aldo Ino Ilesic (AltoVelo-Sea Sucker Factory Racing)
11. Carlos Andres Brenes Mata (Costa Rica)
12. Jacob White (Team Arapahoe Resources)
13. Dennis Ramirez (Gateway Harley-Davidson Trek U23 Develop)
14. Adam Myerson (UCI CT: Astellas Cycling Team)
15. Sam Rosenholtz (Green Line Velo)
16. Nolan Tankersley (Finish Strong Elite Cycling Team p/b Pal)
17. Zack Allison (Elevate Elite Cycling Team)
18. Brad Neagos (BISSELL-ABG-GIANT)
19. Umberto Poli (Team Novo Nordisk)
20. Alberto Covarrubias
21. Anton Varabei (Garneau Quebecor)
22. Stephen Tilford (TradeWind Energy Cycling Team)
23. Frank Travieso (Team United Healthcare Georgia/706P)
24. David Guttenplan (Isagenix / SeaSucker / Guttenplan Coaching)
25. Zachary Kovalcik (Black Lodge Cycling)
26. Evan Hartig (Credite Velo-Trek)
27. Alexander Voitik (EGO p/b Sammys Bikes)
28. Benjamin Renkema (Finish Strong)
29. Anthony Rodriguez (CRCA Foundation)
30. Zack Kratche (J.Brown p/b Ms.Roses)
31. Adam Farabaugh (Isagenix / SeaSucker / Guttenplan Coaching)
32. Zachary Carlson (UCI CT: Champion System-Stans NoTubes)
33. Michael Keller (South Chicago Wheelmen Elite)
34. Robert Sroka (Netherland Rubber p/b MVP)
35. Ryan Good (MatsonMoney)
36. Ryan Knapp (First Internet Bank Cycling Team)
37. Donovan Clarke (Health Warrior p/b RK&O)
38. Aaron Beebe (BISSELL-ABG-GIANT)
39. Colton Barrett (Stradalli Cycle~Safftti Smart Wear)
40. Nathan Labecki (AltoVelo-Sea Sucker Factory Racing)
41. Tim Savre (Credite Velo-Trek)
42. Jacob Henningsen (University of Cincinnati)
43. Matt Moosa (Finish Strong Elite Cycling Team p/b Pal)
44. Sven Gartner (EGO p/b Sammy's Bikes)
45. Glenn Ferreira (Team Metra / Cycles 54)
46. Jordan Ross (Harvest Racing p/b Midwest Cycling Trek)
47. Jack McCann (Netherland Rubber p/b MVP)
48. Andrew Reardon (Sonic Cycling)
49. Martin Vecchio (Netherland Rubber p/b MVP)
50. Andrew Buntz (Credite Velo-Trek)
51. Kent Ross (Hosmer Chiropractic-RPM Mortgage Cycling Team)
52. Brais Dacal (Team Novo Nordisk)
53. Dylan Postier (EVOKE Racing)
54. Michael Jasinski (TEAM CLIF BAR Cycling)
55. Terrence Keenan (Michelob Ultra-Big Shark Racing Team)
56. Grant Erhard (Summit Pro Racing)
57. Norlandy Tavera (CRCA Foundation)
58. William Stolte (TradeWind Energy Cycling Team)
59. Matthew Kelley (SBR Quantum Racing)
60. Scott Ogilvie (Dogfish/Team Noah)
61. Cristian Torres (CRCA Foundation)
62. Blake Anton (TEAM CLIF BAR Cycling)
63. Brian Kaker (Lakes Area Physical Therapy)
64. Dustin Morici (EGO p/b Sammy's Bikes)
65. Ian Umstead (Village Volkswagen Cycling Team)
66. Rudyard Peterson (Summit Pro Racing)
67. Parker Kyzer (Finish Strong Elite Cycling Team p/b Pal)
68. Arthur Moran (Green Line Velo)
69. Jesse Siemen (Summit Pro Racing)
70. Bill Mulligan (Lakes Area Physical Therapy)
71. Daniel Tokarczyk (University of Cincinnati)
72. Isaiah Newkirk (Gateway Harley-Davidson Trek U23 Develop)
73. Andy Prickett (Team Dayton Bicycling)
74. Connor Brown (Gateway Harley-Davidson Trek U23 Develop)
75. Travis Werts
76. Trevor Rolette (EGO p/b Sammy's Bikes)
77. Patrick Casey (Canyon Bicycles-Shimano)
78. Adam Ventling (Above and Beyond Cancer p/b Scheels)
79. Michael Dutczak (EGO p/b Sammy's Bikes)
80. Chad Hartley (AltoVelo-Sea Sucker Factory Racing)
81. Brandon Krawczyk (Revolution Cycle/Twin Six)
82. Hilton Clarke (UnitedHealthcare)
83. Luis Galaviz (Fayetteville Wheelmen)
84. Derek Cote (CT Cycling Advancement Program)
85. Johnny Mitchell (Finish Strong)
86. Marco Aledia (AltoVelo-Sea Sucker Factory Racing)
87. Shane Feehery (SBR Quantum Racing)
88. Michael Weiss (Michelob Ultra-Big Shark Racing Team)
89. Dominic Caiazzo (Green Line Velo)
90. Matthew Zimmer (EC Devo)
91. Michael Bruzina (Mercy Kuat)
92. Joshua Friedman (Green Line Velo)
93. Jacob Arnold (Elevate Elite Cycling Team)
94. Christopher Curran (The Cyclery Racing Team)
95. Jacob Gerhardt (TEAM CLIF BAR Cycling)
96. Emanuel Mini (Team Novo Nordisk)
97. Anthony Dust (The Cyclery Racing Team)
98. Michael Jacques (TEAM CLIF BAR Cycling)
99. Zachary Lewis (MatsonMoney)
100. John (Jack) Funk (Team Arapahoe Resources)
101. Scott Williamson (Olathe Subaru Cycling)
102. Ross White (Credite Velo-Trek)
103. John Becker (First Internet Bank Cycling Team)
104. Jim Farasy (Mercy Kuat)
105. Bradley White (UnitedHealthcare)
106. Andrew Lister (The Cyclery Racing Team)
107. Lonny Knabe (Team Novo Nordisk Elite)
108. Zack Lavergne (ISCorp Cycling p/b SmartChoice MRI)
109. Joshua Johnson (Gateway Harley-Davidson Trek U23 Develop)
110. Matt Bole (Team Dayton Bicycling)
111. Adrian Hegyvary (UnitedHealthcare)
112. Eduardo Nieuwenhuyzen (Mesa Cycles Penrose Park Velo Team)
113. Alex Kellum (J.Brown p/b Ms.Roses)
114. Michael Allison (Olathe Subaru Cycling)
115. Karl Menzies (UnitedHealthcare)
116. Colton Jarisch (Elevate Elite Cycling Team)
117. Zvonimir Jelinic (Team Novo Nordisk)
118. Jonathan Jacob (BISSELL-ABG-GIANT)
119. Sean Metz (EGO p/b Sammy's Bikes)
120. Corey Davis (Isagenix / SeaSucker / Guttenplan Coaching)
121. John Holden
122. Brandon Feehery
123. Micah Engle (Gateway Harley-Davidson Trek U23 Develop)
124. Devin Clark
DNF Hogan Sills (UCI CT: Astellas Cycling Team)
DNF Peter Olejniczak (UCI CT: Astellas Cycling Team)
Stage 3 – Giro della Montagna
Women
1. Rushlee Buchanan (UnitedHealthcare)
2. Joanne Kiesanowski (Team TIBCO-SVB)
3. Emma Grant (Colavita/Bianchi p/b Fine Cooking)
4. Samantha Schneider (ISCorp Cycling p/b SmartChoice MRI)
5. Leah Kirchmann (Team Optum p/b Kelly Benefit Strategies)
6. Lauretta Hanson
7. Linda Villumsen (UnitedHealthcare)
8. Erica Allar
9. Katherine Sherwin (River City Market Racing p/b Bike Love)
10. Tiffany Pezzulo (DNA Cycling p/b K4)
11. Yussely Soto (ISCorp Cycling p/b SmartChoice MRI)
12. Christina Gokey-Smith (UCI WPT: Pepper Palace Pro Cycling prese)
13. Tina Pic (UCI WPT: Pepper Palace Pro Cycling prese)
14. Chloe Dygert (TWENTY16 Devo presented by SHO-AIR)
15. Katharine Hall (UnitedHealthcare)
16. Marie-Soleil Blais (Acquisio ACQ)
17. Skylar Schneider (ISCorp Cycling p/b SmartChoice MRI)
18. Josie Talbot
19. Cari Higgins (UnitedHealthcare)
20. Heather Albert (Canyon Bicycles-Shimano)
21. Fiona Meade
22. holly breck (Incycle Racing p/b Full Circle Cycling)
23. Christina Birch (LA Sweat)
24. Janelle Cole (Fearless Femme p/b Haute Wheels Racing)
25. Diana Penuela (PARK PLACE DEALERSHIPS)
26. Lindsay Bayer (BMW p/b The Happy Tooth Dental)
27. Abby Krawczyk (SPBRC-Grand Performance)
28. Mia Manganello (Visit Dallas Cycling p/b Noise4Good)
29. Madison Kriek (FloridaVelo)
30. Jennifer Sharp (Stages Cycling)
31. Morgan Brown (Colavita/Bianchi p/b Fine Cooking)
32. Jannette Rho (Chicago Womens Elite Cycling)
33. Kathryn Donovan (Colavita/Bianchi p/b Fine Cooking)
34. Christine Thornburg (Chicago Womens Elite Cycling)
35. Lauren Tamayo (UnitedHealthcare)
36. Maura Kinsella (UCI CT/WPT: Team Optum p/b Kelly Benefit Strategies)
37. Laura Brown
38. Julie Kuliecza (UCI WPT: Pepper Palace Pro Cycling prese)
39. Jamie Gilgen (Rise Racing p/b Cyclepath)
40. Mary Zider (Colavita/Bianchi p/b Fine Cooking)
41. Whitney Schultz (Colavita/Bianchi p/b Fine Cooking)
42. Amy Cutler (Fearless Femme p/b Haute Wheels Racing)
43. Nicole Mertz (ISCorp Cycling p/b SmartChoice MRI)
44. Sara Tussey (Visit Dallas)
45. Caitlin Laroche (Monster Media Elite Women)
46. Lexie Millard (ISCorp Cycling p/b SmartChoice MRI)
47. Ivy Audrain (L.A. Sweat)
48. Diedre Ribbens (SPBRC-Grand Performance)
49. Sarah Szefi (Chicago Womens Elite Cycling)
50. Anina Blankenship (Balanced: Bike Fitting & Coaching Cycling Team)
51. Ashley weaver (PARK PLACE DEALERSHIPS)
52. Catherine Fegan-Kim (DNA Cycling p/b K4)
53. Catherine Walberg
54. Becca Schepps (LA Sweat)
Men
1. Karl Menzies (UnitedHealthcare)
2. Ruben Companioni (Stradalli Cycle~Safftti Smart Wear)
3. Ryan Aitcheson (Astellas Cycling Team)
4. Martin Reinert (Stradalli Cycle~Safftti Smart Wear)
5. Carlos Alzate Escobar
6. Luke Keough (UnitedHealthcare)
7. Daniel Holloway (AltoVelo-Sea Sucker Factory Racing)
8. Norlandy Tavera (CRCA Foundation)
9. Rafael Meran (CRCA Foundation)
10. Zack Allison (Elevate Elite Cycling Team)
11. Adam Myerson (Astellas Cycling Team)
12. Zachary Kovalcik (Black Lodge Cycling)
13. Nolan Tankersley (Finish Strong Elite Cycling Team p/b Pal)
14. Jose Frank Rodriguez (Stradalli Cycle~Safftti Smart Wear)
15. Ryan Knapp (First Internet Bank Cycling Team)
16. Andrew Dahlheim (Canyon Bicycles-Shimano)
17. Stephen Tilford (TradeWind Energy Cycling Team)
18. Quentin Valognes (Team Novo Nordisk)
19. Ryan Good (MatsonMoney)
20. Anton Varabei (Garneau Quebecor)
21. Johnny Mitchell (Finish Strong)
22. Carlos Andres Brenes Mata (Costa Rica)
23. Colton Jarisch (Elevate Elite Cycling Team)
24. Evan Hartig (Credite Velo-Trek)
25. Alexander Voitik (EGO p/b Sammys Bikes)
26. Michael Keller (South Chicago Wheelmen Elite)
27. Brad Neagos (BISSELL-ABG-GIANT)
28. Cristian Torres (CRCA Foundation)
29. Benjamin Renkema (Finish Strong)
30. Corey Davis (Isagenix / SeaSucker / Guttenplan Coaching)
31. Andrew Reardon (Sonic Cycling)
32. Glenn Ferreira (Team Metra / Cycles 54)
33. Jacob Arnold (Elevate Elite Cycling Team)
34. Alberto Covarrubias
35. Dennis Ramirez (Gateway Harley-Davidson Trek U23 Develop)
36. Dustin Morici (EGO p/b Sammy's Bikes)
37. Terrence Keenan (Michelob Ultra-Big Shark Racing Team)
38. Brais Dacal (Team Novo Nordisk)
39. Jordan Ross (Harvest Racing p/b Midwest Cycling Trek)
40. Tim Savre (Credite Velo-Trek)
41. Michael Jasinski (TEAM CLIF BAR Cycling)
42. Michael Dutczak (EGO p/b Sammy's Bikes)
43. Anthony Rodriguez (CRCA Foundation)
44. Brian Kaker (Lakes Area Physical Therapy)
45. Blake Anton (TEAM CLIF BAR Cycling)
46. Colton Barrett (Stradalli Cycle~Safftti Smart Wear)
47. Robert Sroka (Netherland Rubber p/b MVP)
48. Matt Moosa (Finish Strong Elite Cycling Team p/b Pal)
49. Joshua Friedman (Green Line Velo)
50. Sebastian Morfin (Stradalli Cycle~Safftti Smart Wear)
51. Jack McCann (Netherland Rubber p/b MVP)
52. John (Jack) Funk (Team Arapahoe Resources)
53. Dylan Postier (EVOKE Racing)
54. Matthew Zimmer (EC Devo)
55. Luis Galaviz (Fayetteville Wheelmen)
56. Adam Farabaugh (Isagenix / SeaSucker / Guttenplan Coaching)
57. Micah Engle (Gateway Harley-Davidson Trek U23 Develop)
58. Connor Brown (Gateway Harley-Davidson Trek U23 Develop)
59. Hilton Clarke (UnitedHealthcare)
60. Cole Archambault (Green Line Velo)
61. Daniel Tokarczyk (University of Cincinnati)
62. Alex Kellum (J.Brown p/b Ms.Roses)
63. Bradley White (UnitedHealthcare)
64. Charles Huff (UCI CT/WPT: Team Optum p/b Kelly Benefit Strategies)
65. Arthur Moran (Green Line Velo)
66. Andrew Crater (Stradalli Cycle~Safftti Smart Wear)
67. Adam Leibovitz (BISSELL-ABG-GIANT)
68. Parker Kyzer (Finish Strong Elite Cycling Team p/b Pal)
69. Matt Salpietro (Texas Roadhouse Cycling p/b Stradalli Bi)
70. Scott Ogilvie (Dogfish/Team Noah)
71. Trevor Rolette (EGO p/b Sammy's Bikes)
72. Adrian Hegyvary (UnitedHealthcare)
73. Aaron Beebe (BISSELL-ABG-GIANT)
74. Michael (Casey) Saunders (Dogfish/Team Noah)
75. jesse siemen (Summit Pro Racing)
76. Umberto Poli (Team Novo Nordisk)
77. Marco Aledia (AltoVelo-Sea Sucker Factory Racing)
78. Jonathan Jacob (BISSELL-ABG-GIANT)
79. Isaiah Newkirk (Gateway Harley-Davidson Trek U23 Develop)
80. Jacob Gerhardt (TEAM CLIF BAR Cycling)
81. Ian Umstead (Village Volkswagen Cycling Team)
82. Scott Williamson (Olathe Subaru Cycling)
83. Brandon Feehery
84. John Holden
85. Zachary Carlson (UCI CT: Champion System-Stans NoTubes)
86. Peter Olejniczak (Astellas Cycling Team)
87. Bill Mulligan (Lakes Area Physical Therapy)
88. Matthew Kelley (SBR Quantum Racing)
89. William Stolte (TradeWind Energy Cycling Team)
90. David Guttenplan (Isagenix / SeaSucker / Guttenplan Coaching)
91. Shane Feehery (SBR Quantum Racing)
92. Patrick Casey (Canyon Bicycles-Shimano)
93. Mehdi Benhamouda (Team Novo Nordisk)
94. Zack Lavergne (ISCorp Cycling p/b SmartChoice MRI)
95. Derek Cote (CT Cycling Advancement Program)
96. Zachary Lewis (MatsonMoney)
97. Anthony Dust (The Cyclery Racing Team)
98. James VanDeven (Dogfish/Team Noah)
99. John Becker (First Internet Bank Cycling Team)
100. Sven Gartner (EGO p/b Sammy's Bikes)
101. Andy Prickett (Team Dayton Bicycling)
102. Lonny Knabe (Team Novo Nordisk Elite)
103. Emanuel Mini (Team Novo Nordisk)
104. Zvonimir Jelinic (Team Novo Nordisk)
DNF Donovan Clarke (Health Warrior p/b RK&O)
DNF Michael Weiss (Michelob Ultra-Big Shark Racing Team)
DNF Chad Hartley (AltoVelo-Sea Sucker Factory Racing)
DNF Michael Bruzina (Mercy Kuat)
DNF Zack Kratche (J.Brown p/b Ms.Roses)
DNF Michael Allison (Olathe Subaru Cycling)
DNF Kent Ross (Hosmer Chiropractic-RPM Mortgage Cycling Team)
DNF Adam Ventling (Above and Beyond Cancer p/b Scheels)
Stage 4 – Benton Park Classic
Women
1. Linda Villumsen (UnitedHealthcare)
2. Cari Higgins (UnitedHealthcare)
3. Samantha Schneider (ISCorp Cycling p/b SmartChoice MRI)
4. Lauren Tamayo (UnitedHealthcare)
5. Leah Kirchmann (Team Optum p/b Kelly Benefit Strategies)
6. Erica Allar
7. Joanne Kiesanowski
8. Yussely Soto (ISCorp Cycling p/b SmartChoice MRI)
9. Tina Pic (UCI WPT: Pepper Palace Pro Cycling prese)
10. Lauretta Hanson
11. Diana Penuela (PARK PLACE DEALERSHIPS)
12. Lindsay Bayer (BMW p/b The Happy Tooth Dental)
13. Katherine Sherwin (River City Market Racing p/b Bike Love)
14. Caitlin Laroche (Monster Media Elite Women)
15. Christina Gokey-Smith (UCI WPT: Pepper Palace Pro Cycling prese)
16. Tiffany Pezzulo (DNA Cycling p/b K4)
17. Skylar Schneider (ISCorp Cycling p/b SmartChoice MRI)
18. Heather Albert (Canyon Bicycles-Shimano)
19. Julie Kuliecza (UCI WPT: Pepper Palace Pro Cycling prese)
20. Jamie Gilgen (Rise Racing p/b Cyclepath)
21. Josie Talbot
22. Abby Krawczyk (SPBRC-Grand Performance)
23. Marie-Soleil Blais (Acquisio ACQ)
24. Emma Grant
25. Morgan Brown (Colavita/Bianchi p/b Fine Cooking)
26. holly breck (Incycle Racing p/b Full Circle Cycling)
27. Mary Zider (Colavita/Bianchi p/b Fine Cooking)
28. Katharine Hall (UnitedHealthcare)
29. Rushlee Buchanan
30. Nicole Mertz (ISCorp Cycling p/b SmartChoice MRI)
31. Sara Tussey (Visit Dallas)
32. Kathryn Donovan (Colavita/Bianchi p/b Fine Cooking)
33. Jessica Cutler (Colavita/Bianchi p/b Fine Cooking)
34. Laura Brown
35. Maura Kinsella (UCI CT/WPT: Team Optum p/b Kelly Benefit Strategies)
36. Sunny Gilbert (Michelob Ultra-Big Shark Racing Team)
37. Whitney Schultz (Colavita/Bianchi p/b Fine Cooking)
38. Fiona Meade
39. Jeannie Kuhajek (Chicago Womens Elite Cycling)
40. Lexie Millard (ISCorp Cycling p/b SmartChoice MRI)
41. Christina Birch (LA Sweat)
42. Madison Kriek (FloridaVelo)
43. Sarah Szefi (Chicago Womens Elite Cycling)
44. Jennifer Sharp (Stages Cycling)
45. Britta Siegel
46. Kyrstin Bluhm (Lindenwood University)
47. Ashley weaver (PARK PLACE DEALERSHIPS)
48. Christine Thornburg (Chicago Womens Elite Cycling)
49. Diedre Ribbens (SPBRC-Grand Performance)
50. Lisa Vandivort (CityMD Racing)
51. Jannette Rho (Chicago Womens Elite Cycling)
52. Catherine Fegan-Kim (DNA Cycling p/b K4)
53. Catherine Walberg
DNF Ivy Audrain (L.A. Sweat)
DNF Mia Manganello (Visit Dallas Cycling p/b Noise4Good)
Men
1. Carlos Alzate Escobar (UnitedHealthcare)
2. Daniel Holloway (AltoVelo-Sea Sucker Factory Racing)
3. Karl Menzies (UnitedHealthcare)
4. Luke Keough (UnitedHealthcare)
5. Rafael Meran (CRCA Foundation)
6. Dennis Ramirez (Gateway Harley-Davidson Trek U23 Develop)
7. Brad Neagos (BISSELL-ABG-GIANT)
8. Ryan Aitcheson (Astellas Cycling Team)
9. Colton Barrett (Stradalli Cycle~Safftti Smart Wear)
10. Zack Allison (Elevate Elite Cycling Team)
11. Michael Keller (South Chicago Wheelmen Elite)
12. Adrian Hegyvary (UnitedHealthcare)
13. Benjamin Renkema (Finish Strong)
14. Adam Farabaugh (Isagenix / SeaSucker / Guttenplan Coaching)
15. Anton Varabei (Garneau Quebecor)
16. Carlos Andres Brenes Mata (Costa Rica)
17. Martin Reinert (Stradalli Cycle~Safftti Smart Wear)
18. Alberto Covarrubias
19. Stephen Tilford (TradeWind Energy Cycling Team)
20. Evan Hartig (Credite Velo-Trek)
21. Alexander Voitik (EGO p/b Sammys Bikes)
22. Michael Dutczak (EGO p/b Sammy's Bikes)
23. Martin Vecchio (Netherland Rubber p/b MVP)
24. Parker Kyzer (Finish Strong Elite Cycling Team p/b Pal)
25. Colton Jarisch (Elevate Elite Cycling Team)
26. Blake Anton (TEAM CLIF BAR Cycling)
27. Cristian Torres (CRCA Foundation)
28. Andrew Dahlheim (Canyon Bicycles-Shimano)
29. Aldo Ino Ilesic (AltoVelo-Sea Sucker Factory Racing)
30. Glenn Ferreira (Team Metra / Cycles 54)
31. Isaiah Newkirk (Gateway Harley-Davidson Trek U23 Develop)
32. John (Jack) Funk (Team Arapahoe Resources)
33. Ryan Knapp (First Internet Bank Cycling Team)
34. Dylan Postier (EVOKE Racing)
35. Corey Davis (Isagenix / SeaSucker / Guttenplan Coaching)
36. Bradley White (UnitedHealthcare)
37. Marco Aledia (AltoVelo-Sea Sucker Factory Racing)
38. Dustin Morici (EGO p/b Sammy's Bikes)
39. Michael Jasinski (TEAM CLIF BAR Cycling)
40. Patrick Casey (Canyon Bicycles-Shimano)
41. Brais Dacal (Team Novo Nordisk)
42. Connor Brown (Gateway Harley-Davidson Trek U23 Develop)
43. Matthew Zimmer (EC Devo)
44. Matt Salpietro (Texas Roadhouse Cycling p/b Stradalli Bi)
45. Bill Mulligan (Lakes Area Physical Therapy)
46. Brian Kaker (Lakes Area Physical Therapy)
47. Robert Sroka (Netherland Rubber p/b MVP)
48. Devin Clark
49. Matt Moosa (Finish Strong Elite Cycling Team p/b Pal)
50. Andrew Reardon (Sonic Cycling)
51. Joshua Friedman (Green Line Velo)
52. jesse siemen (Summit Pro Racing)
53. Micah Engle (Gateway Harley-Davidson Trek U23 Develop)
54. Zachary Kovalcik (Black Lodge Cycling)
55. Nolan Tankersley (Finish Strong Elite Cycling Team p/b Pal)
56. Hilton Clarke (UnitedHealthcare)
57. Aaron Beebe (BISSELL-ABG-GIANT)
58. Jacob Gerhardt (TEAM CLIF BAR Cycling)
59. Zack Kratche (J.Brown p/b Ms.Roses)
60. Hogan Sills (UCI CT: Astellas Cycling Team)
61. Jacob Arnold (Elevate Elite Cycling Team)
62. Charles Huff (UCI CT/WPT: Team Optum p/b Kelly Benefit Strategies)
63. Brandon Feehery
64. Dominic Caiazzo (Green Line Velo)
65. Joshua Johnson (Gateway Harley-Davidson Trek U23 Develop)
66. Michael (Casey) Saunders (Dogfish/Team Noah)
67. Terrence Keenan (Michelob Ultra-Big Shark Racing Team)
68. Jonathan Jacob (BISSELL-ABG-GIANT)
69. Arthur Moran (Green Line Velo)
70. Jordan Ross (Harvest Racing p/b Midwest Cycling Trek)
71. Michael Allison (Olathe Subaru Cycling)
72. John Becker (First Internet Bank Cycling Team)
73. Derek Cote (CT Cycling Advancement Program)
74. Quentin Valognes (Team Novo Nordisk)
75. Trevor Rolette (EGO p/b Sammy's Bikes)
76. Grant Erhard (Summit Pro Racing)
77. Scott Ogilvie (Dogfish/Team Noah)
78. Matthew Kelley (SBR Quantum Racing)
79. Scott Williamson (Olathe Subaru Cycling)
80. John Holden
81. William Stolte (TradeWind Energy Cycling Team)
82. Emanuel Mini (Team Novo Nordisk)
83. Sean Metz (EGO p/b Sammy's Bikes)
84. Andy Prickett (Team Dayton Bicycling)
85. Zvonimir Jelinic (Team Novo Nordisk)
DNF Donovan Clarke (Health Warrior p/b RK&O)
DNF Sven Gartner (EGO p/b Sammy's Bikes)
DNF Luis Galaviz (Fayetteville Wheelmen)
DNF Alex Kellum (J.Brown p/b Ms.Roses)
DNF Kent Ross (Hosmer Chiropractic-RPM Mortgage Cycling Team)
DNF Johnny Mitchell (Finish Strong)
DNF Stephan Hoffman (TEAM CLIF BAR Cycling)
Omnium
Women
1. Samantha Schneider (ISCorp Cycling p/b SmartChoice MRI)
2. Leah Kirchmann (Team Optum p/b Kelly Benefit Strategies)
3. Joanne Kiesanowski (Team TIBCO-SVB)
4. Linda Villumsen (UnitedHealthcare)
5. Lauren Tamayo (UnitedHealthcare)
6. Lauretta Hanson (Fearless Femme p/b Haute Wheels Racing)
7. Tina Pic (Pepper Palace Pro Cycling p/b the Happy Tooth)
8. Cari Higgins (UnitedHealthcare)
9. Yussely Soto (ISCorp Cycling p/b SmartChoice MRI)
10. Erica Allar
11. Rushlee Buchanan (UnitedHealthcare)
12. Katherine Sherwin (River City Market Racing p/b Bike Love)
13. Skylar Schneider (ISCorp Cycling p/b SmartChoice MRI)
14. Emma Grant (Colavita/Bianchi p/b Fine Cooking)
15. Diana Penuela (PARK PLACE DEALERSHIPS)
16. Josie Talbot
17. Christina Gokey-Smith (Pepper Palace Pro Cycling p/b the Happy Tooth)
18. Lindsay Bayer (BMW p/b Happy Tooth Dental)
19. Amy Cutler (Fearless Femme p/b Haute Wheels Racing)
20. Tiffany Pezzulo (DNA Cycling p/b K4)
21. holly breck (Incycle Racing p/b Full Circle Cycling)
22. Chloe Dygert (TWENTY16 Devo presented by SHO-AIR)
23. Morgan Brown (Colavita/Bianchi p/b Fine Cooking)
24. Caitlin Laroche (Monster Media Elite Women)
25. Mia Manganello (Visit Dallas Cycling p/b Noise4Good)
26. Jamie Gilgen (Colavita/Bianchi p/b Fine Cooking)
27. Katharine Hall (UnitedHealthcare)
Men
1. Daniel Holloway (AltoVelo-Sea Sucker Factory Racing)
2. Carlos Alzate Escobar (UnitedHealthcare)
3. Luke Keough (UnitedHealthcare)
4. Ryan Aitcheson (Astellas Cycling Team)
5. Rafael Meran (CRCA Foundation)
6. Karl Menzies (UnitedHealthcare)
7. Charles Huff (Team Optum p/b Kelly Benefit Strategies)
8. Martin Reinert (Stradalli Cycle~Safftti Smart Wear)
9. Dennis Ramirez (Gateway Harley-Davidson Trek U23 Develop)
10. Ruben Companioni (Stradalli Cycle~Safftti Smart Wear)
11. Mehdi Benhamouda (Team Novo Nordisk)
12. Brad Neagos (BISSELL-ABG-Giant)
13. Colton Barrett (Stradalli Cycle~Safftti Smart Wear)
14. Zack Allison (Elevate Elite Cycling Team)
15. Norlandy Tavera (CRCA Foundation)
16. Quentin Valognes (Team Novo Nordisk)
17. Carlos Andres Brenes Mata (Costa Rica)
18. Adam Myerson (Astellas Cycling Team)
19. Aldo Ino Ilesic (AltoVelo-Sea Sucker Factory Racing)
20. Michael Keller (South Chicago Wheelmen Elite)
21. Benjamin Renkema (Finish Strong Elite Cycling Team)
22. Sam Rosenholtz (Green Line Velo)
23. Adrian Hegyvary (UnitedHealthcare)
24. Zachary Kovalcik (Black Lodge Cycling)
25. Jacob White (Team Arapahoe Resources)
26. Nolan Tankersley (Finish Strong Elite Cycling Team p/b Pal)
27. Adam Farabaugh (Isagenix / SeaSucker / Guttenplan Coaching)
28. Jose Frank Rodriguez (Stradalli Cycle~Safftti Smart Wear)
29. Anton Varabei (Garneau Quebecor)
30. Ryan Knapp (First Internet Bank Cycling Team)