July 17, 2012   (Pau, France) – Fränk René Schleck (Lux) RadioShack-Nissan tested positive for a banned substance and was asked by his team to leave the Tour de France reports The Guardian. The 32-year-old Luxemburg native apparently tested positive for xipamide – a banned substance – on July 14. Xipamide is a sulfonamide diuretic drug marketed by Eli Lilly for the treatment of oedema and hypertension and sometimes known by the trade name Aquaphor™.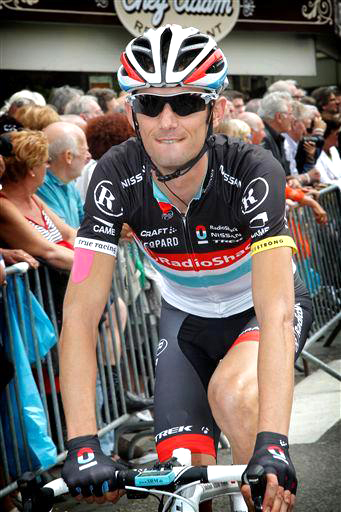 Schleck  was ranked 12th in the GC yesterday after 15 stages of the TdF, 9min 45sec behind the leader, Bradley Wiggins (Gbr) Sky Procycling. He also finished third overall at the 2011 TdF. Among his notable career stage race wins are the Tour de Luxembourg (2009), the Tour de Suisse (2010), and the Critérium International (2011) according to Wikipedia.
There have been doping accusations before noted on Wikipedia. In 2008, the German daily Süddeutsche Zeitung alleged contact between Schleck (then riding for Team CSC Saxo Bank) and Eufemiano Fuentes, the Spanish doctor at the centre of the Puerto Doping Scandal. Schleck was temporarily suspended from his team following these allegations, but was cleared of all wrongdoing later in 2008 by the Luxemburg doping authorities.
Frank Schleck is also the older brother of Andy Schleck (RadioShack-Nissan), 27, who was awarded the 2010 TdF victory after Alberto Contador was judged guilty of doping by the international Court of Arbitration in Sport (CAS). The younger brother is not competing at this year's TdF because of an injury to his sacral bone and his pelvis sustained at the Critérium du Dauphiné. Because of that same injury, it now appears that the younger Schleck will also likely miss the Olympics reports Eurosport.
The news about Frank's doping test and Andy's injuries come at a bad time for RadioShack-Nissan amid reports that the team is near bankruptcy as also reported by Eurosport. The team owners issued a statement that in part reads: "In response to malicious and unfounded rumours, Leopard SA… formally denies any situation that could be interpreted as close to collapse or to bankruptcy." Team manager, Johan Bruyneel, has also been named by USADA as a co-defendant in the Lance Armstrong doping investigation as previously reported.
Guardian on Frank Schleck testing positive
Euosport Andy Schleck to miss London 2012.
Eurosport on Radioshack-Nissan financial troubles.