November 08, 2011 (Sainte-Adele, QC) – Five new members were inducted into the Quebec cycling federation's (FQSC) Hall of Fame (Temple de la renommée) at a ceremony on Nov. 5 at the picturesque Hotel Chantecler an hour north of Montreal. The FQSC's Hall of Honour was established in 1986 and since then some 93 people have been inducted as members… the 2011 inductees included:
Melanie Dorion
– a mountain biker and road cyclist active from 1992—2001. Initially prominent in mountain biking, she finished 20th in the Montreal Women's Road World Cup in the last year she raced. Her candidacy was sponsored by the Mont-Ste. Anne MTB World Cup Corp.
– Roger Filion – a former road cyclist from the 1950s but better known as a race organiser who notably organized the Canadian leg of the UCI U23 Coupe des Nations established since 2008. That event and the host city of Saguenay, Quebec sponsored Filion's candidacy.
Chris Koberstein
– a road cyclist who finished 2nd in the TTT at the 1990 Commonwealth Games and 13th at the 1992 Barcelona Olympics. Koberstein's candidacy was sponsored by Eric van Den Eynde.
– Denis Levesque – a race organiser of the Tour de Beauce and of the Classique Montreal—Quebec (City). The Tour de Beauce sponsored his candidacy.
– Gianni Vignaduzzi – a track and road cyclist who scored some 60 victories as an amateur (i.e. 1986 Detroit GP) before riding pro with Joly Cucine in 1994. He came within a hair of winning the Tour des Six Communes and finished 87th in the Tour of Flanders that year. The Espoirs de Laval Club sponsored Vignaduzzi's candidacy.
Filion delivered the most amusing presentation, recounting his ill-fated beginning as a road cyclist in 1957 where he finished so far behind the pack in one race that all traces of the finish line had been packed away when he arrived. "That's when I first thought I might have a brighter future in organizing races rather than racing in them," he quipped. Almost all of the presentations were in French except most notably when Vignaduzzi made a shout-out in English, thanking Curt Harnett (who was not in attendance) for his support and friendship. Dorion flew in from Seattle to make the ceremony while Vignaduzzi flew in from Italy.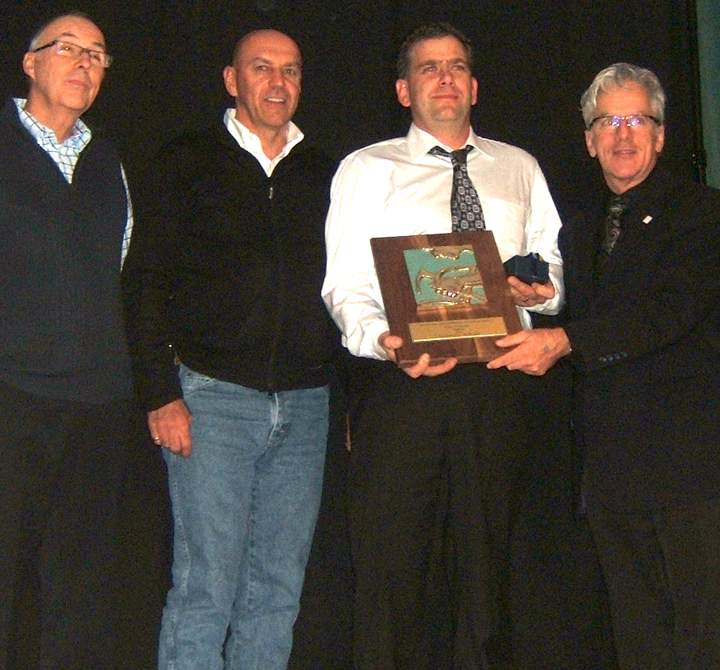 Pedal spoke with the most senior member of the Hall of Famers, 91-year-old Rene Cyr, the 1939 Canadian 100-mile champion. "I didn't carry any water with me on those long rides," Cyr recounted. "If you drink too much water, it takes your strength away." Cyr still looks remarkably spry, but admitted he no longer rides a bike because he's worried about falling and breaking bones. When asked about riding a tricycle instead, Cyr laughed saying those bikes are not fast enough.
Ste. Adele is a popular vacation spot an hour north of Montreal. The Chantecler ('rooster call') Hotel overlooks the scenic Lac Rond.
More info (in French) HERE.