January 28, 2016 (London,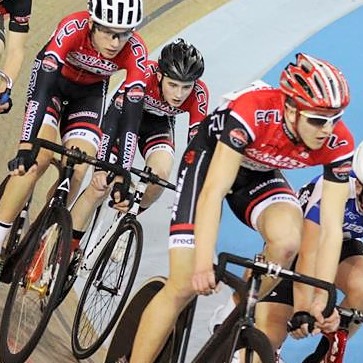 ON) – It's been four months of hard work for members of the KW Youth Cycling Academy…. What a start!!! The new project for the Kallisto-FCV p/b Toyo Tires Youth Cycling Team was called "10 new kids", well currently we have 14 athletes and growing.
The Cycling Academy has a studio at 28 Young Street in Waterloo. The youngsters come to train and learn how to ride a bicycle on Monday & Friday evenings. We know trainer workouts can be a little tough so the instructing crew at the Academy introduced the kids to the Forest City Velodrome in London.
Now less than four months into the project, the Academy has four young racers competing this weekend for the Kallisto-FCV p/b Toyo Tires Youth Cycling Team. All four of the kids have 40+ hours of track time in the legs at the FCV and will be competing to earn Medals & Podiums at the Milton Pan Am Velodrome.
Ontario Cycling is hosting the event for cyclists under the age of 17. The Ontario Youth Track Series is a 3 race event that starts at 1:30pm on Saturday afternoon in Milton.
This will be the first event in the Youth Cup Series for these new members of the Kallisto-FCV p/b Toyo Tires athletes. The KW Youth Cycling Academy is a feeder system to the Kallisto-FCV p/b Toyo Tires Youth Team. The team will have 20 athletes competing this Saturday, many come from the London area, The has members across Ontario.
For more information on the Kallisto-FCV race team, visit our website here.