September 30, 2017 (Milton, Ontario) – The 2017 Canadian Track Championships p/b Lexus saw four national titles awarded in Elite competition on Friday at the Mattamy National Cycling Centre in Milton, Ontario.
In the Sprint competition, Tegan Cochrane (Cycling BC) won her second title of the Championships when she took the Elite women's sprint title in two straight rides against Lauriane Genest (Equipe de Quebec).
Cochrane and Genest had teamed up on Thursday to win the Team Sprint title.  Lizanne Wilmot (NCCH p/b Dec Express) won the bronze medal.
In the men's sprint, Rio Olympian Hugo Barrette (Equipe de Quebec) proved to be unstoppable, showing impressive speed as he beat team mate Joel Archambault in two straight rides for the gold medal. Je'land Sydney (Kallisto-FCV p/b Peloton Contracting) won the bronze medal.
Titles were also awarded in the four-event Omnium. Rio Olympic bronze medalist Allison Beveridge (Rally Cycling) won her second title of the Championships with a strong performance in the final Points Race, moving up from fourth.
Kinley Gibson (The Cyclery-4iiii) took second and Annie Foreman-Mackey (Sho-Air Twenty20) third. The race was marred by a crash that took out Jasmin Duehring (Sho-Air Twenty20) and Ariane Bonhomme (Cyclery-4iiii), who had been tied for the lead going into the final event.
The men's Omnium saw a dominant Derek Gee (Team Race Clean) take the title after lapping the field four times in the Points Race, to win with 204 points.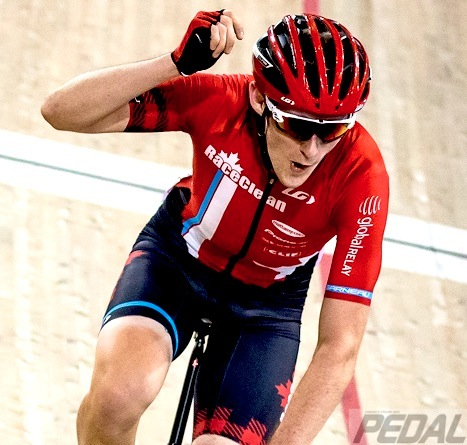 Ed Veal (RealDeal Racing) held on for second with 173 points, while Emile de Rosnay of Victoria, BC, jumped up from seventh to take the bronze medal.
The Canadian Track Championships conclude on Saturday, Sept 30.
Day 1 results here.
Day 2 results here.
Men
Women