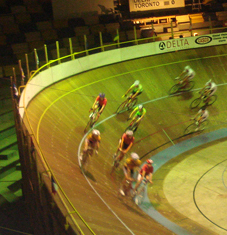 November 19, 2014 (London, ON) – While the opening of the new track in Milton has officially been postponed to January, the Forest City Velodrome has seen a wealth of activity lately. While the season was a bit slow to get started, training sessions have been packed. As such, Rob Good has just updated the racing calendar for this year.
The first race of the indoor season starts Saturday, November 29 with the Can Am Que Challenge, and continues on Saturday, December 6 and Saturday, December 13. Expect more racing as the season progresses.
Check out updated website for details
here
.
We'd love to see our friends from the US come up and race.