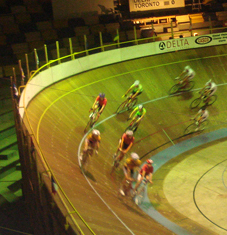 November 12, 2014 (London, ON) – The Forest City Velodrome in London Ontario is pleased to announce expanded Recreational Riding sessions as we head into the winter months.  These sessions will begin on Saturday November 15th (11am – 1pm). This new Recreational riding session will start after the New Riders at 11am. Find out more
here
.
Racing returns to the FCV
The 2014 edition of the CanAmQue Challenge is shaping up to be another first rate event on the FCV racing calendar. The date has been set…. Saturday night November 29th at 7pm. This race is made for the endurance racers out there. The Challenge is a series of elimination endurance races where you have to finish in the top 6 positions all night to advance to the next round.
There are 4x 50 lap Heat races to take the field to 24 riders for the 2 semi-final events where again you must finish in the top 6 to advance to the final. There is a Last Chance Qualifying (LCQ) race that will see the competitors who have not made the 14-rider field will be able to take the last 2 spots by winning the LCQ. The best 14 riders will contest the 2014 – 138 lap CanAmQue Challenge.
Masters Training Sessions
In addition to the integration of New rider sessions on Saturday morning and Tuesday nights the FCV will begin to promote specific Masters training times on Saturday afternoon at 5pm.  These sessions will begin with fitness sessions and progress to racing as the skill level of all riders improves.  The emphasis over the next 6 weeks will be preparing Masters in Ontario for Track Nationals in 2015.
Intro to Track Program
The introductory program (Track 1) for new riders to get acquainted with track cycling will continue on Sunday at Noon.  This very popular session, provides new riders with the ability to get involved with any cycling program offered at the Forest City Velodrome…. book your here session today.
Thursday Intermediate Training Sessions
The Intermediate Training session on Thursday is a great way to step up from Recreational riding to learn new skills and acquire the ability to go fast. Find out more
here
.
Christmas Camp – Register today……
The 9th Annual FCV Christmas Camp will run from Friday December 26th – Monday December 29th. Cost of the Christmas Camp is $100.00.  New riders will begin with the U15 group to help bring your skills up to a advanced level…. call 519-897-1447, for clarification.
Bring extra under shirts to change into after each drill (warmth)…. bring aero-bars you will need them for team pursuit practice.  Be prepared to go home with your legs in a bag!!! More info
here
.
"
Come back to the Track
" will be a new program to entice individual cyclists who have been members of the FCV in previous years to come back and take advantage of benefits of indoor cycling through the winter.  You will receive unlimited riding, rental bike and a refresher session to get you up to speed with track etiquette from now until January 5th.  If your membership has expired (Prior to December 2013) contact the FCV for details email
ForestCityVelodrome@Live.com