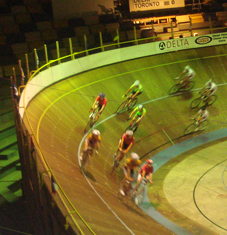 August 30, 2013 (London, ON) – With the summer coming to an end the Forest City Velodrome in London Ontario is expanding it's introductory sessions for riders to come to and learn how to ride the track.
The schedule is now posted on the FCV website here.
Over the last eight years the FCV has perfected the intro session called Track 1. These sessions are geared to riders of all abilities, from 12 years old to 80+ year. The sessions can be booked for Saturdays or Sundays.
Groups are welcome…. please email: ForestCityVelodrome@Live.com for more information. Many groups arrange track time weeks or months in advance.
Don't be disappointed book your session, soon.
For more information visit our website here.