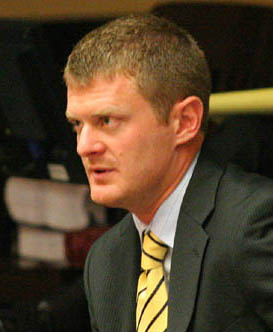 November 10, 2011 (Paris, France) – American Floyd Landis was back in the news today receiving a one-year suspended sentence by a French court related to computer hacking at French anti-doping labs reports AFP. Landis' former coach, Arnie Barker, faced the same charge and received the same sentence. Neither was present at the trial and both now face international arrest warrants. Their lawyers pleaded innocence.
Landis (then with Phonak) was initially declared the winner in the 2006 Tour de France before it was revealed he had failed a doping test for synthetic testosterone. Landis vehemently protested his innocence in that case before finally being convicted of the charge and stripped of his title. In 2010 Landis ultimately admitted to doping at the 2006 TdF, but claimed to have used human growth hormones, not testosterone.
The prosecution maintains that Landis and Baker paid third parties to hack into the computer network at the French anti-doping lab, LNDD, to obtain documents used in Landis' defence.
Along with his confession Landis charged that there is widespread doping in professional cycling, named many of his former colleagues, including Lance Armstrong, also claiming that the UCI is protecting certain riders.